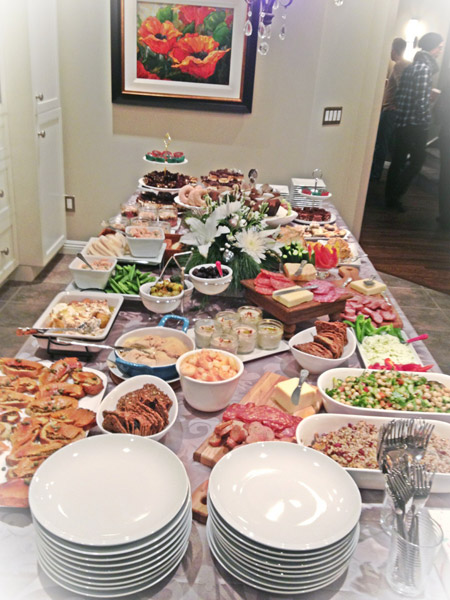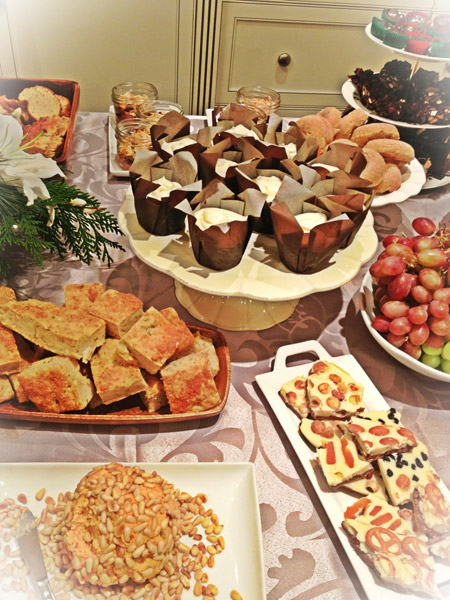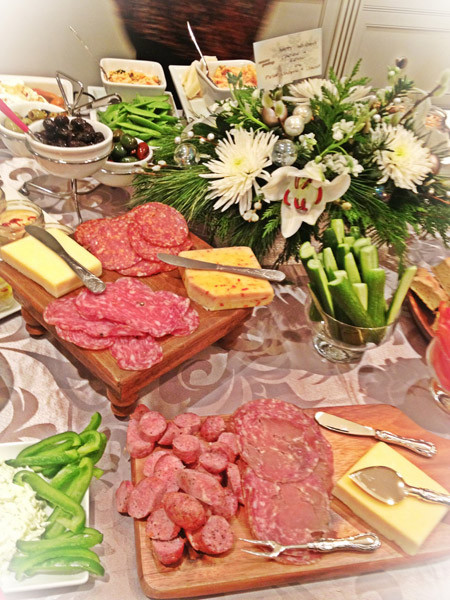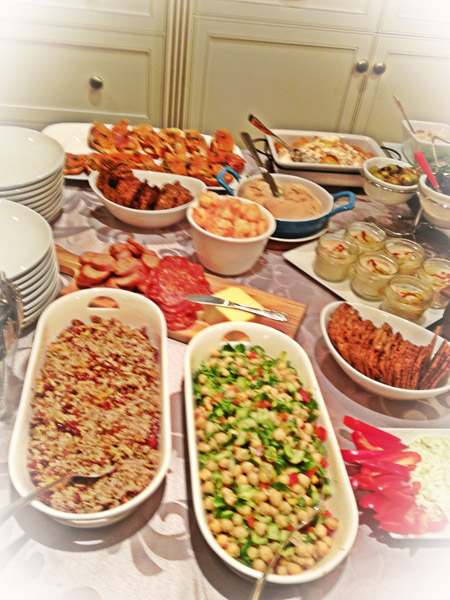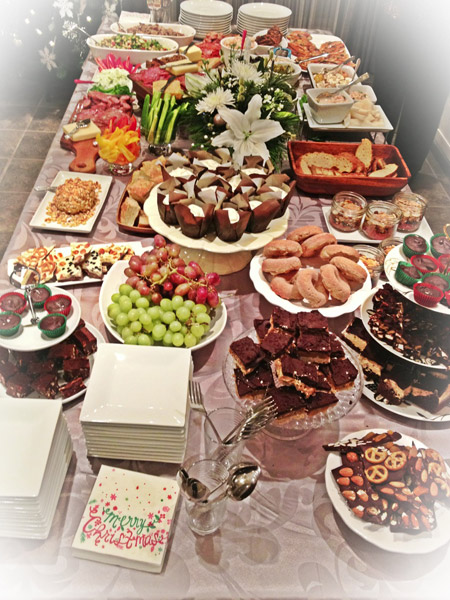 I apologize in advance for the quality of photos in this post. I took them once the party had started and they turned out a bit blurry. I'll blame the wine.
This past weekend we hosted a Christmas/Housewarming party. With our renovation completed we wanted to combine showing off the house with a Christmas celebration.
As with anyone who hosts a party, the week before was filled with planning, shopping, baking, cleaning, organizing and more baking. With a new kitchen, my stress level for hosting was very low prior to years before. It was interesting how much easier it is to host a party when your kitchen and dining room are well organized.
Through the years, I've tried to include as many gluten free treats being served as possible. Now that I am much more comfortable with my baking and cooking as well as being gluten free, I decided that this whole party would be gluten free.
I wanted to show that you can have great tasting food at a party and if you didn't say anything no one would know it was all gluten free.
Just to be normal as much as possible.
Isn't that what we all want?
With Christmas right around the corner, I thought I would also share what I do when I'm cooking turkey dinner.
My kids love my turkey stuffing so usually I cooked the turkey the same as every year. For me, I would take a few slices off the breast and that would be mine.
This past Thanksgiving I decided to do two smaller turkeys. One regular for my gang that loves stuffing, and one for Cam and I that would be totally gluten free.
For the gravy I use cornstarch to thicken.
Really, other than the turkey, I find the meal is almost entirely gluten free.
It does not stress me at all.
My daughter usually bakes homemade buns full of "gluten" for most of the gang, but again, they are of no concern for me.
I wish for all the newly diagnosed gluten free folks that you feel empowered to host a Christmas dinner without feeling like you might get sick.
Making the food yourself does help to keep you safe and free from cross contamination too.
Here are photos from the Christmas party we had and I've listed all the appetizers as well as baked goods I served at the end.



Gluten-Free Appetizers Served:
Smoked Salmon on Toasted Gluten-Free Baguette Slices.
Garlic Shrimp. (Similar Recipe)
Various Cheeses.
Gluten-Free Deli Meats and Sausages.
Warmed Feta with Marinated Lemons.
Gluten-Free Quinoa Cranberry Nut Salad. (Similar Salad)
Gluten-Free Chickpea Salad. (Similar Quinoa Salad)
Warm Gluten-Free Focaccia. (Similar Recipe)
Warm Gluten-Free Baguette.
Goat Cheese Dip.
Gluten-Free Cheddar Cheese Ball.(Similar Recipe)
Snow Crab and Shrimp Dip.
Variety of Veggies.
3 Different Olives.
Gluten-Free Crackers.
Individual Jars of White Bean Hummus with Sriracha. (Similar Recipe for Gluten-Free Hummus)
Warm Brie Wrapped in a Puff Pastry.
Gluten-Free Desserts Served: