I was thinking about what kind of no-bake gluten free summer dessert I could make the other morning while having my tea.
Do you think about desserts in the morning too?
Funny thing was that I wasn't expecting company but wanted to have a no-bake dessert on hand in case I did. Then I thought what would be even better if the no-bake dessert was also a frozen treat. This way I could keep it in the freezer for a few weeks and have a great dessert or cold treat on hand.
I was also feeling a little lazy and wanted something that I could make with ingredients I already had on hand and that wouldn't require a lot of prep time.
What I came up with was a Gluten Free Rice Krispie ice cream bar.
Here in Canada Kellogg's is making gluten free Rice Krispies and I love them. To me, they are exactly like the full gluten version.
I had a bag of marshmallows.
I had butter.
I had Chapman's vanilla ice cream that is also gluten free.
I also had squares of dar chocolate that I could melt for a bit of a chocolate glaze.
I was ready.
This is a quick and easy recipe to make and I hope you give it a try. (If you do, comment below!)
It is delicious too!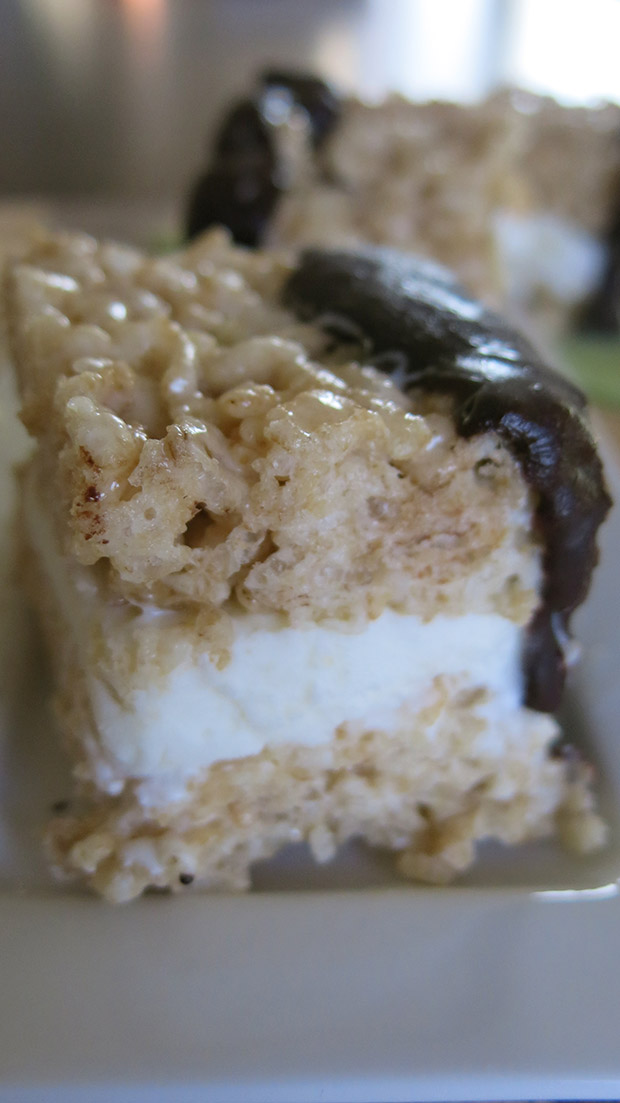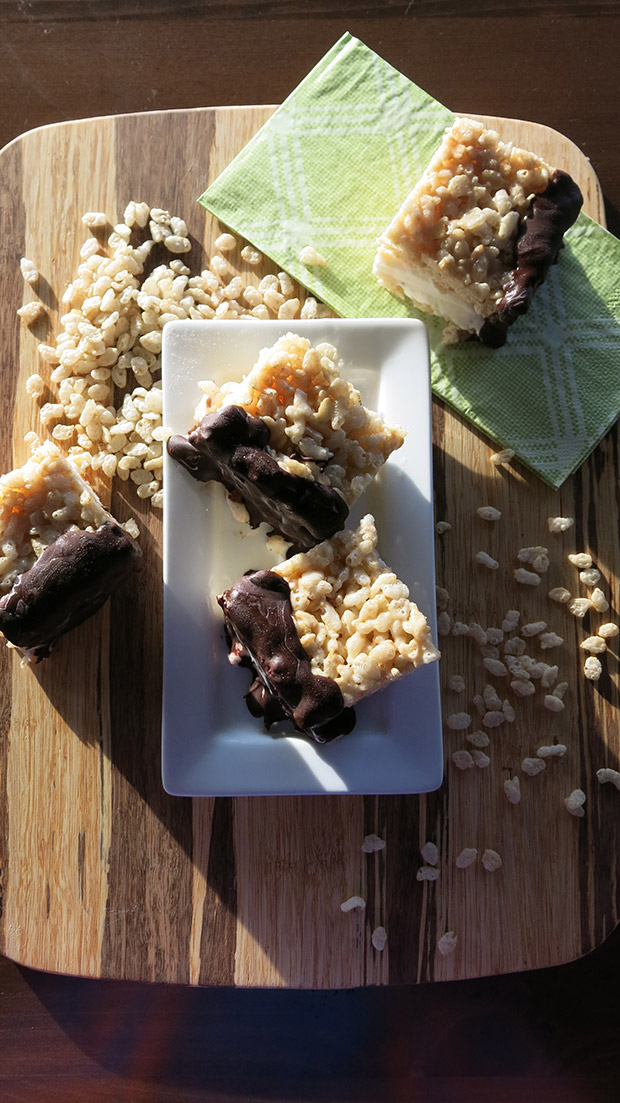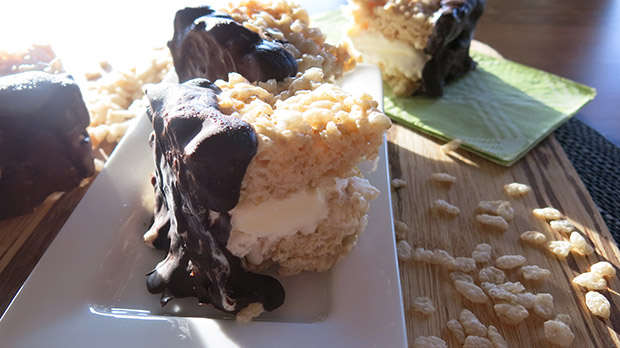 Gluten-Free Rice Krispie Ice Cream Bars
Ingredients
8

cups

Kellogg's Gluten Free Rice Krispies

1/4

cup

butter

1

bag

of mini marshmallows
Chapman's vanilla gluten free ice cream

5

oz

of dark chocolate

1/4

cup

butter
Instructions
In a large saucepan melt butter and mini marshmallows on low heat.

Stir until all is melted and well mixed.

In a large bowl add the Rice Krispies.

Slowly add the melted marshmallow mixture and stir until combined.

Line 2 9×11 pans with parchment paper.

Spread the Rice Krispie mixture into pans.

Wetting your hands allows you to press the mixture down without getting all sticky.

You want your Rice Krispie bars to be about an inch thick.

Remember you are going to be using 2 with ice cream in between.

Remove ice cream from freezer and allow to unthaw for a few minutes.

Spread the ice cream over top of one of the pans of Rice Krispie squares.

Remove the other pan of squares and place on top of the ice cream.

Cover it all with Saran Wrap and place back in the freezer to harden.

Once the ice cream is hard you can remove the pan from the freezer and cut into squares. 

I cut mine and then placed the squares in a large rectangular container and back in the freezer.

You can also drizzle melted chocolate over some of the frozen squares.

Simply melt 5 oz of dark chocolate and 1/4 cup butter in a small saucepan over low heat.

Drizzle the melted chocolate over squares.

Place back in freezer to harden.

On a side note you can easily make these dairy free.

Just use a dairy free butter alternative and coconut icecream.