I scream, you scream, we all scream for ice cream!
Yep, that is the theme I am on these days. With the warmer spring weather, my mind is filling up with variations of gluten free ice cream I can make.
Gluten free ice cream?
Isn't all ice cream gluten free?
Surprisingly, the answer is no for most of the brands out in the market.
Gluten in ice cream? Who puts flour in ice cream you ask?
Well, it's the little, but powerful word in the gluten free community that we all have to look out for.
Beware of the word – modified.
Modified milk, modified corn starch, modified ingredients. Most, if not all of the time, modified is a sneaky word for gluten.
Why do they put gluten in ice cream? It's because gluten is a cheap thickening agent.
You can easily add gluten to a milk product and it'll end up thicker and creamier than it was.
I'm not going to go into a long winded explanation of why so many companies put gluten in their dairy products, but I am going to ask you to read your labels.
Please, do not assume that the ice cream you buy in your grocery store is gluten free. It may, if not most likely, is not.
So again, with winter finally behind us and the promise of leaves on the trees budding, flowers being planted and deck furniture being set up, I am in the mood for ice cream.
In fact, you will be getting quite a few recipes in the next couple of blogs. How does rhubarb cheesecake ice cream, mango sorbet, blueberry sorbet or gluten free rocky road ice cream sound? Tell me in the comments below!
Those are the flavors I've been working on lately and will be sharing the recipes with you all.
Here is the first of many ice cream recipes to come.
Recipe: Gluten-Free Maple Walnut Crunch Ice Cream
This ice cream has 2 components- the maple walnut ice cream base and a maple walnut crunch that you will be swirling in, plus some extra for the topping.
Basically you are getting 2 recipes today.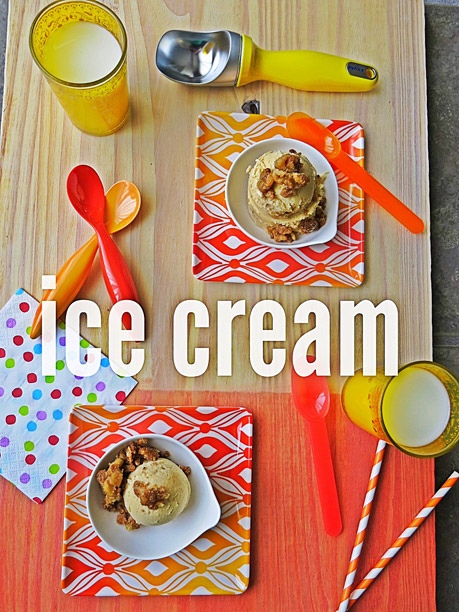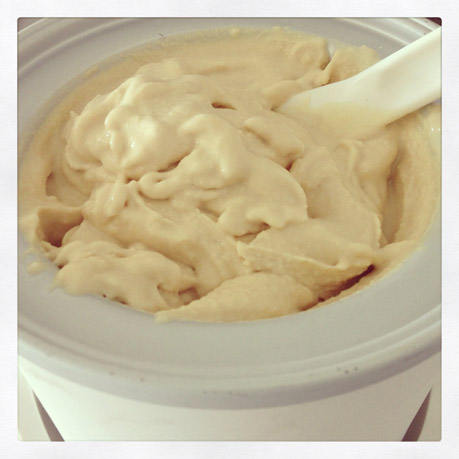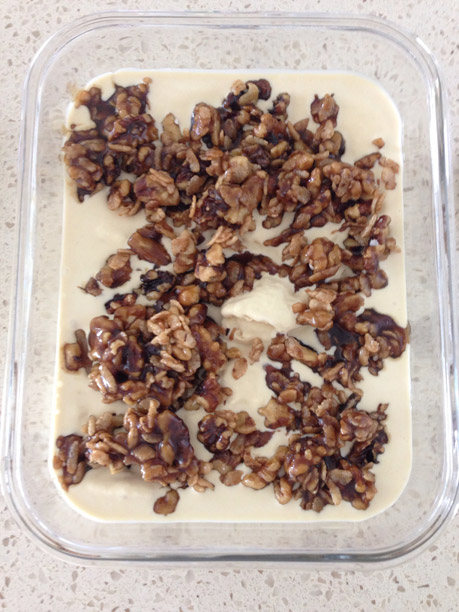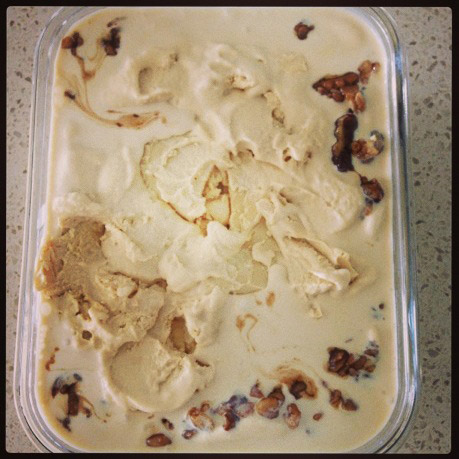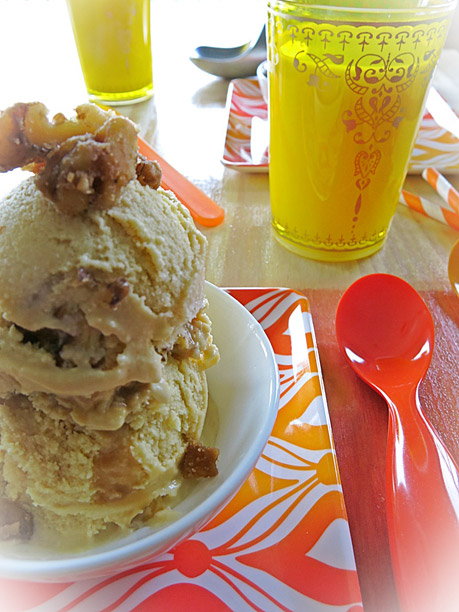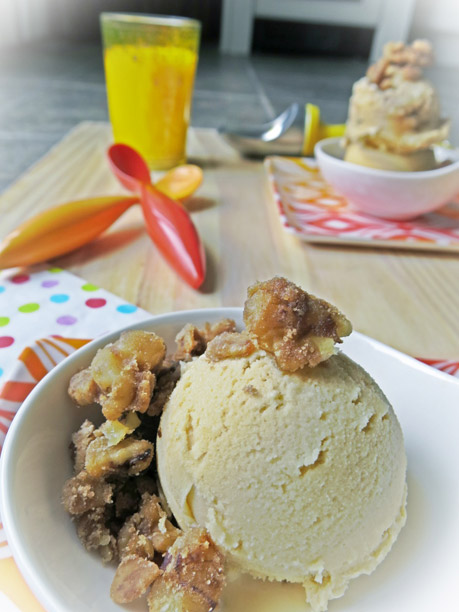 Maple Walnut Crunch topping
Ingredients
1

cup

gluten free Rice Krispies

2

cup

raw walnuts, coarsely chopped

1

cup

brown sugar

1

tbsp

maple syrup

1/3

cup

water
pinch of Maldon sea salt

1

tbsp

butter
Instructions
In a medium saucepan, on medium/high heat stir together the brown sugar, maple syrup and water.

Watch closely and stir occasionally.

Let mixture get to a light boil for 3 minutes.

Add the butter, walnut, Rice Krispies and salt.

Pour mixture onto a parchment lined cookie sheet.

Sprinkle with the sea salt.

Once cool, break up pieces.
Maple Walnut Ice Cream
Ingredients
2

cup

milk

2

cup

whipping cream

4

tbsp

brown sugar
6 large egg yolks

3/4

cup

maple syrup
pinch of salt

1/2

tsp

vanilla
Instructions
In a medium saucepan, combine the milk, cream and brown sugar.

Heat on low/medium heat until mixture is hot, but not boiling.

In a small bowl, whisk the egg yolks.

Slowly pour some of the hot liquid into the beaten egg yolks.

Do this a little at a time because you are trying to heat up the egg temperature slowly.

You are not looking for scrambled eggs.

Once you've added about 1/2 of the hot milk to the eggs you can put the saucepan back on the stove and whisk in the remaining milk/eggs mixture.

Let the custard cook on medium heat, stirring occasionally until mixture thickens

.Remove from heat.chilled overnight, remove from fridge and place in your ice cream maker.

Add the maple syrup, vanilla and salt. Stirring well.

Let cool to room temperature and then place custard in the refrigerator overnight to chill.

Once custard is chilled overnight, remove from fridge and place in your ice cream maker.

Pour ice cream into a large rectangular glass dish.

Add half of the maple walnut crunch to the ice cream and swirl to combine.

Cover with lid and place in freezer to set.