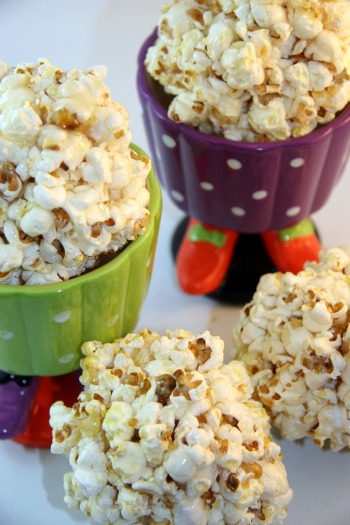 Happy Halloween!
I miss Halloween.
How could I miss Halloween when it is here on Monday?
What I miss is celebrating Halloween with my kids, like I did when they were younger.
They are in there 20's now, so hosting Halloween parties, making Halloween treats for their classmates, and sewing elaborate costumes does not happen anymore. It has not happened for quite awhile actually.
I really enjoyed seeing my kids dressed up, hanging with friends and going tricker- treating. When our kids are younger we so look forward to them growing up, but for a mom like me who enjoyed spending time with her kids and doing holidays big sometimes now, I do get nostalgic.
So, what is a Mom to do? Well for me I have been making Halloween treats that I used to make when my kids were younger and will be sharing 3 of the recipes in succession. I will be sharing popcorn balls, caramel apples and red velvet cupcakes, all gluten free.
Gluten-Free Popcorn Balls
Ingredients
2

cups

white sugar

1 1/2

cups

water

1/2

cup

corn syrup

1

tsp

vinegar

1/2

tsp

salt

1

tsp

vanilla

25

cups (or 5 litres)

popped popcorn (approx)
Instructions
Butter sides of a very large bowl that is holding your popcorn, the mixture will be quite sticky and you do not want the sugar mixture to stick to the bowl.

Butter sides of a large saucepan.

Half fill a small bowl with water.

This will be used to dip your hands in to form the hot popcorn mixture and prevents it from sticking to your hands.

Attach a good candy thermometer to the side of your saucepan.

In saucepan combine the sugar, water, salt, corn syrup and vinegar.

Cook over medium heat until the thermometer reaches 250 degrees or the hard ball stage.

This takes quite a bit of time, but please, do not walk away from your saucepan.

 Stir it regularly and watch closely.

Once it reaches the hard ball stage, turn off the heat and add your vanilla.

Pour hot mixture over the popped popcorn, stirring to mix well.

Dip hands in water bowl and then form popcorn into balls.

You need to work quickly for the sugar mixture once it starts cooling will harden.

Shape into balls and place balls onto a parchment lined baking sheet.

This made 16 XL popcorn balls for me.

**WARNING!

These balls are very addictive and are also very, very sticky!