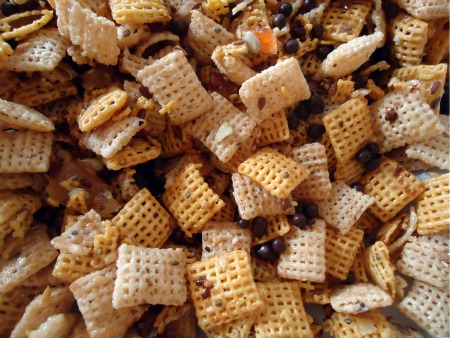 It is that time of the year again when all thoughts go to packing school lunches and it is especially hard when it has to be a gluten free lunch. What I find the easiest is to think of a gluten free lunch as a sort of antipasto meal. Pack fruit, veggies, crackers and dip gluten free deli meat rolled up, a gluten free cookie or bar and a drink. Packaged gluten free snacks are so expensive so why not make your own, this way you can add healthy ingredients as well as sneaking in some good gluten free grains.
I am so excited to have gluten free Chex here in Canada and it adds a multitude of gluten free snack options. I searched the Chex website for some recipes and then modified them to fit my likes.
Here are 2 options for gluten free school snacks, one is a sweet and one is a savory. Please feel free to add your own gluten free goodies to the mixes and have fun playing.
I started with the Original Chex Party mix and modified it to be gluten free.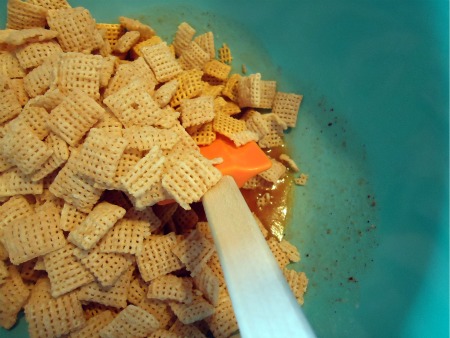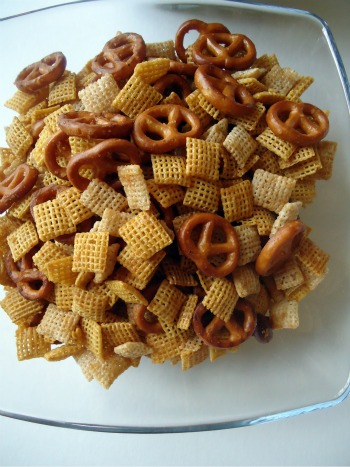 Gluten Free Chex Party Mix
Ingredients
3

tbsp

melted butter

1

tbsp

gluten free Worcestershire sauce

3/4

tsp

seasoning salt (I used Fire Salt, a spicy salt I got at Spice Merchants)

1/4

tsp

roasted garlic powder (Williams Sonoma)

1/4

tsp

toasted onion powder (Williams Sonoma)

3

cups

Rice Chex

1 1/2

cups

Honey Nut Chex

1

cup

gluten free pretzels

1/2

cup

nuts * (with schools being peanut free I used more pretzels instead)
Instructions
Preheat oven to 250 degrees.

In a large bowl add melted butter with seasonings.

Add cereals, pretzels, and nuts (optional).

Stir ingredients until evenly coated.

Line a baking sheet with parchment paper and top with cereal mixture.

Spread out evenly and place in oven.

Stirring every 15 minutes, cook cereal for 45 minutes.

Remove from oven and let cool.

Once cool, serve immediately and then store in an airtight container.
Gluten Free honey Nut Fruit Crunch
Ingredients
4 1/2

cups

Chex Honey Nut Cereal

4 1/2

cups

Chex Rice Cereal

1/4

cup

brown sugar

1/4

cup

butter

1/4

cup

honey

1

tsp

salt

1

cup

dried fruit

1

cup

almonds

1/4

cup

organic seed mix ( flax seeds, sunflower seeds, chia and pumpkin seeds)

1/8

cup

dark chocolate quinoa (optional add on once mixture is cooled)
Instructions
In large microwave bowl add cereal, almonds and seeds.

In a 2 cup microwave bowl add brown sugar, butter, honey and salt.

Cook uncovered on high for 1 1 /2 minutes, stirring every minute.

Pour over cereal and stir well.

Microwave on high 4 minutes, stirring every minute.

Stir in dried fruit and microwave for 3 more minutes, again stirring every minute.

Remove from microwave and spread onto a parchment lined cookie sheet to cool.

As an option I added 1/8 cup of dark chocolate quinoa to the mixture for an added chocolate flavor.

Let mixture cool and store in airtight container.