We were heading to Kananaskis country this weekend for my husband's Christmas party. The last couple of years we drive 1 ½ hour into the mountains and stay the weekend at the Delta Kananaskis Lodge.
It is a great weekend of catching up with my husband's co-workers and their families, and of course, partying a lot. We always have a great time and this would be my second year going as a gluten-free gal.
On a Friday night, all the families gather in Bowie's room to eat, drink and chat all night long. And as usual, I wanted to bring something to munch on.
This year I decided on caramel popcorn but with a twist. I was going to add Maldon salt and dark chocolate to the popcorn.
I also decided to make cookies-gluten-free of course, and Bob Mill's recently came out with a shortbread cookie mix that I decided to try.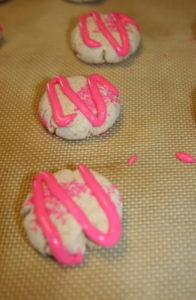 The results for all were amazing, and both I will make again and again.
Here is the recipe for caramel popcorn.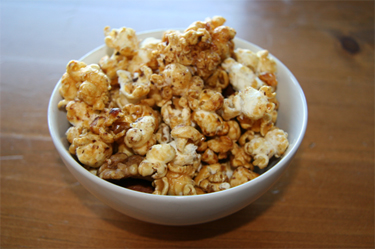 Air-Popped Popcorn
My original recipe says 24cups. I normally do not measure the popped popcorn. I have a very large roasting pan, that I fill with the popped corn-and that is my guide.
Ingredients
2

cup

butter

4

cups

brown sugar

1

cup

corn syrup

2

tsp

salt

2

tsp

baking soda

2

tsp

vanilla

Maldon sea salt(I get this salt at Williams Sonoma in Calgary)

Dark chocolate flakes
Instructions
In a large pot, add the butter, br. sugar, corn syrup and salt.

Once it all melts, give a quick stir and then just leave it until it boils. Boil for 5 minutes.

Remove pot from heat and add the baking soda and vanilla. Stir.

The mixture will start to double in size so watch closely and pour mixture over the popped corn. Stir the mixture thoroughly.

Bake in the oven for 1 hour at 250 degrees. Stirring it every 15 minutes.

Once out of the oven-continue to stir for it hardens quite easily.

I then sprinkle the sea salt over the popcorn and also sprinkled the dark chocolate flakes. Let cool.

You can store in whatever container you have. This is a very large recipe so I usually give some away as gifts-thus using small Christmas cellophane bags.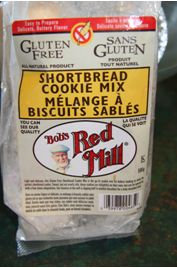 I also made shortbread cookies for the party.
I highly recommend this gluten-free mix-they turned out great and I received many compliments on the taste and texture of these cookies.