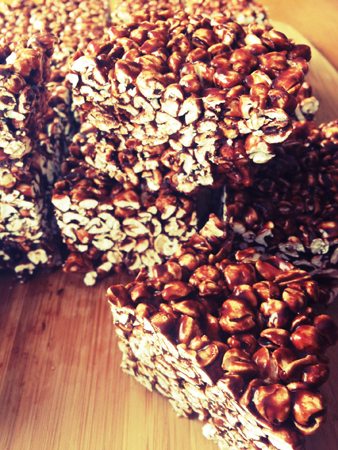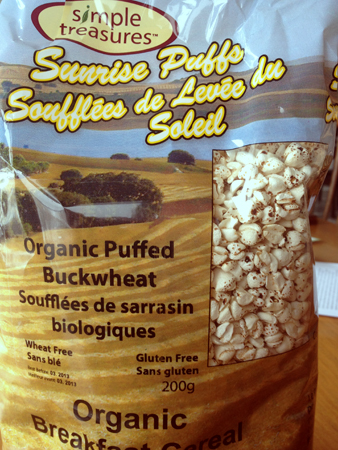 Do any of you remember puffwheat squares? I'm sure if I looked through childhood photos there would be pictures of my cousins and I eating them. I loved them as a kid and was craving a large chocolate square the other day. There is a problem though- Puffwheat!
Yep, wheat that is puffed. Can't do it anymore! Do you have childhood treats that you can't eat anymore? Have you tried to make them gluten free?
These buckwheat squares make a great treat for school lunches, however for myself as I no longer make school lunches it's just a yummy treat! No excuse needed.
I found Sunrise Puffs an Organic Puffed Buckwheat at Amaranth Whole Foods here in Calgary.

I've also updated my recipe by using Bernard Callebaut cocoa. When I was a kid we used the canned cocoa for recipes but now that I'm a grown up, why not use really good chocolate?
If you've missed puffwheat squares I hope you give these buckwheat puffs a try and if you are new to buckwheat puffs just give the recipe a go. You wont regret it!

Gluten Free Chocolate Buckwheat Puff Squares
Ingredients
1/3

cup

butter

1/2

cup

corn syrup

1

cup

brown sugar

2

tsp

gf vanilla

1/4

cup

Bernard Callebaut cocoa

8-10

cups

Organic Puffed Buckwheat
Instructions
In a large pot, melt the butter with the corn syrup, brown sugar and cocoa.

Increase temperature to medium, stirring a lot, until mixture starts to boil.

Let it boil for 2-3 minutes.

Remove from heat and add vanilla.

Add buckwheat puffs and stir to combine.

Put mixture into a greased 9 x 13 pan, and lightly press down.