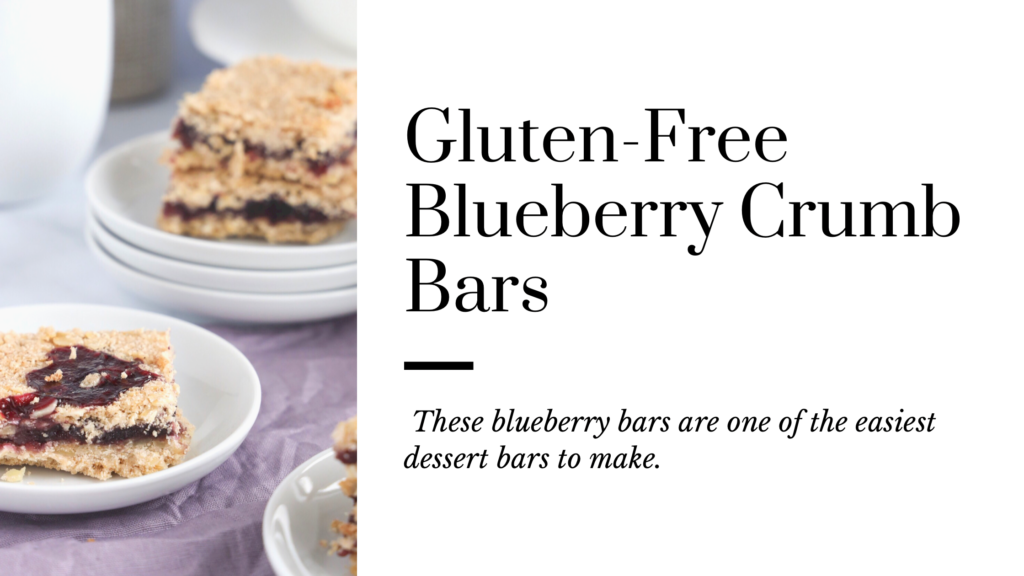 I have always loved a crumb bar and decided this time to make one with blueberry jam. These gluten-free blueberry crumb bars are not overly sweet but are really good and surprisingly easy to make. I think they have the right amount of crumble and YUM!
Made with blueberry jam, a buttery crust, and crumbly topping, these blueberry bars are simple to make and irresistibly delicious. I think this is one of the best gluten-free blueberry crumb bar recipes with an easy press-in crust and tons of blueberry jam.
A perfect dessert for picnics, an afternoon treat or just for dessert, these bars are so good I think your family will have a hard time just eating one. The bars are made with fridge and pantry staples and the recipe comes together in just minutes. The blueberry crumb bars have a shortbread like crust, an abundance of blueberry jam, and a crumbly topping made with rolled oats and almonds.
WHAT YOU NEED TO MAKE THESE BLUEBERRY CRUMB BARS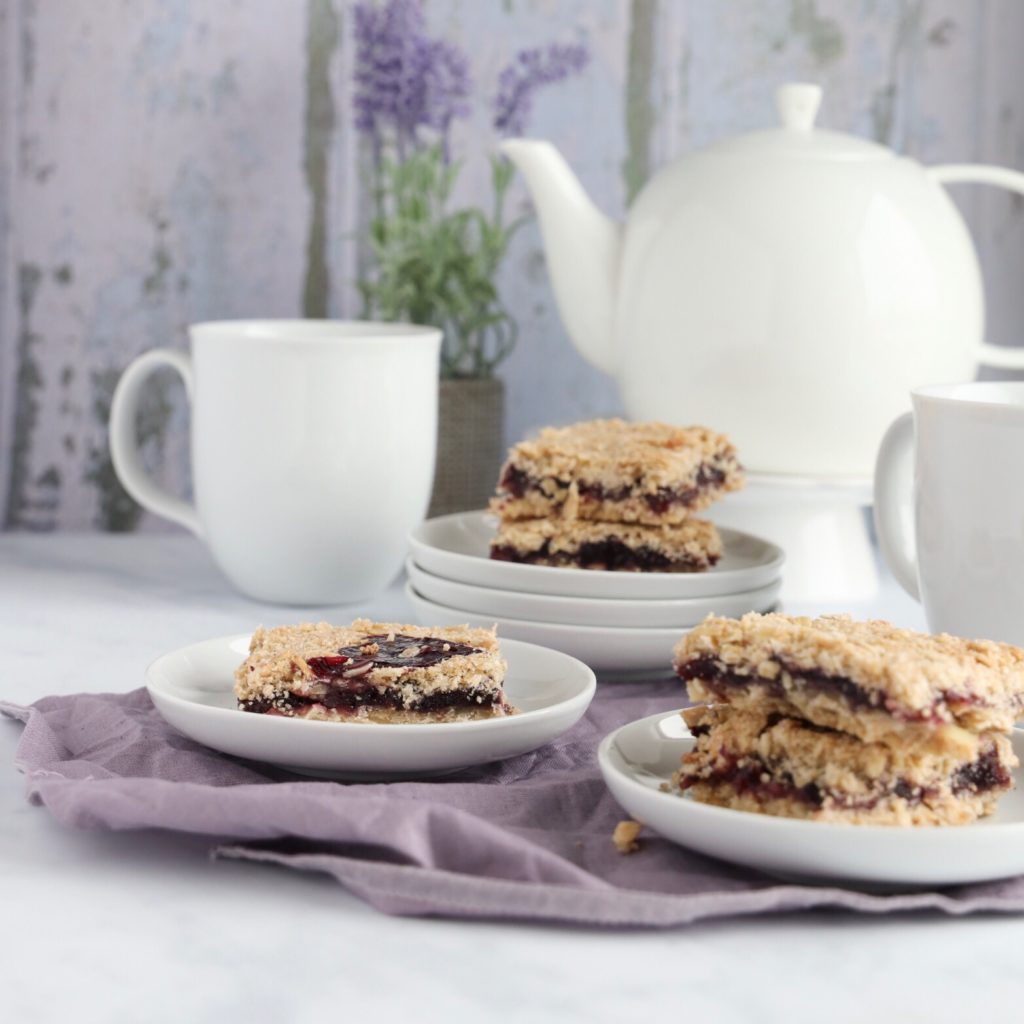 Both the crust and the cobbled topping are made with the same mixture to keep things easy and delicious. A blueberry crumb bar that takes only 30 minutes to make and is 100% gluten-free! Perfectly balanced with a jammy filling and enough crunch from the crumble topping. Plus they can easily be made vegan by just substituting vegan butter and thus would satisfy more dietary needs and preferences.
It is hard to decide which part of the bars is better: the buttery crumb topping or the jam filling. Enjoy these blueberry crumb bars with a cup of tea, with a scoop of ice cream on top or packed as a treat on your next hike. Blueberry crumb bars that are gluten-free and made with healthy ingredients like rolled oats, monkfruit, raw almonds and organic blueberry jam.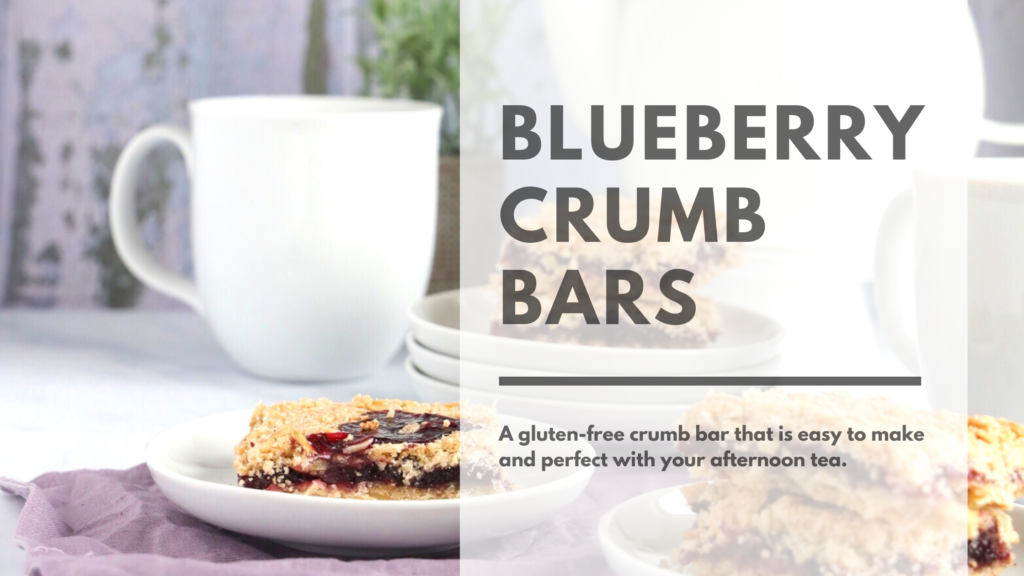 If you have followed my blog, you will notice I like to share gluten-free baked goods. I want anyone who lives gluten-free to be able to enjoy all the delicious treats that everyone else does.
In this blueberry crumb bar recipe I used organic blueberry jam but you could easily switch up the jam. The crumb base allows you to try different fruit flavours like raspberry, strawberry or peach and any one of those would be amazing. I also used monkfruit rather than white sugar in the recipe because I like to cut back the refined sugar in recipes if I can.
HOW TO MAKE GLUTEN-FREE BLUEBERRY CRUMB BARS
Make the crumb crust and topping.
Press 1/2 the crumb mixture into a square baking pan.
Spread the blueberry jam over the crust.
Sprinkle the jam with the rest of the crumb mixture.
Bake the bars.
Let the bars cool completely before cutting them.
OTHER GREAT FRUITY RECIPES TO TRY:
Gluten-free blueberry cheesecake
Gluten-free strawberry cupcakes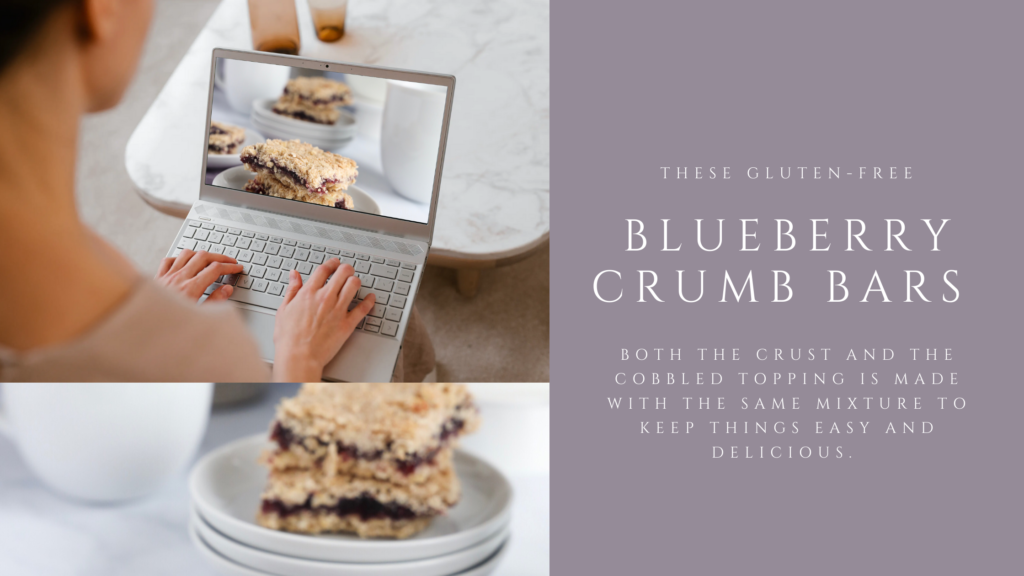 WANT MORE RECIPES?
Subscribe to get new recipes delivered straight to your inbox. And be sure to stay in touch on Facebook, Instagram, Twitter and Pinterest. I would love to hear from you!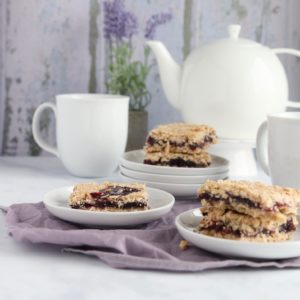 Gluten-Free Blueberry Crumb Bars
These gluten-free blueberry crumb bars are made with blueberry jam and a buttery crust and crumbly topping.
Instructions
Preheat oven to 350 degrees.

In a stand mixer add the oats, gluten free flour, golden sweetener, almonds and spices.

Add the butter and mix until mixture is crumbly.

Press 1/2 of the mixture into the pan and bake for 10 minutes.

Remove and spread (carefully) the jam evenly on the crust.

Top with the remaining mixture and lightly press down.

Bake in oven for 20-25 minutes.

Remove and cool before cutting.