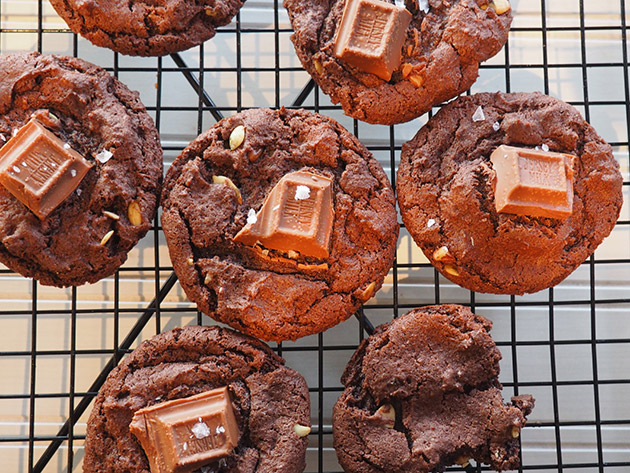 Chocolate Almond Cookies
Ingredients
1

cup

softened butter or vegan butter.

I used the new Becel soft sticks and loved them.

1

cup

brown sugar

1

cup

white sugar

2

large eggs

1

tsp

good vanilla

3/4

cup

good quality cocoa

1

tsp

baking soda

3/4

cup

chopped raw almonds

( or substitute another nut you like)

2

cups

gluten free flour blend

(I recommend the Compliments gluten free flour blend found at Safeway and Sobeys or Bob's Red Mill 1 to 1 gluten free flour blend)
Instructions
Preheat oven to 350 degrees.

Line 2 cookie sheet with parchment paper.

In a stand mixer add the softened butter(vegan butter or Becel soft sticks) plus the sugars and mix well.

Add the eggs and mix again, scraping sides of bowl to make sure all is incorporated.

In a small bowl whisk the gluten free flour, baking soda and the cocoa.

Add the vanilla and then the dry ingredients to the mixer and mix until well combined.

I like to increase speed for a minute to add a bit of air into the batter too.

Use an ice cream scoop to coop out batter onto the parchment lined cookie sheets.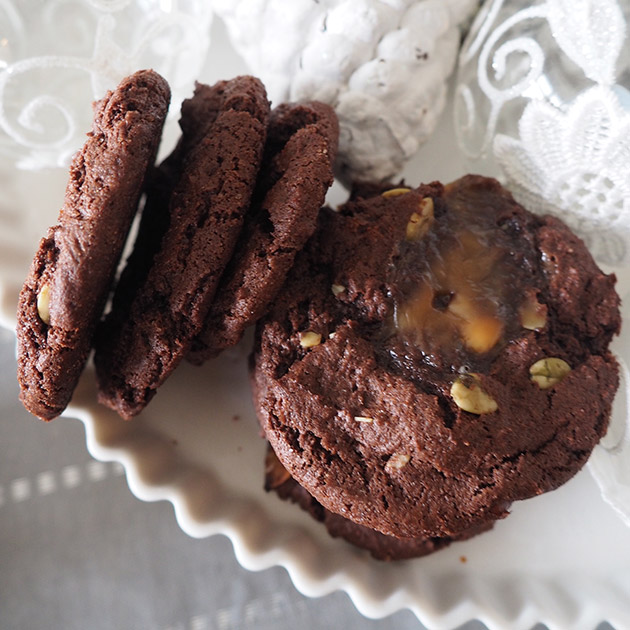 I cannot share new recipes this late in December without sharing at least one new gluten free cookie recipe.
What I love about this cookie recipe is that you can add to it.
What does that mean?
You can add more nuts to the batter if you are a nutty filled cookie person, or you can find the best dark cocoa you can afford to the batter as well as dark chocolate chips and then sprinkle smoked Maldon Sea salt on the cookie before it is baked, or like me you can try adding pieces of chocolate bars or toffee pieces on the top of the cookie dough before it is baked and see how that works.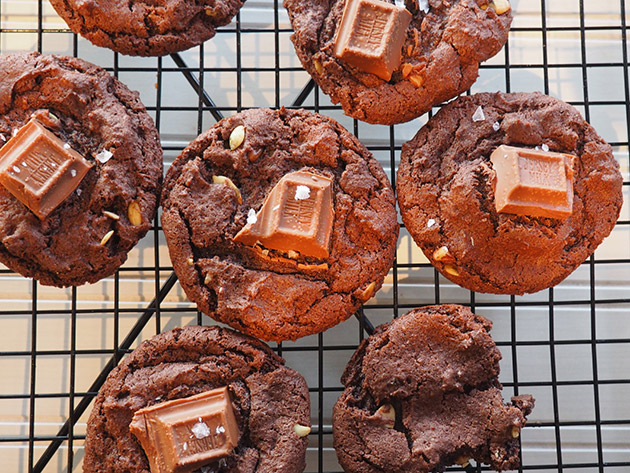 This recipe for Chocolate Almond Cookies is a great starter cookie recipe, meaning play, play PLAY folks with the recipe and add whatever fillings you would like to the recipe.
Oh, and did I mention this makes an soft and chewy chocolate cookie?
Before I place the cookies into the oven I placed a square chocolate bar piece on each cookie as well as used pieces of Macintosh toffee on some. Feel free to play with the toppings you like.