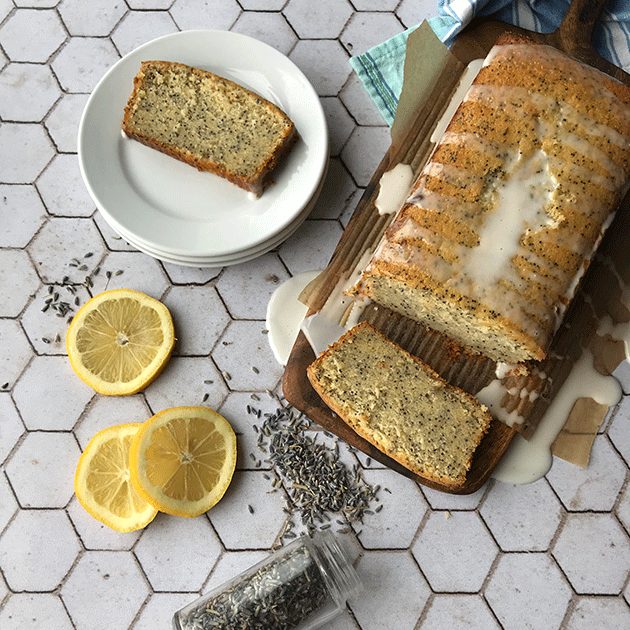 Grain Free Lemon and Lavender Poppyseed Loaf
Ingredients
1/2

cup

warm milk

4

tbsp

poppyseeds

3/4

cup

softened butter, I like to used the new Becel sticks

1

cup

white sugar

Grated zest from 2 lemons plus the juice of 1

1

tbsp

food grade lavender

3

large eggs

1 1/2

cups

cassava flour
Instructions
Preheat oven to 350 degrees.

Line a loaf pan with parchment paper.

In a small bowl add the poppyseeds to the warm milk and let sit for 5 minutes.

In a stand mixer combine the butter and sugar and beat.

Add the eggs and beat again.

Scraping sides of the bowl to incorporate all.

Add the grated lemon, the lemon juice and the lavender. Mix on low.

Add the cassava flour and mix on low speed.

Add the milk mixture and mix on low until you have a smooth batter.

Increase speed to medium for 1 minutes. (This gets air into the batter aiding in its rising while baking)Pour batter into lined loaf pan.

Bake for 45-50 minutes or until a toothpick inserted comes out clean.

Remove from oven and cool.

I drizzled a mixture of icing sugar, lemon zest and lemon juice over the poppyseed loaf.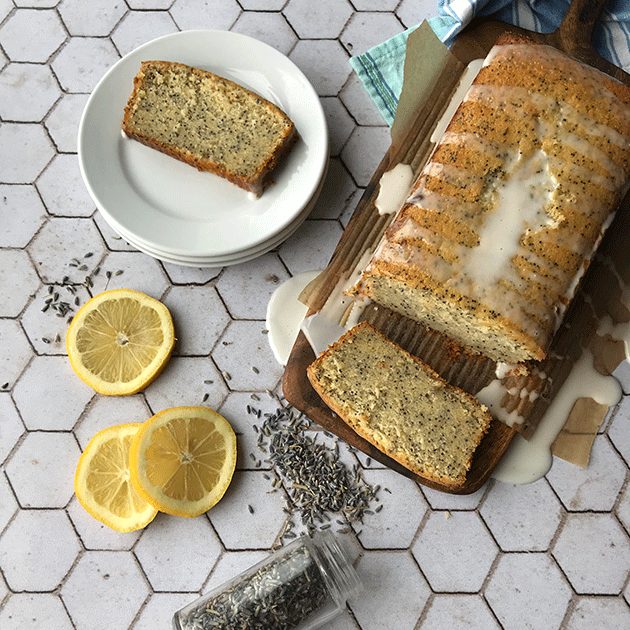 I have been busy in the kitchen working on grain-free recipes for you all.
Grain-free baking has been requested a ton my readers lately so I am happy to share that I have 7 new GRAIN-FREE recipes coming to you on the blog.
First up is a grain-free lemon and lavender poppyseed loaf.
You wont believe how moist this grain-free cake is and it is also super lemony!
Recipes like raspberry mini cupcakes, jam tarts, chocolate whoopie pies, vanilla cake, biscuit cookies and buttermilk biscuits are all getting written up now.
I shared a few weeks ago on my facebook page all the grain-free baking i was doing and the response was huge.
Everyone is excited for me to share.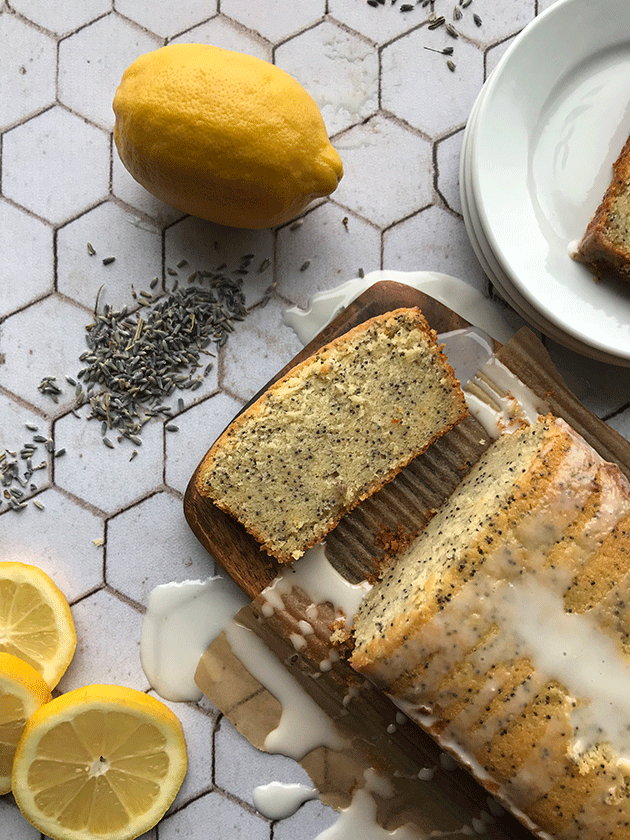 I have been strictly using cassava flour in these recipes and I am honestly so pleased with the results. Loving this grain-free flour!
What is cassava flour?
The cassava root is a starchy, high-carbohydrate tuber-similar to yam, taro, plantains and potatoes.
It is highly regarded as the perfect grain-free flour and after working on it with a ton of different recipes I am also a fan.
Cassava flour however is HIGH in carbohydrates. It is higher in carbs than sweet potato so while it has a ton of fiber, vitamins and minerals, it is worth noting that portion control is recommended.
Enjoy a slice or two of this lemon lavender Poppyseed loaf-better yet, share it with friends or family also.