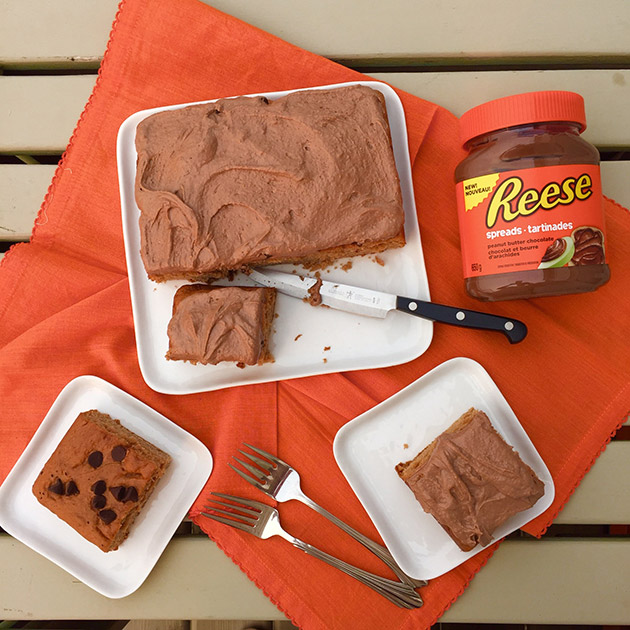 When I was in the grocery store the other day I saw a new product on the shelf and decided to take a look at it.
Was surprised to see Reece's had a chocolate peanut butter spread out that was gluten free.
When I posted my find on Facebook I found most folks were excited to see what kind of new recipe I would come up with.
There were a few folks that were not happy to see a processed item being talked about but as I have stated before on my site I believe it's okay to enjoy treats occasionally. We eat mainly fruits, veggies and meats in our house but because I love baking so much there can be cakes and cookies in the kitchen also.
If you ask my family they will tell you that we might have one cookie or one slice of cake but I normally give most of the baked goods away.
I wanted to come up with a simple one-layer square cake. An easy recipe to make and enjoy with or without icing.
Reece's Chocolate Peanut Butter Cake
Ingredients
1/2

cup

Reece's Chocolate Peanut Butter Spread

1/4

cup

Earth Balance vegan "butter", softened

1/2

tbsp

apple cider vinegar

1-1 1/4

cup

cup goat milk

1/2

cup

brown sugar

2

large eggs

1/2

tsp

salt

1 1/2

cups

gluten free flour blend

(I like to use Compliments gluten free flour blend that is available at Safeway and Sobeys)
Instructions
Preheat oven to 350 degrees.

Line a square baking pan with parchment paper.

In a small bowl mix the apple cider vinegar with the goat milk.

In a medium bowl whisk the baking powder, salt and gluten free flour blend.

In a stand mixer beat the vegan "butter", chocolate peanut butter spread with the brown sugar.

Add the eggs and continue beating, scraping sides of bowl.

Alternately add the goat milk and the dry ingredients to the batter and beat until smooth.

Pour batter into lined square baking pan.

Bake in oven for 30-35 minutes.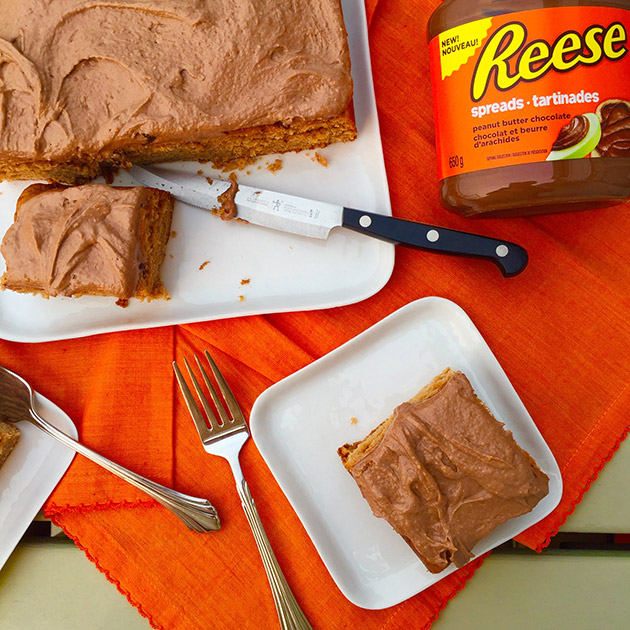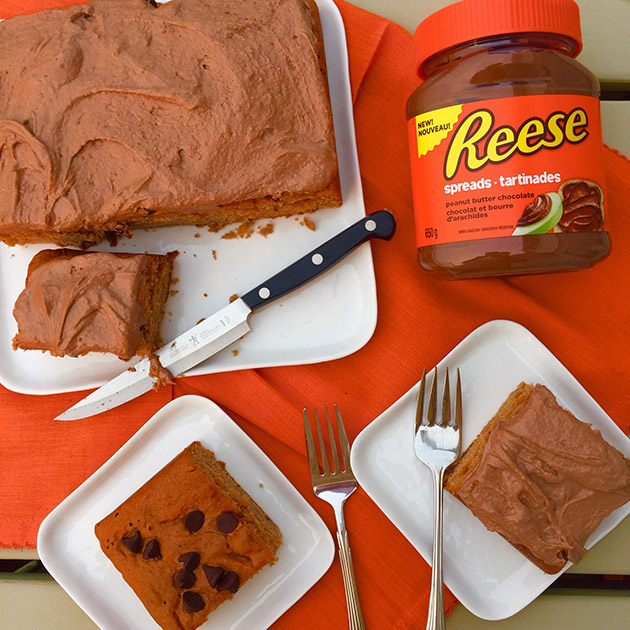 Looking for Gluten Free Salad Recipes?
In my Gluten Free Salads Cookbook you can find 27 other delicious recipes your friends and family will love, including: Cucumber Herb Salad, Roasted Strawberry Goat Cheese Salad, Sesame Noodle Salad and many more. Purchase yours today.
Share this recipe with your friends: