It is now a month before Christmas so I am thinking that I will pump out quite a few new recipes for everyone for the holidays.
In fact, I will not be writing stories of my days, or life being gluten free. I figure, we all have so much to get done in the next 30 days that I will just share new recipes with you all.
We can always catch up after the new year. I am sure I will yap at times about thoughts I have, or some event that I want to share, but mostly it will be recipes.
So in keeping with this thought process here is a new recipe.
It is an easy one (I tend to like those kind) but one that may come in handy with the holidays approaching. I think this is a great cake to bring to a potluck, a school function, to the office for a co-workers birthday celebration, or like me, a dessert when you are having company.
What's great about this cake is you can jazz it up, after it's baked, when you are serving it.
I made caramel sauce and poured the warm sauce over the cake and then topped it with a mound of whipping cream. So good!
How about a warm cherry sauce poured over with a side of whipping cream and then dark chocolate shavings? Black Forest cake anyone?
How about a little raspberry jam under the cake and then topped with fresh raspberries?
You decide. That's what I love about this cake.
Go ahead, make it today, you'll be happy with it!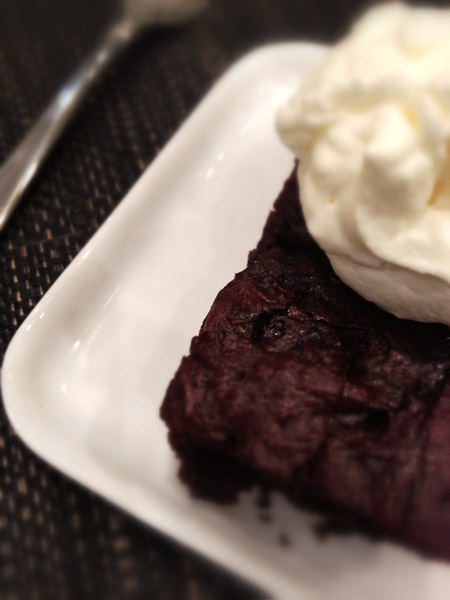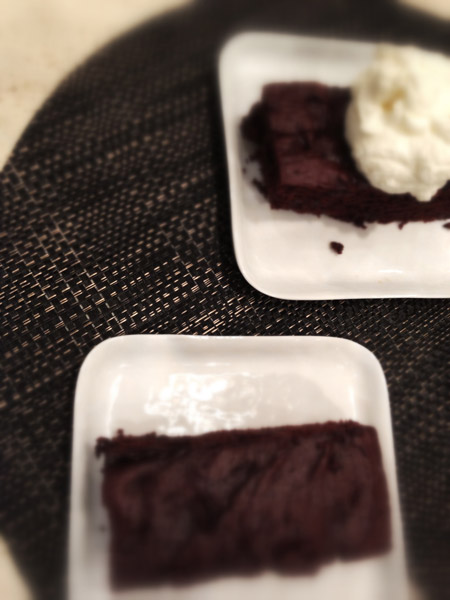 Gluten Free Dark Chocolate Sheet Cake
Ingredients
1/2

cup

tapioca starch

1/2

cup

brown rice flour

1/2

cup

sorghum flour

1

cup

dark chocolate gfree cocoa

1/2

tsp

baking soda

2 1/2

tsp

baking powder

1 1/2

tsp

xanthan gum

3/4

cup

room temperature butter

3/4

cup

dark brown sugar

1

cup

cane sugar

3

eggs

2

egg yolks

2

tsp

gfree vanilla

1 1/2

cup

buttermilk

1

cup

dark chocolate chips gluten-free
Instructions
Spray and line a 8×11 pan cake pan with parchment paper.

Preheat oven to 350 degrees.

In a large bowl, whisk the sorghum flour, br rice flour, and tapioca starch.

Add cocoa, baking powder and soda.

In stand mixer, beat butter until creamy.

Add brown plus cane sugar and beat until fluffy.

Add eggs, plus egg yolks one at a time, mixing on low speed.

Once mixed, on slow speed add dry ingredients as well as the buttermilk.

Turn to medium speed and beat for a minute.

Remove bowl from mixer and mix in chocolate chips.

Pour batter into pan and spread evenly.

Bake 30-40 minutes until cake is done.