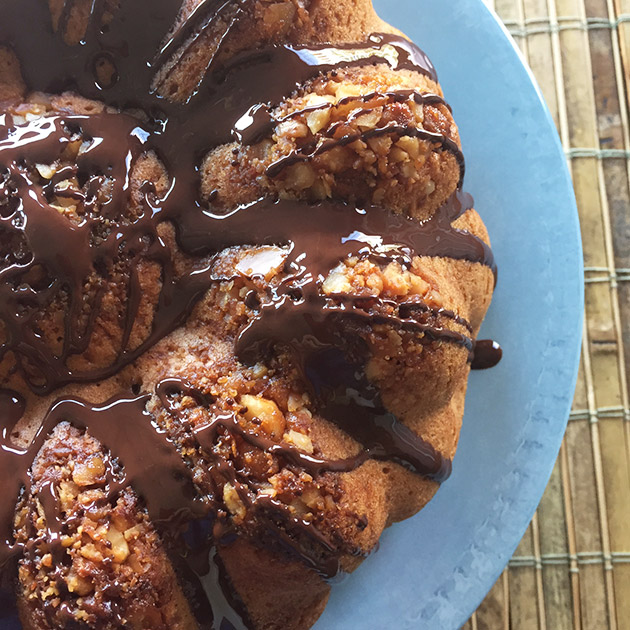 This year I turned 50.
Yikes, it is still hard to believe I am actually that old.
I am trying to embrace this age but also push through it and push myself too. I have been challenging myself to not be afraid, to try new things and be more adventurous.
Even though I was scared to death I tried a helicopter ride in Kauai and found out it really wasn't as scary as I thought it would be. In July, I pushed past the fear of not being able to complete a hike up the mountain to being able to finish it in record speed.
I do think I can talk myself easily out of NOT doing things rather than trying it first.
Maybe it comes from living most of my life with being heavy. It wasn't a case of over eating either. It comes from my genetic background and a low thyroid that has battled me for over 25 years.
I am trying to win the battle with weight loss even though it is dog gone slow process. But I am determined to exercise myself to being the healthiest I can be. It isn't about being a size 0, that my friends will never be in my cards but I want to be a healthy 50 year old.
If you have been following me for a bit you will see a few different photos of me on my sites. That is because I have a professional photo of myself before I started to lose weight and then just a shot I took of myself half way through my weight loss journey.
In July I asked Lori from 10centstudio to take some new headshots for me, and even though I was incredibly nervous I pushed myself to just go and do it.
Of course, anyone who knows me know I cannot show up empty handed so I baked a peanut butter bundt cake with chocolate ganache and brought the whole cake for her to the studio.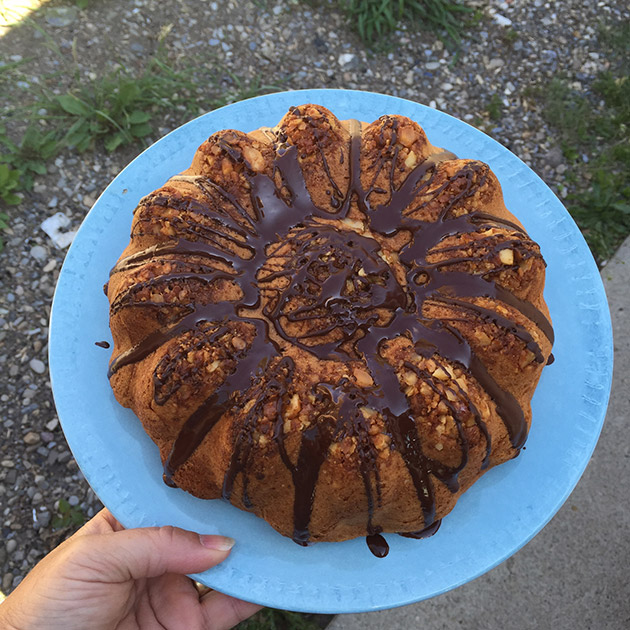 Lori was surprised but delighted in the cake and I heard from her later in the day that many slices of cake were ate and enjoyed.
That made me very happy to hear.
By the way here is one of the photos she took of me.
What do you think?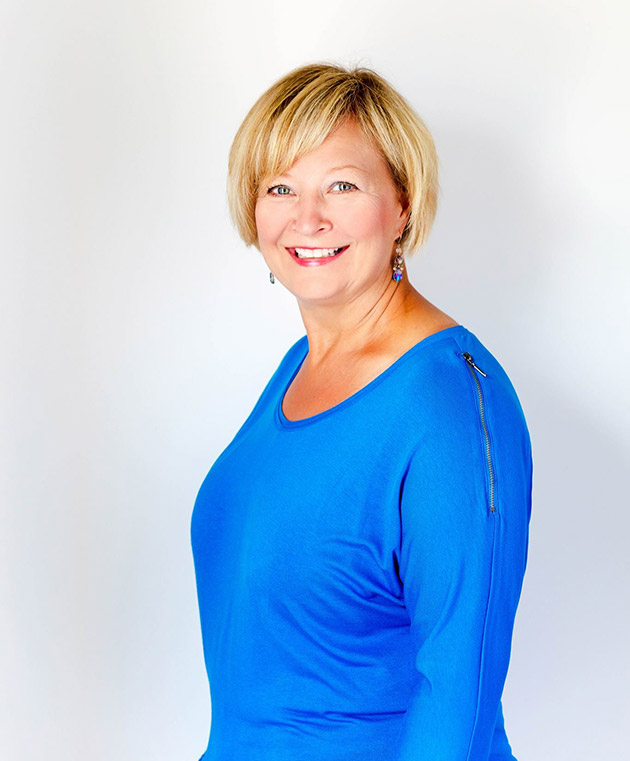 Gluten Free and Dairy Free Peanut Butter Cake
Feel free to change the dairy free ingredients to full-on cow milk ones if you do not have any dairy issues.
Ingredients
1/2

cup

chopped unsalted peanuts

2

cups

gluten free flour blend

(I like to use Compliments gluten free flour blend available at Safeway and Sobeys)

2 1/2

tsp

gluten free baking powder

1/4

tsp

salt

1

cup

white sugar

1/2

cup

Earth Balance vegan "butter" softened

3/4

cup

creamy peanut butter

1

tsp

gluten free vanilla

3

large eggs

2/3

cup

 goat milk
Chocolate Ganache:
1/2

tsp

Enjoy Life chocolate chips

2

tsp

coconut oil
Instructions
Preheat oven to 325 degrees.

Grease and flour a bundt pan.

Sprinkle the peanuts in bottom of pan.

In a standing mixer cream the vegan "butter" and the peanut butter until smooth.

Add the eggs, then goat milk and vanilla and beat again until smooth.

In a small bowl whisk the gluten free flour, sugar, baking powder and salt.

Add dry ingredients and beat again until smooth.

Spread cake batter into bundt pan.

Bake for about 55-60 minutes or until a toothpick inserted in center comes out clean.

Remove from oven and cool on a cooling rack for about 15 minutes.

Invert pan and remove cake and let it continue cooling on rack for another hour.

Once cake is cool make chocolate ganache.

In a small saucepan on low heat add the chocolate chips and coconut oil.

Stir until all is melted.
Enjoy!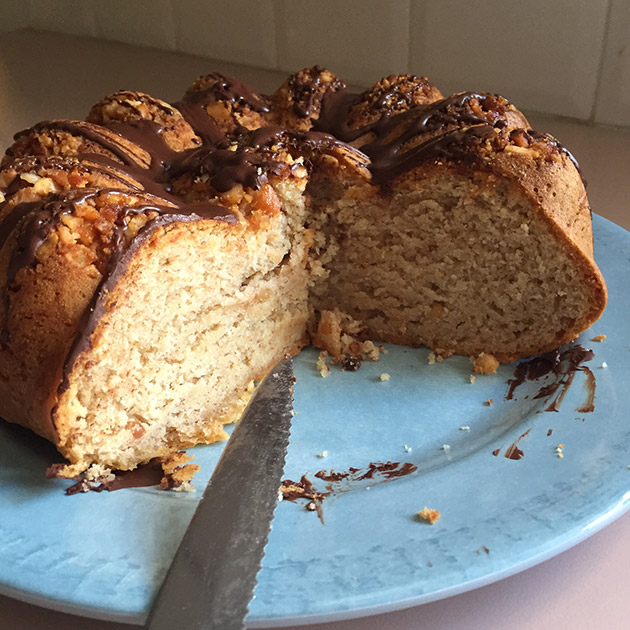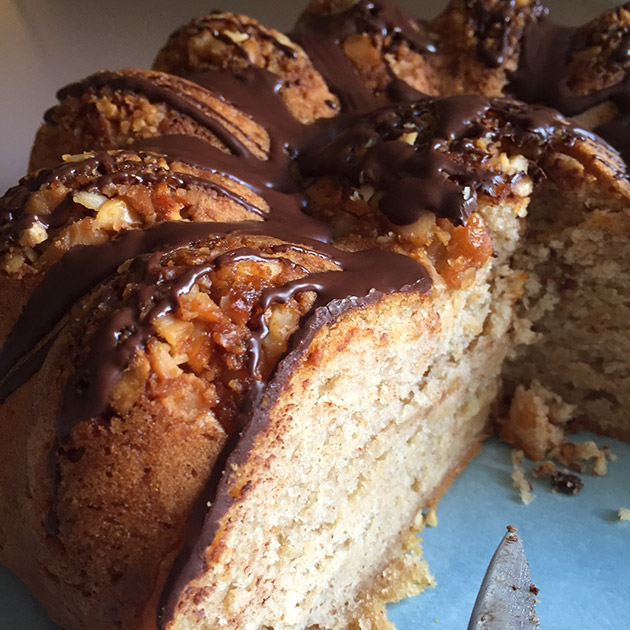 Looking for Gluten Free Salad Recipes?
In my Gluten Free Salads Cookbook you can find 27 other delicious recipes your friends and family will love, including: Cucumber Herb Salad, Roasted Strawberry Goat Cheese Salad, Sesame Noodle Salad and many more. Purchase yours today.