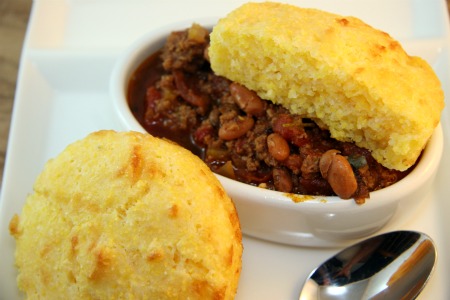 Do you use cast iron pans? Have you tried cast iron pans?
I, as everyone around me knows have a love love relationship with La Crueset! I literally use their enameled cast iron pots almost everyday.
In fact today I made chili in a large La Crueset round dutch oven.
What has been exciting for me recently is I have discovered a new love of Lodge's seasoned cast iron skillets and my newest addition, a cast iron biscuit pan.
Oh my oh my, YES!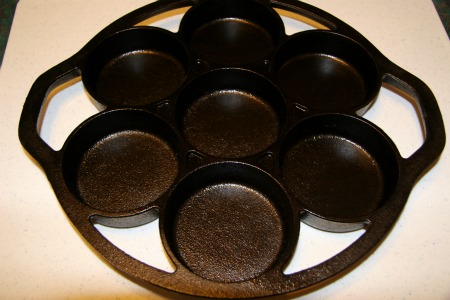 What has kept me away from these cast iron skillets is the fear of using them. How to keep them from rusting? How to keep them seasoned? How to clean them?
I have to thank the great folks at Bites, here in Calgary for explaining how to take care of these pans and how truly easy it actually is.
I cannot remember the last time I did not use my cast iron sometime during the day. Am I obsessed with cast iron?
Maybe, but for me there is nothing better than a great cast iron pot or skillet. It really makes cooking taste better.
So what did I make with my new biscuit pan?
Well gluten free cornbread of course, and let me tell you – UNBELIEVABLY GOOD!
Gluten Free Cornbread
Ingredients
1

cup

cornmeal

3

tbsp

sugar

1

tsp

xanthan gum

2 1/2

tsp

baking powder

1

cup

white rice flour

1/2 – 3/4

tsp

salt

1

cup

shredded 3 yr old white cheddar cheese

2

eggs

eggs

1

cup

milk

1/4

cup

melted butter

A little bit of extra butter to coat cast iron skillet
Instructions
Preheat oven to 400 degrees.

Put cast iron skillet in oven also to heat up.

In a large bowl, beat the 2 eggs together.

Add the milk and the melted butter and whisk.

In a smaller bowl, mix the dry ingredients together (cornmeal, sugar, xanthan gum, baking powder, rice flour and salt).

Add dry ingredients to wet mixture and stir until well combined.

Let it rest for a couple of minutes to set up.

Add shredded cheese to wet mixture.

Remove skillet from oven carefully, and swirl a little butter around pan to coat.

Bake in oven for 15-20 minutes.

I also baked some of the cornbread in small canning jars.

This cornbread was so delicious with the chili I made.
Can't wait to try other recipes with my new pan (biscuits, mini meatloafs, quiches, mini upside down cakes?)
The list is endless.