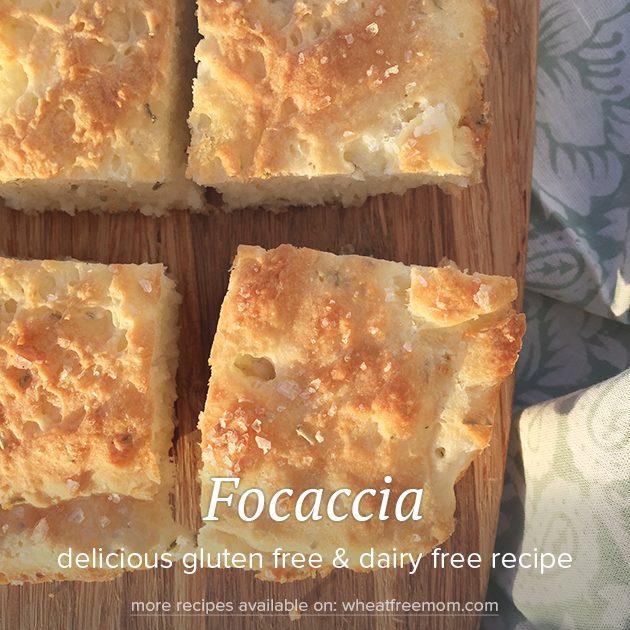 I have been meaning to come up with a new gluten-free focaccia recipe for awhile now.
Today was the day.
I have to admit that most of the time most new recipes come to me fairly easily but today, not so much.
My first attempt at focaccia did not turn out so well.
While it rose beautifully once I put it in the oven it was bad. Basically it was rock hard – not good! So back to the drawing board or for me, back to my stand mixer I dug out more ingredients and started all over again.
I am very happy I did.
This recipe was terrific and I am thrilled to share it with you all.
Focaccia is pretty easy to make. While it does require some resting and rising time it is only an hour and then bakes up in 20 minutes.
To me, that is a quick way to make warm gluten-free bread for a family meal.

Gluten-Free Dairy-Free Focaccia
Ingredients
1 1/4

cup

gluten free flour blend (I like to use Compliments gluten free flour blend)

2

tbsp

tapioca starch

1

tbsp

cornstarch

1

tsp

white chia seeds

1/2

tsp

salt

1/2

tbsp

rapid rise yeast

1

tsp

dried rosemary

1

cup

warm water

1

tbsp

apple cider vinegar

2

large eggs

2

tbsp

olive oil

1

tbsp

white sugar
Instructions
In a small bowl add the warm water, yeast and sugar.

In a stand mixer mix the gluten free flour blend, tapioca starch, cornstarch, chia seeds and salt.

Add apple cider vinegar, olive oil and eggs to the yeast mixture.

Pour the liquid into the dry ingredients and mix.

Increase speed to medium and beat dough until smooth.

Spread the batter into a well greased square pan.

Cover with saran wrap and then 2 tea towels and let rest for an hour.

Preheat oven to 425 degrees.

Uncover pan and place in oven for 20 minutes.