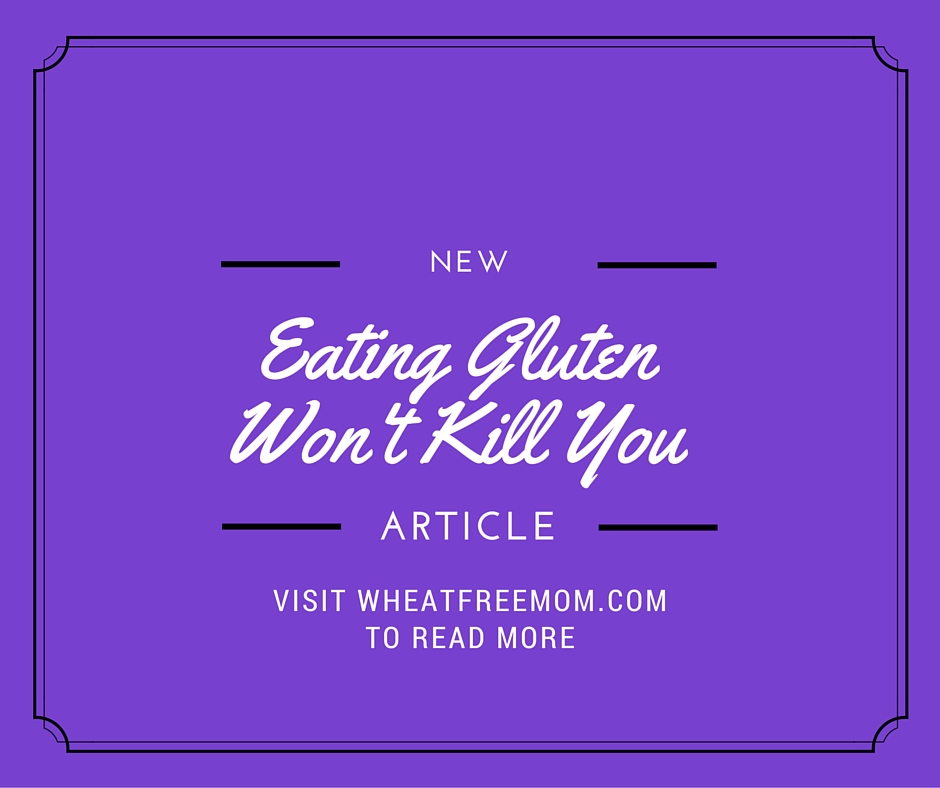 A while ago I was having a conversation with a friend and discussing my concerns travelling overseas and the issues of being gluten free.
She looked at me and said "It's not like eating gluten will kill you, being gluten free isn't like a peanut allergy which is way more serious."
I was taken aback but nodded, listened and did not respond in a negative way.
What I did find is that the conversation has stuck with me and I felt I needed to post my thoughts on my blog on this subject.
Has "being gluten free" become such a fad word that the seriousness of celiacs disease is being ignored?
Are we desensitized to the health reasons for eating gluten free and the necessity for those who have celiacs disease like myself?
These are the thoughts I am left with plus a million other ones after our conversation.
My Friend Was Right In A Way
Most of us will not die suddenly if we eat gluten.
However, I can honestly say the pain I feel as well as the physical discomfort I get if "glutened" is real and can last – for me – for up to 3 days. In fact I am finding that I have become even more sensitive to gluten and this April when I was in Hawaii I ate a taco that I am sure had wheat in it. I experienced severe pain through the night and almost asked my husband to take me to the hospital.
You see folks, eating gluten free isn't an option for me. I take serious the issues of cross contamination and do not wish to be sick at all.
After I had my biopsy for celiacs disease, my wonderful surgeon Dr. Ferez informed me that I needed to take celiacs disease very seriously. He informed me that the side effect of eating gluten could cause bowel cancer. When I heard that, being gluten free was not an option for me, it was now my life. I do everything I can, not to take the chance of being glutened.
I would rather not eat then take the chance!
Tweet: "I am not saying being gluten free is a right but I am saying I have the right to live #glutenfree." @wheatfreemom
I do not expect restaurants, fast food joints, airports or airlines to have safe food for me to eat. It is my responsibility to feed myself safely.
Have I found myself in a travel situation where for 16 hours I had nothing to eat but gluten free Kind bars. Yep, I did! Was I tired of granola bars and upset that I had not had any other food for the day? Yep, I was.
But I also knew I was on my way home and I felt lucky to have the Kind bars for at least it was something to eat.
I post very little on celiacs disease, the effects of eating gluten, the issues of cross contamination or my reasons for having a blog. Mainly I share recipes.
You see, I really just want everyone to enjoy great gluten free food. I do not want folks, like me, to be without. To feel like everyone around them is eating a cookie, or enjoying a piece of cake and they cannot have any of it.
I want you to feel normal, just like everyone else.
So, can eating gluten kill me?
Nope, it won't today, but I do know it could eventually if I do not follow a gluten free diet every day.
I will not apologize for taking celiacs disease seriously and voice my concerns at times.
If you are on Facebook I encourage you to follow folks like Gluten Dude Jennifer's Way and Gluten Free Girl to see the issues of living gluten free in the US and see the passion they write about in being gluten free.
For folks in Canada check out my gal Kathy Smart who travels North America and talks eating real food, exercise and living gluten free.
There are many many more great gluten free blogs out there for you to follow and get recipes and more.
Are we taking gluten free too lightly now?
I hope not.
I hope if you have celiacs disease you are taking it seriously and eating gluten free ALL THE TIME!
I also hope you are enjoying life and not avoiding it because you are gluten free.
We are heading to Europe for a three week holiday soon and even though I am nervous about where to eat I am also still going. Life is too short NOT to go on any adventures.
I would love to hear about your adventures so feel free to share with me or follow along with me on Facebook and Instagram in September to see how I am doing in Europe.
Looking for Gluten Free Salad Recipes?
In my Gluten Free Salads Cookbook you can find 27 other delicious recipes your friends and family will love, including: Cucumber Herb Salad, Roasted Strawberry Goat Cheese Salad, Sesame Noodle Salad and many more. Purchase yours today.