To see more details on the cookbook, head over to Amazon.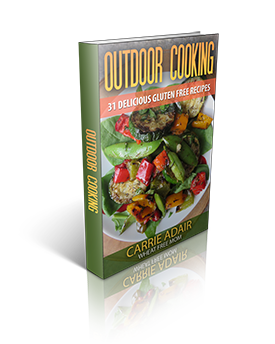 Introducing my newest cookbook – Outdoor Cooking: 31 Delicious Gluten Free Recipes.
Amazon and I have partnered up for a promotion to offer the cookbook for FREE for the next 5 days!!
Yes, you heard that right. A FREE COOKBOOK. It has 31 delicious gluten free recipes your entire family will love.
Below you can find answers to some of the frequently asked questions. If you have any others, please email me here.

Frequently Asked Questions
Q: Does this cookbook have a printed or digital version?
A: Both! The free version is for Kindle.
Q: Are all of these recipes gluten free?
A: YES! And I ensure all of the recipes are delicious.
Q: Will my kids like these recipes?
A: YES! I am a mother of 3 kids and they are always my test subjects. They love these recipes.
Q: Is my purchase secure?
A: Yes! Amazon handles all of the purchase processing. Read their help section here.
Q: How do I leave a review?
A: I'm glad you asked. Reviews help more people find our recipes and join the WFM community. If you enjoyed the cookbook, please leave a review by click here.
For full details on the gluten free cookbook including a list of recipes, see below:
Outdoor Cooking: 31 Delicious Gluten Free Recipes
by Carrie Adair, founder of Wheat Free Mom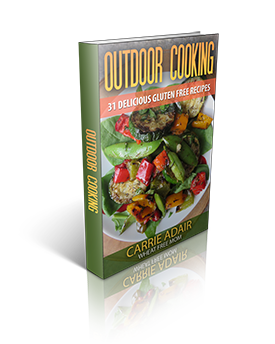 What if nobody could tell the meals you cooked were gluten-free?
Introducing… Outdoor Cooking: 31 Delicious Gluten Free Recipes
Here's what others are saying:
"I am recently diagnosed [with celiacs], and your recipes are a great inspiration." -Debbie
"I have tried a lot of your recipes and have enjoyed them all." -Beverly


Full list of recipes:
Artichoke and Bean Salad
Avocado Citrus Salad
Black Beans
Black Bean & Chickpea Lime Salad
Burger with Bacon, Tangy Rhubarb BBQ Sauce & Jalapeno Cheese
Burger with Caramelized Onions
Burger with Chimichurri
Burger with Peppy Cranberry Sauce
Butter Chicken Burgers
Cheddar Cheese Stuffed Burgers
Chickpea and Bean Salad
Cucumber Herb Salad
Drunken Fruit Salad
Griled Cauliflower Salad
Grilled Vegetable Salad with Goat Cheese
Pasta Salad
Pickled Cucumber Salad
Pineapple Teriyaki Burger
Poutine Burger
Reuben Burgers with Thousands Island Dressing
Roasted Strawberry Goat Cheese Salad
Romaine Salad with Creamy Parmesan Dressing
Salsa Burger
Sesame Noodle Salad
Spicy Thai Cabbage Salad
Stuffed Greek Chicken Burger
Tangy Rhubarb BBQ Sauce
Thousand Island Dressing
Vegan Chickpea Burger
Vegetarian Quinoa Burger
Watermelon Prosciutto and Goat Feta Salad