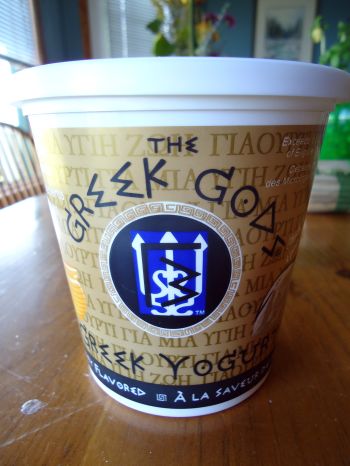 Wondering the aisles of Amaranth Whole Food Market the other day I noticed that a table was set up offering samples of yogurt. I noticed that it was Greek Gods yogurt, a yogurt that was recommended by Shauna over at Gluten Free Girl.
I tasted a small sample with blueberries and went "Wow, this is wonderful, tangy and rich in flavour." The sample was the honey flavoured and I quickly added it to my purchases.
Once home I thought I should do something special with this yogurt and remembered making mini-cheesecakes many years ago. I know I had fresh berries around and so I did some baking.
Now… in years pre-celiac I would have used "Nilla" vanilla wafers, so what should I use now? I had a bag of Pamela's Simplebites Extreme Chocolate Flavored Mini Cookies. I used them.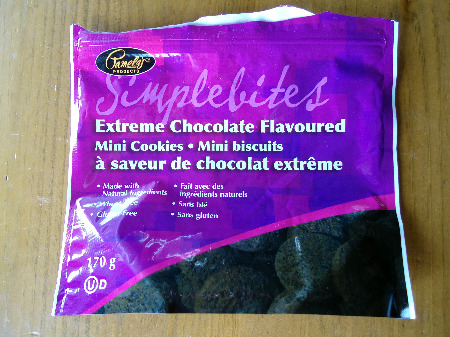 Mini Cheesecakes are so easy to make. You don't need many ingredients to make them, and their short oven time is perfect in the summer.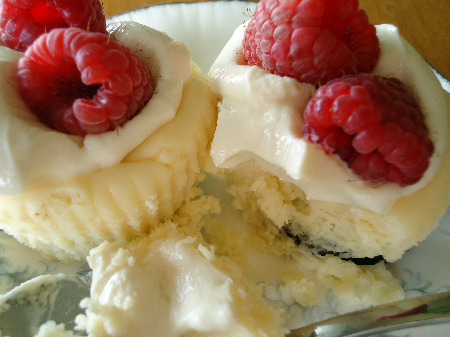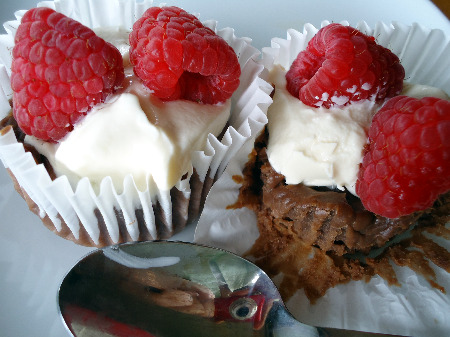 Mini Cheesecakes
Ingredients
2

8 oz pkgs cream cheese

1/2

cup

white sugar

2

eggs

1

tsp

vanilla

12

Pamela's Mini Chocolate Cookies
Instructions
Preheat oven to 325 degrees.

Place foil paper muffin cups into muffin tin.

Place one mini cookie into each muffin cup.

Beat cream cheese, sugar, and vanilla until smooth. Mix in eggs until creamy.

Fill each muffin cup ¾ cup full and bake for 12-15 minutes.

Let cool completely and top with Greek yogurt and berries.

I also used chocolate cream cheese that I had in the fridge and made chocolate ones.