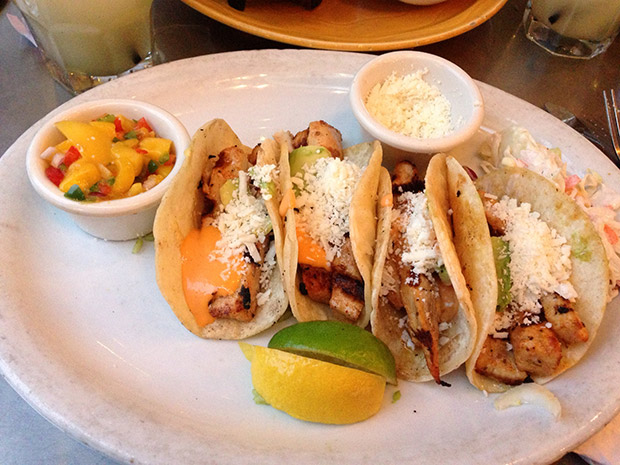 My hubby and I were in Santa Fe for the first time back in 2011 and enjoyed ourselves immensely. We were very much looking forward to visiting it again this summer for a week.
What was going to make it even better was that our son Cam who is living in Boulder, CO since April was flying in for the last weekend to hang with us.
Santa Fe, New Mexico truly is one of a kind. If you are into art and culture, Spanish, Indian and American history, southwestern cuisine, tequilas and margaritas, and of course beautiful scenery – this is a place you must visit.
The southwestern cuisine lends itself to eating gluten free easily. White and blue corn tortillas are in abundance in most restaurants.
We stayed at the Eldorado Hotel and Spa again and its location in Historic Santa Fe allows for walking to almost anything you want to sightsee, eat at or enjoy.
I discovered on one of my daily walks a new bakery had opened up behind our hotel, MOMO & CO. I was thrilled to see the sign proclaiming gluten free and vegan.
It's a cute little place and I purchased a gluten free cupcake to try, which I very much enjoyed.
We ate at Tia Sophias twice for breakfast but my favorite was finally getting to Cafe Pasqual's. Be prepared for a wait but it was so worth it. They offer organic and great quality food. My regret is that we only got there once, next time I will visit it for more breakfasts plus try it for lunch too.
Walking down Canyon Road and going through the many art galleries is a must do for us. Every medium, price range and style is offered and while we didn't buy any art this time, I know where to visit when I am ready.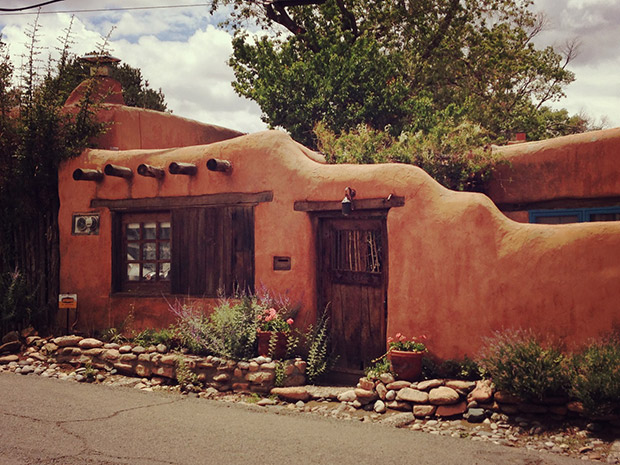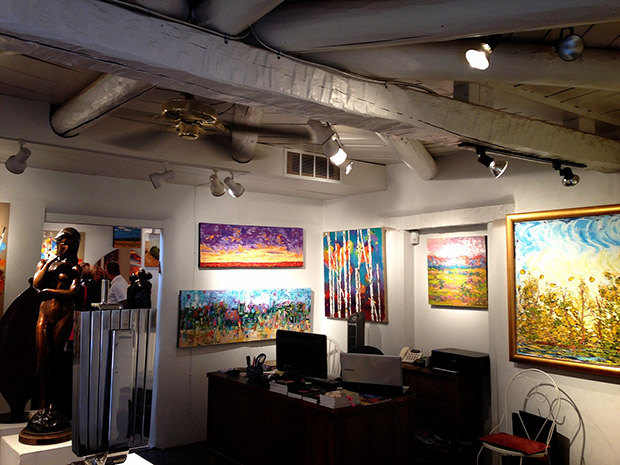 Along Canyon Road is the Teahouse. On a hot day sitting under an umbrella with an icy cold lavender lemonade is the best.
I treated myself to one of their gluten free scones. Oh man! Delicious! Warm scone with homemade lemon curd and cotted cream.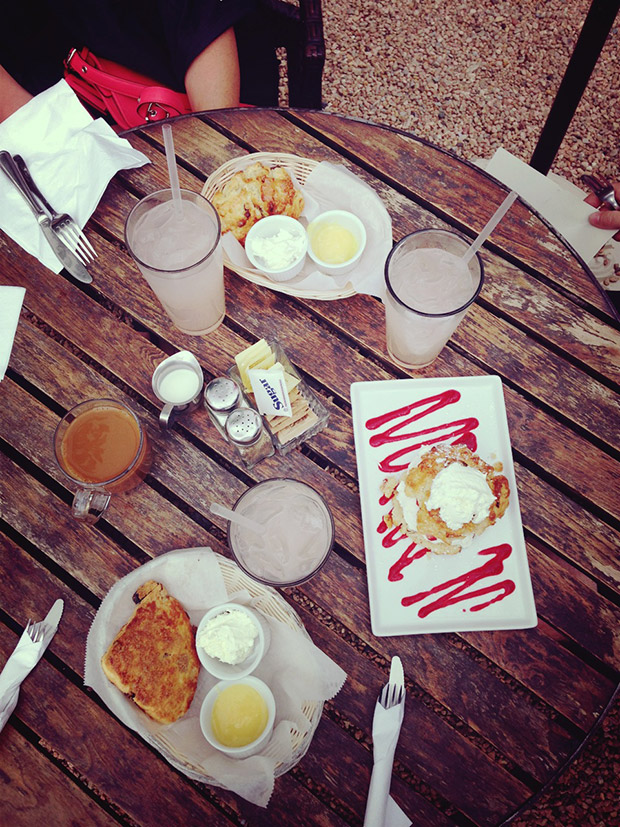 I was lucky enough to be able to take 2 different cooking classes through Santa Fe School of Cooking. The chef not only taught us southwestern cuisine but also offered a history lesson into how southwestern cuisine came to be.
I highly recommend taking one of their classes if you are in Santa Fe. For a cooking girl like me living in a wintry province the chance to learn and cook with chilies was enjoyable.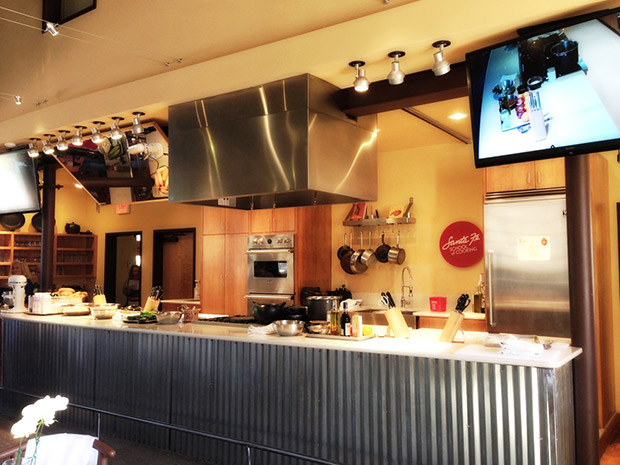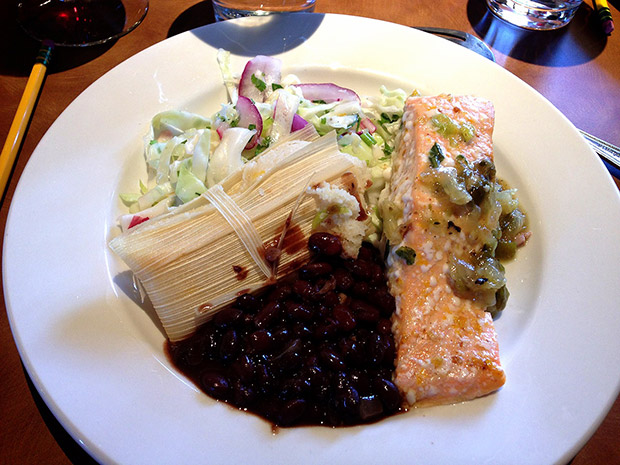 One of the cooking classes offered was held outdoors at a vineyard. Not only was the setting beautiful, we enjoyed local wine and learned how to make 2 different salsas plus more. The chef was aware of my gluten issue so they prepared my chicken separately.
Everything else offered I could eat. That is what makes southwestern cuisine a favorite of mine.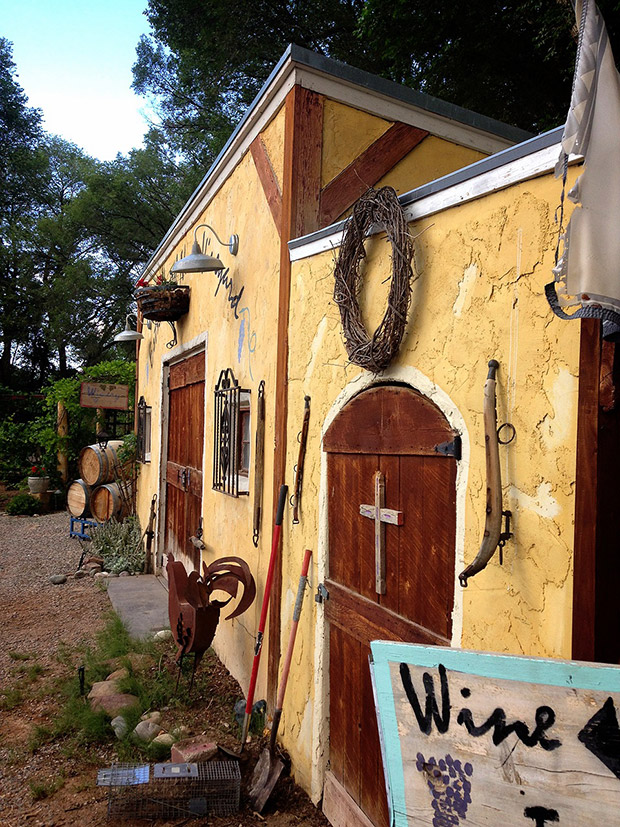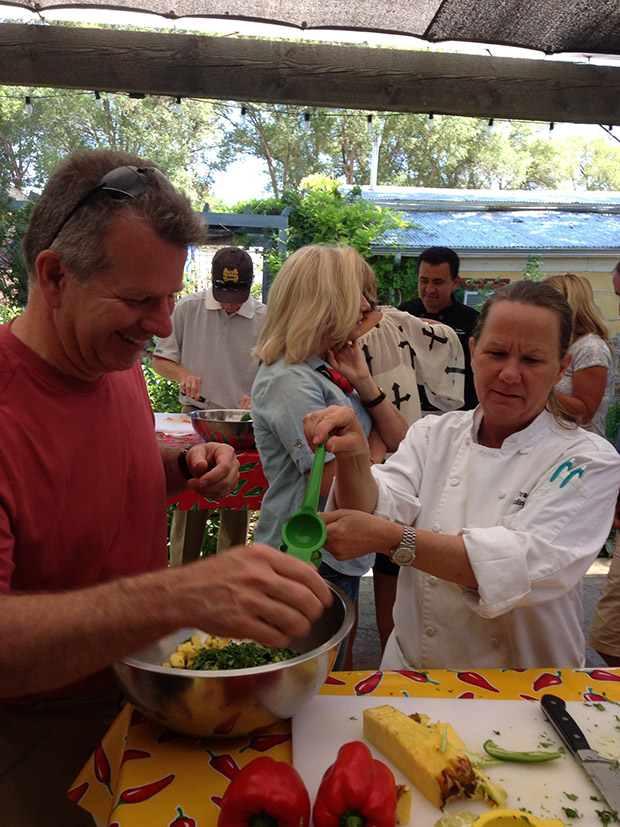 A 15 minute walk from our hotel is the organic grocery store called Sprouts. I was able to pick up fresh fruit, veggies, local cheese, deli meats and crunchy snacks to have in the room for the week. I find that sometimes you do not feel like going to a restaurant so we like to have "room picnics".
Walking in Historic Santa Fe allows you to visit the oldest church in the US, Georgia O'Keefe Museum as well as the Native Arts Museum, shop in the many stores selling Turquoise jewelry as well as Native, Folk Art and Spanish art, eat and drink plenty, visit Loretta Chapel and see the miraculous staircase, visit galleries as well as local spice stores and pick up bags of dried chili powders.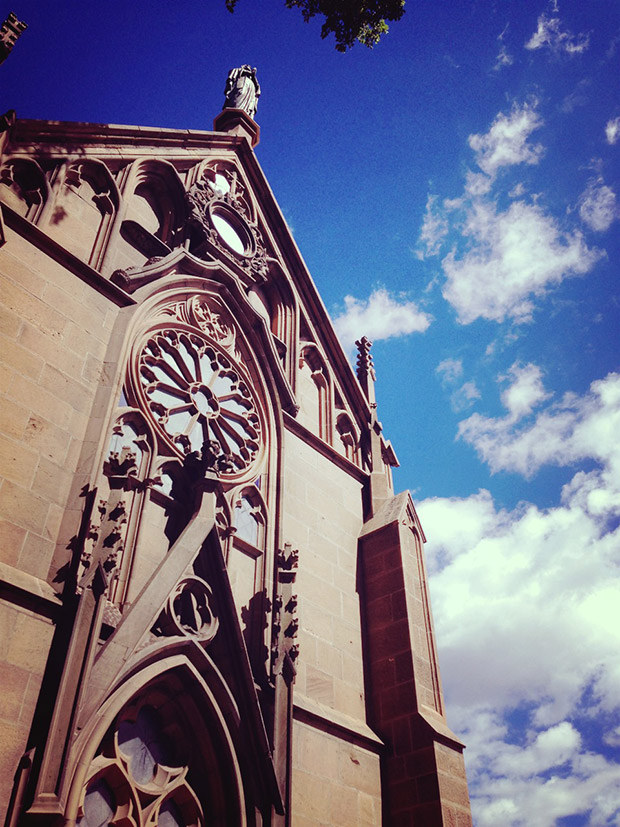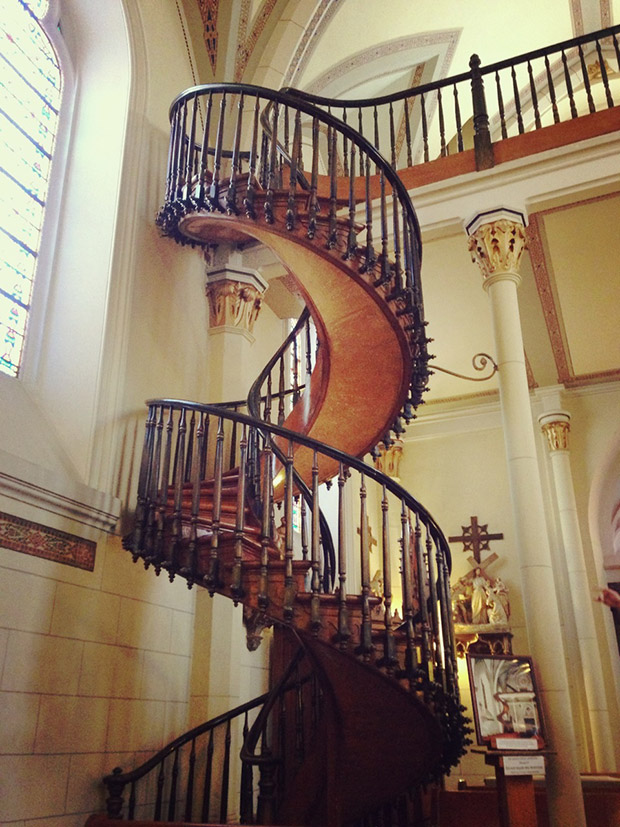 When Cam arrived for the weekend we rented a car and drove to Los Alamos. I'm not sure how many of you remember the Manhattan Project or know about the "secret city" that was here in WW2?
We visited the Los Alamos Historical Museum as well as the Bradbury Science Museum. These museums explain the history of the Manhattan Project
which includes the making of the atomic bombs.
I am not the biggest history person but I was enthralled with the information provided as well as the films showing the history of this secret city.

Once we were finished at the museums in Los Alamos we drove to Bandelier National Monument. The Pueblo people back in 1150 AD settled there and their ancestral dwellings can be visited. It is a great hike and you are also allowed to climb ladders into the small carved rooms that are still there.
Even I fought the fear and climbed a ladder into a cave. Going up was easy, it was climbing down that had me sweating!

We ate at Coyote Cafe and Cantina twice in a row for supper. The weather was fantastic so we sat on their second floor deck and enjoyed margaritas as well as salsa, homemade corn chips and then tacos. They were well aware of gluten issues and made a safe meal for both Cam and myself. Cam had veggie tacos and I had their fish tacos – excellent food!