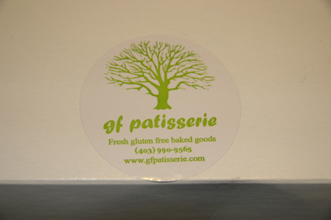 Recently I went to a great GLUTEN FREE BAKERY that was opened in Cochrane, Alberta called GF Patisserie and it was fabulous!
My sister had told me about this bakery after reading Macleans Magazine in December. But with the roads so icy, and Christmas looming, I had never gotten there until now. I actually went right after Christmas but found them to be closed.
I am so, so happy I finally made it there.
They are located in the small town of Cochrane which is about 10 minutes from my house in NW Calgary. The bakery is located in a small blue house on 3rd Ave.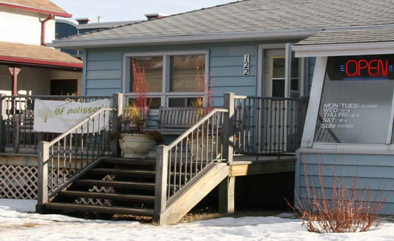 To find out their hours of operation, and information about GF Patisserie you can visit their website at www.gfpatisserie.com
While you are visiting this site, please click on the blog. It is called The Celiac Husband. It informs you about what is going on in the bakery and also recently, about which restaurants in Calgary carry their products.
I was so excited to be there, and had a lovely conversation with the owner about the bakery, her products, and of course being celiac. I mentioned that I had a blog on living with celiac and I hope they will be happy with my review.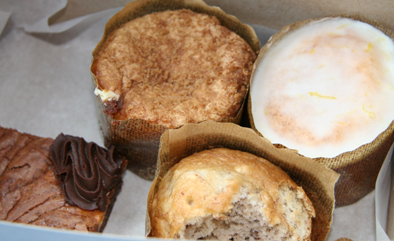 In this box, I purchased a coffee cake, a lemon loaf, a brownie, and banana bread.
As you can see, I had a taste of the banana bread right away. It was moist and airy, something that is NEVER said about gluten free baking.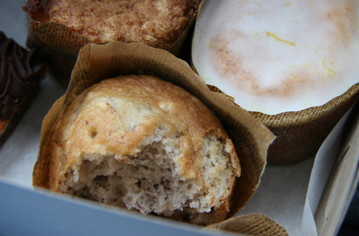 I also purchased a fresh loaf of flax sandwich bread and a "fresh out of the oven" flatbread. As a gluten-free baker, I have tried to bake almost everything. Bread always gives me a hard time. I want a loaf of bread that is airy, and not heavy in texture. I can promise you will be delighted with this bread.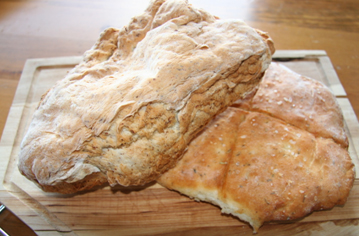 See how light and airy this bread is?
So, one of the first things I did once I returned home was to make a sandwich. To truly test a loaf of bread you need to make a sandwich.
And again, let me tell you-FABULOUS!! I almost wept with joy. As someone, who grew up with fresh bread every day, I really do miss it. But now, I HAVE MY SANDWICH BACK!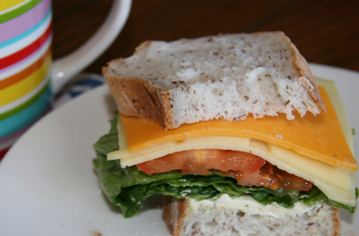 Since I am still trying to lose weight, and did not want to overload my calorie consumption, over the last 4 days I have been tasting the bakeries products.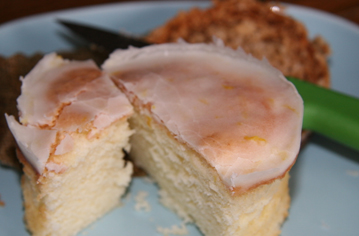 The lemon loaf was delightful. The freshness of the lemon burst in my mouth.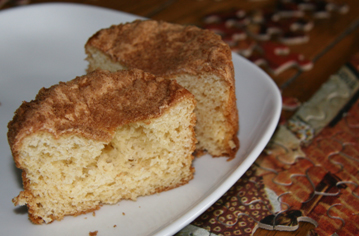 The coffee cake, was mildly sweet, airy and with a touch of cinnamon.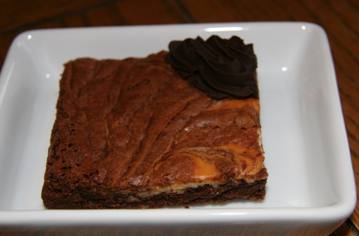 The brownie was again, not overly sweet and I loved the marbling – both in taste and texture.
Being able to make fabulous grilled cheese again is one of my favorite discoveries with the bread. I am having so much fun experimenting with different cheeses these days. Yum!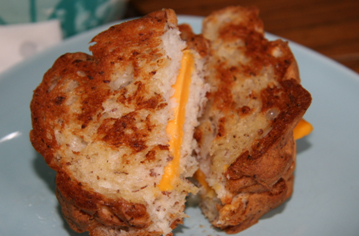 Please, if you are in the neighborhood of Calgary and in search of great gluten-free baking – make a trip to Cochrane and visit GF Patisserie.
You won't be disappointed!