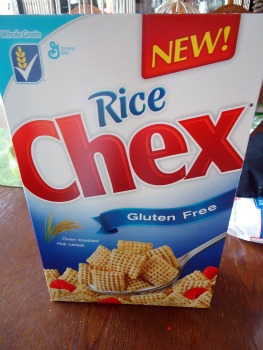 Chex cereal. Gluten free cereal. Great tasting gluten free cereal.
Early on when I was launching Wheat Free Mom I posted that I had found some amazing gluten free cereal while in Texas visiting my girlfriend. I fell in love with Chex cereal and for the last couple of years I have driven 7 hours to Spokane, Washington to load up on Corn Chex, Rice Chex, and Honey Nut Chex. I would then ration out how much of the Chex I could eat, for it was something I could not get here in Canada.
Well, no more!
While I was in Toronto in May visiting my daughter, I received an email from Amber Murphy of Optimum asking if I was interested in receiving some products from General Mills. I replied YES and waited patiently for the products to arrive.
They arrived. Was I ever pleasantly surprised! A large box arrived and when I opened it, much to my delight, discovered Chex Cereal. But not just cereal. It was a full box of goodies.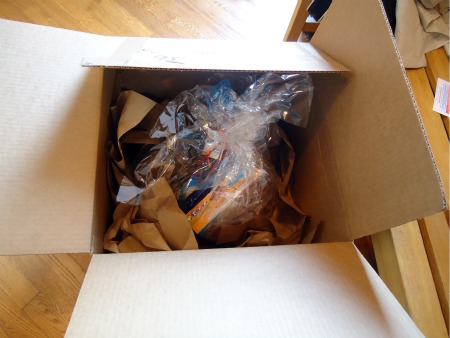 2 boxes of cereal, one Rice, one Honey Nut, a glass bowl, t-shirt, lanyard, icing sugar, peanut butter, vanilla, chocolate chips and a gift card for superstore.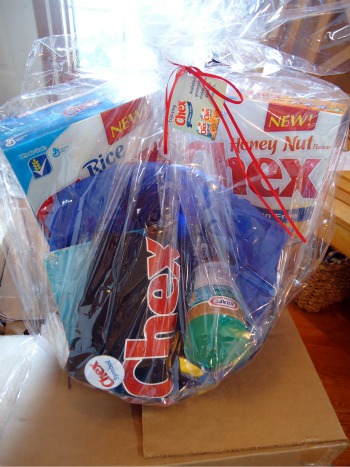 I am so greatful, and thank Amber for sending me this gift.
While out shopping this week, I have checked out to see if Chex is in stores yet. I have found it at Coop and Superstore so far. I will let you know when it appears at other stores.
Last week my son Cam and his friend were coming over to watch the Stanley Cup playoff game. Cam is also gluten free and was very happy to hear that Chex cereal is now here. So I thought I would try one of the Chex recipes provided as a game snack.
I made the Chex Brittle and as always, as my readers know, I modified the recipe a little.
Here is my version of the Brittle. But I must warn you! It is addictive!
(Cam note: I had a big bag of the Chex Brittle sitting on my counter in my condo, and a whole bunch of my friends who came over tried it without knowing it was gluten-free, and they all thought it was delicious.)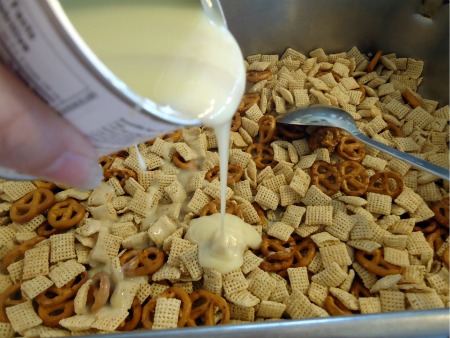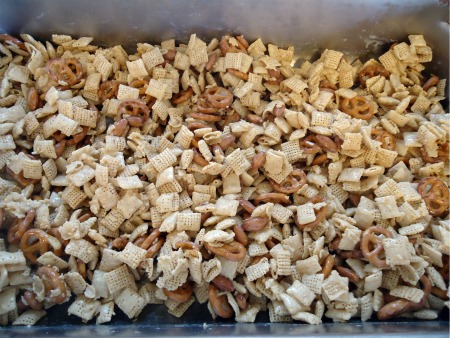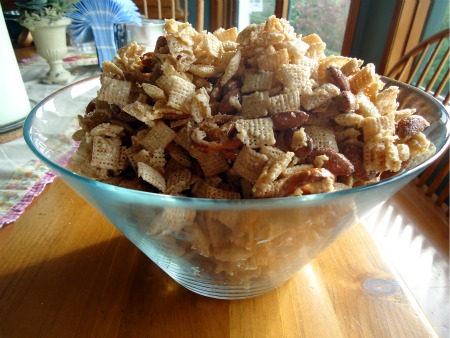 Chex Brittle
Ingredients
8-10

cups

Rice Chex cereal

2

cups

gluten free pretzels (not in original recipe)

1

cup

unsalted raw almonds (original recipe called for 1 cup of salted peanuts)

1

can

sweetened condensed milk (not evaporated)

1

tsp

vanilla

1/2-1

tsp

Maldon sea salt (I like the combo of sweet and salty)
Instructions
Heat oven to 325 degrees.

Spray a large roaster with cooking spray.

Add cereal, pretzels and almonds to roaster. Stir.Mix vanilla into condensed milk.

Pour mixture over cereal and stir completely.

Spread onto waxed paper (or parchment) to cool (about 15 minutes).

Break into pieces.Store in airtight container.Or if you are like us, put in a large glass bowl and serve.
Again, I have to thank Amber Murphy of Optimum for sending me this care package. And for letting me spread the news that…
CHEX CEREAL IS IN CANADA!! And as we say in Calgary YEEHAW!