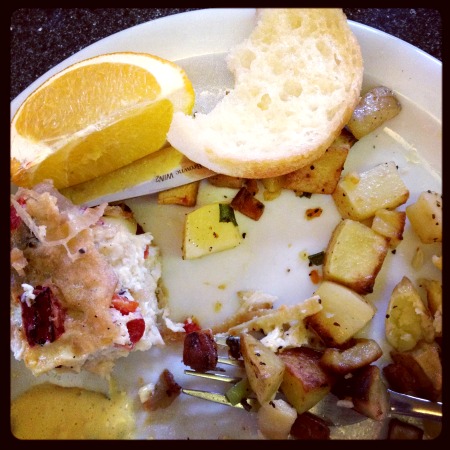 I decided with the holiday season and company arriving soon, that folks here in Calgary might like to know where to go for a great gluten free breakfast.
We are so lucky to have some amazing places here in Calgary where you can enjoy a gluten free breakfast, but I have really enjoyed the food at these locations and thought i'd share.
Diner's Deluxe is located in the Bridgeland area, at 804 Edmonton Tr NE and serves great tasting food. They carry gluten free biscuits and buns by Calgary's Care Bakery. I had their eggs Benedict served with gluten free biscuits, gluten free hollandaise sauce and homemade hashbrowns.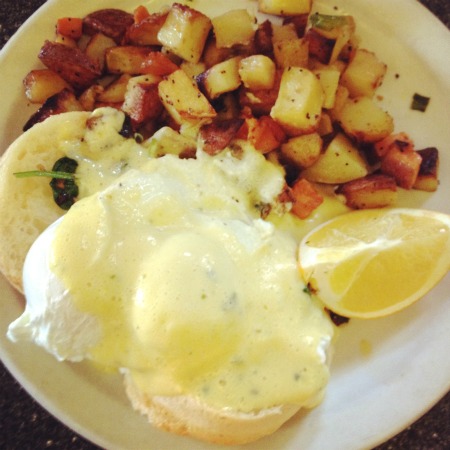 What I love about Diner Deluxe is that they shop at our local farmers market for fresh ingredients and supports local businesses.
I also had the chance to try their bacon and aged cheddar cheese omelette with hashbrowns and a delicious gluten free biscuit last week.
For those without gluten issues their stuffed french toast is a must!
Blue Star Diner is Calgary's latest diner to open and uses local and organic ingredients. It is located in Bridgeland at 809 1 Ave NE.
They carry gluten free baked goods from Calgary's Big Star Bakehouse.
I had the Back Bacon & Grilled Tomato Eggs Benedict, served with gluten free hollandaise as well as hashbrowns.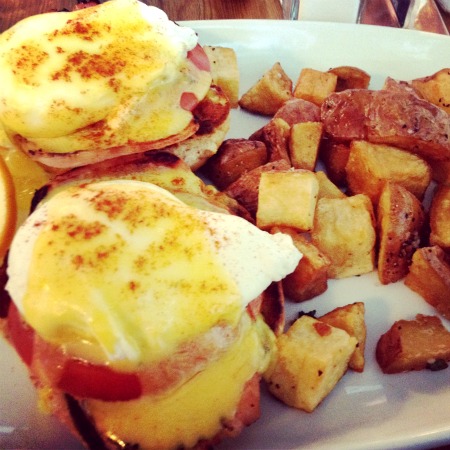 My family had the Vegan Scramble, which is gluten free as well, and the Veggie Omelette served with gluten free toast.
OEB Breakfast Co. also known as Over Easy, is located in Bridgeland at 824 Edmonton Tr NE. OEB and Diner Deluxe are only a few shops in-between each other.
OEB is all about fresh and innovative classic egg dishes with a twist.
I had their 'Farmer John's Delight' omelette with gluten free toast, my son had the 'Canadian eh Benny' with gluten free toast and my husband, who is not gluten free had the 'Super Moist French Toast.'
Everything tasted great and I loved that fresh fruit was served on each plate.

Dairylane Cafe is located at 319-19 St NW and prides itself on using local and fresh ingredients. I love that on the back of their menu they list the local companies and products that they use.
Their gluten free buns are made by Big Star Bakery in Calgary.
What I love most about these diners is that because they use local ingredients they know exactly what's in their food. It's great for people that have food allergies or an intolerance. Even if you are not gluten free, wouldn't you want to eat at a restaurant that uses fresh ingredients? This year I decided not to eat at any large chain restaurants since I was getting tired of being asked if I was a little bit allergic or really allergic to gluten…. Are you kidding me? Should it matter?

If you know of any other great gluten free breakfast places in Calgary, please let me know.