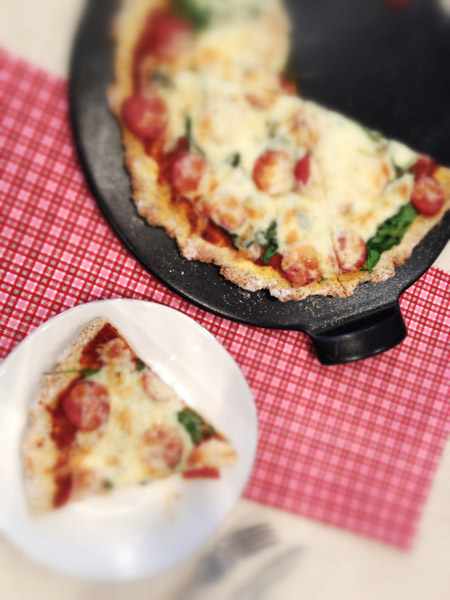 I've been playing with pizza dough recipes again. I recently tried a low carb crust that involved mixing cream cheese and eggs and using that as a base.
Didn't like it.
Tasted to me like a slab of cheese melted with sauce on top. Not a fan.
I like a traditional pizza dough. One that has yeast in it and needs to rise for a bit. I want a pizza dough that I can mold and form with my hands, just like the per-celiac ones I used to make.
At the same time,I didn't want an all white gluten free flour crust. I wanted it to have fiber in it.
So,I played and decided I liked the thought of adding cooked quinoa to the flour mix.
I used baby quinoa.
Have you tried it?
It's called Kaniwa. It is a dark and finer grain and lends itself to having a real nutty texture when added to baked goods.
I quite liked the look and feel of the dough when I was forming it.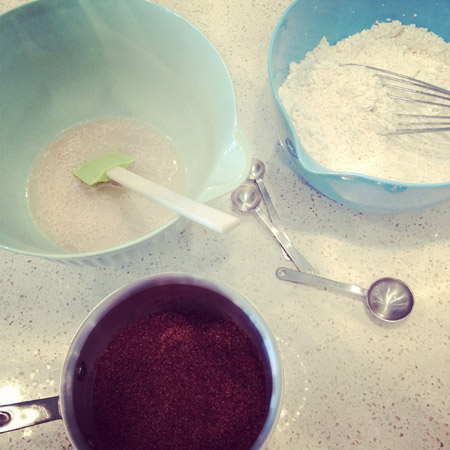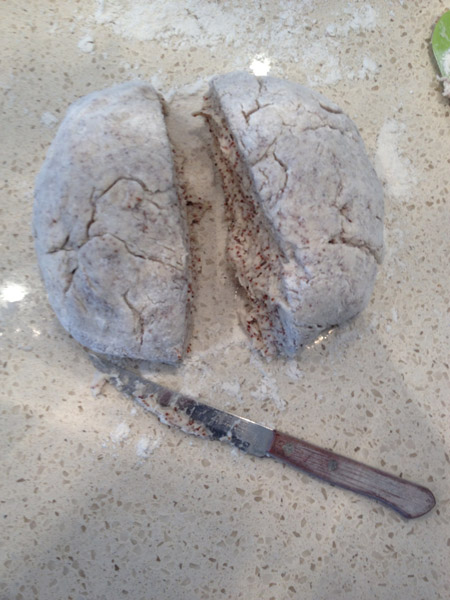 Gluten Free Quinoa Pizza Dough
Ingredients
1 1/3

cup

water

2/3

cup

Kaniwa (baby quinoa)

3

cups

brown rice flour

1 1/2

cups

tapioca starch

3/4

cup

potato starch

1

tbsp

xanthan gum

1

tbsp

quick rise yeast

1 1/2

cup warm water

2

tbsp

white sugar

3

tbsp

canola oil

1/2

tsp

salt

1

large egg
Instructions
In a large bowl add the brown rice flour, tapioca starch, potato starch and the xanthan gum.

This is the flour mixture used for pizza dough.

You will use about 3 1/2 cups in dough.

Keep extra mixture in a ziplock bag and add to it the next time you make pizza.

In another large bowl add warm water with the sugar.

Add the canola oil, salt and yeast.

With a spatula mix in the egg and the cooked baby quinoa

 Add about 3 1/2 cups of the flour mixture to the wet ingredients.

Use about 2 Tbsp of the extra flour mixture and spread it on your counter.

Dump dough onto counter and start to work the dough with your hands.

 Adding a bit more flour if too sticky.

You do not want to add too much or the dough will be tough.

This recipe makes 2 large pizza shells.

If you're only needing one, you can refrigerate dough for a couple of days.

Or better yet, pre-bake the other shell, freeze it, and you then have a pizza shell ready the next time you want pizza.

Place dough on a oiled glass bowl, cover with cloth and let rise in a warm place for 20 minutes.

Preheat oven to 450 degrees.

I use a pizza stone when I cook my pizzas. Heat up stone in oven til temp is at 450.

Remove stone from oven and working quickly (and carefully) dump dough onto stone and with flour or cornmeal, spread dough onto stone.

Bake in oven for 8 minutes.

Remove from oven and now you can add whatever toppings you want to the pizza shell.