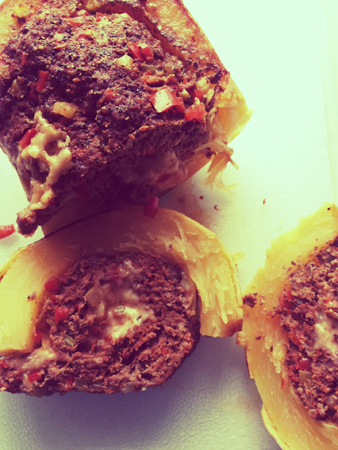 Before I jump in to this recipe I want to thank you all for your continual support and positive comments. It can be a tough line to balance when trying to please all of my readers with various recipes, as we all have different diets and palettes for different kinds of foods and spices. I love food, trying new things and sharing them with others. I hope to inspire as I have been inspired by so many others. Thank you for allowing me to share something I love so much with all of you!
*
Alright, so as promised in my last blog post. here is a recipe for the Stuffed Spaghetti Squash.
Spaghetti squash is a great vessel and can be filled with almost anything. My girlfriend Leslie, introduced me to stuffed squash, filling it with meatloaf ingredients. We usually baked it in the oven but I currently don't have access to a kitchen right now so I thought I'd try it on the barbeque.
It turned out great! Next time I'll play around a little more with various flavors and ingredients. Feel free to play with my recipe and adapt it to your palette.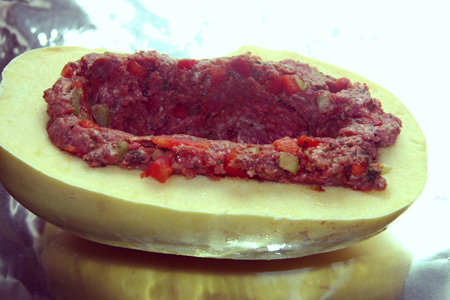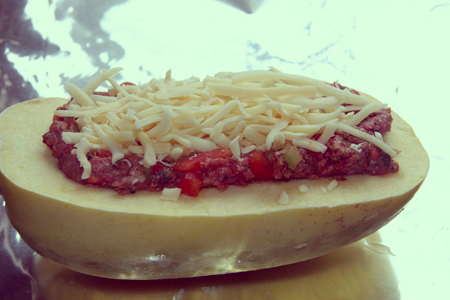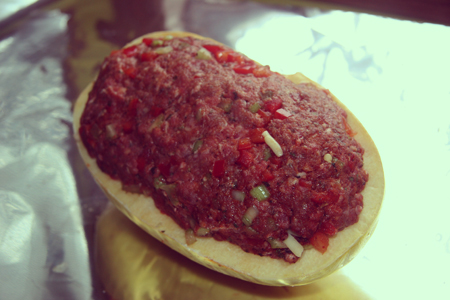 Stuffed Spaghetti Squash
Ingredients
1/2

Spaghetti squash, cleaned and hollowed out

2

cups

ground lean beef

1/4

cup

onions, finely chopped

2

stalks celery, finely chopped

1

tsp

minced garlic

1/2

red pepper, finely chopped

olive oil

1-2

tbsp

hot sauce

2

tbsp

tomato paste

1/2

tsp

cumin

1

tsp

each dried oregano, basil and parsley

2

tbsp

gf taco seasoning

1

cup

shredded aged cheddar cheese
Instructions
In medium bowl, mix well ground beef, onions, celery, garlic, red pepper, hot sauce, tomato paste, cumin, herbs and taco seasoning.

Fill half of the beef mixture in the hollowed squash.

Make a long cavity in the beef and fill with shredded cheese.

Top cheese with the rest of the beef.

Pressing well to seal in cheese.

Place a large sheet of aluminum foil under squash and pour about a 1 Tbsp of olive oil on the squash.

Wrap the squash with the aluminum foil.

Place squash on the barbeque and on medium heat, grill for 40 minutes.

Turn heat to low and continue cooking for 45-60 minutes.

I flipped my squash over for 10 minutes to allow the squash to caramelize on the top.