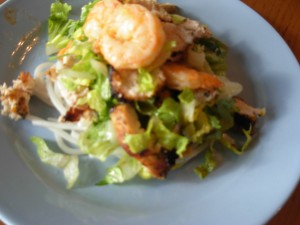 I have been doing a low carb program for the last couple of weeks. I have found that even with exercise I have not been able to lose weight. I have the joys of a thyroid condition and celiacs, making it difficult to lose weight.
Years ago I had successfully lost almost 50 lbs doing a doctor monitored low carb diet. The problem arose after losing the weight my doctor suggested that I start adding wheat to my diet and over an 18 month period not only started gaining the weight back dramatically, but I got sicker and sicker.
I was diagnosed with celiacs and felt so much better. But, as such with life, I kept the weight on. I took the time to learn about living gluten free, and allowed both my system and my soul to heal. Now I feel better than ever. I walk daily and participate in a ladies weight program twice a week. I would like to lose some more weight so I have decided that for the summer, with all the fresh veggies available, I will cut out the carbs
.
You will be seeing a lot more salads and meats on the blog for the summer. I am sure once the cold weather creeps into Calgary that I will start adding carbs in slowly. I am thinking low carb on the weekdays and a little carbs on the weekends. We will see if this plan works out.
I do miss my lovely flax bread toasted for breakfast from GF Patisserie. After discovering this lovely bakery in Cochrane I was able to get delicious gluten free bread… so now I definitely miss it.
Here is a lovely salad I got out of the "Ultimate Chicken" magazine issue. Again I am making my own dressings and was thrilled to find a Vietnamese salad recipe. I of course, have modified it a little, with bbq season here.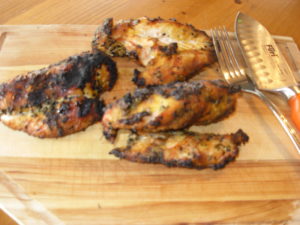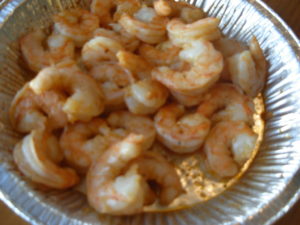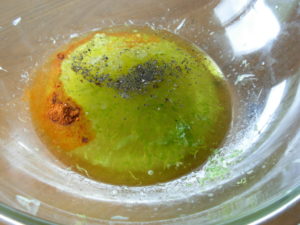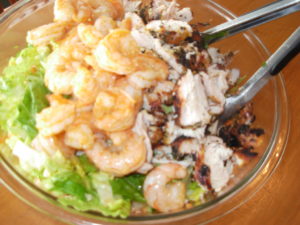 **Now as an option you can add rice vermicelli noodles to the salad. I am doing low carb, so there were no noodles on my plate. But my family enjoys the noodles.
Prepare according to directions while the chicken is marinading.
This easily could serve 6 people for supper.
Vietnamese Chicken Salad
Ingredients
1

pkg

jumbo raw shrimp

3

chicken breasts

1

pkg

Rice vermicelli noodles

3/4

cup

olive oil

2

tbsp

fresh lime juice

1

tbsp

chopped cilantro

2

tsp

salt and pepper

1/4

tsp

cayenne pepper

1/2

tsp

crushed red pepper

1

tbsp

grated lime peel

3

tbsp

rice wine vinegar

1/2

tsp

chili powder

2

tbsp

sugar

3

heads romaine lettuce, shredded

1

cup

shredded carrots

1

large

bunch cilantro, chopped

1

cup

crushed unsalted peanuts
Instructions
In a bowl, combine 3 Tbsp of the olive oil, the 2 Tbsp of lime juice, cilantro, salt, pepper, crushed red pepper, and cayenne pepper.

Add chicken to bowl and marinade in fridge for 10-30 minutes.

Remove from marinade and Bbq til chicken is done.

Remove from Bbq and slice chicken thinly.

In a small aluminum pie plate, add peeled shrimp, a Tbsp of olive oil, and I like to put ½-1 tsp chili powder and mix around. I then place pie plate on bbq and cooked the shrimp for 3-5 minutes until done.

For the dressing in a large salad bowl, whisk together the remaining ½ cup olive oil, ¼ cup lime juice, lime peel, vinegar, chili powder, sugar, salt and pepper.

Add to bowl, chopped lettuce, carrots, cilantro, peanuts, chicken strips, and shrimp.Toss altogether.