This past weekend for us, was Thanksgiving and I had a mix of dietary issues to include for the meal. I am gluten-free as you know, but my son and his friend Jamie are also vegan so that needed to be addressed for the meal. Was there still going to be turkey and stuffing? Of course there would be, but I also wanted to include more vegan and gluten-free options for everyone to enjoy.
I decided on using fresh organic vegetables from the farmers market and make a vegan lasagna.

I also decided not to make them with a lasagna noodle, we were having lots of vegetables, salads and desserts and felt that a noodle was not necessary.
When you make this for yourself, please layer them with a lasagna noodle just cutting them to fit in the jar.
Yes, I made lasagna in canning jars and loved the effect. One, it is the perfect portion size and also you can store them as leftovers in the fridge or freezer quite easily.
I am in love with canning jars, I even made peach and pumpkin jar pies.
Anyhow back to the lasagna, last week I had slow roasted organic plum tomatoes left in the fridge, so used them as the perfect base for these lasagnas.

Again this is a really easy recipe, use whatever vegetables you have on hand. If you are not vegan use a fresh buffalo mozzarella.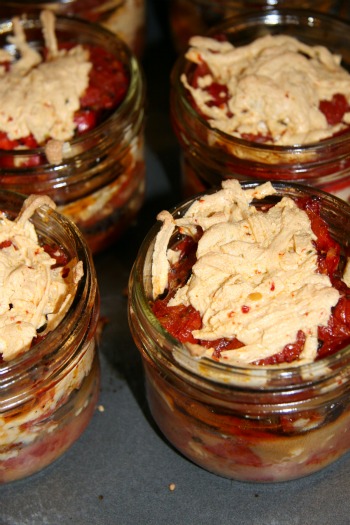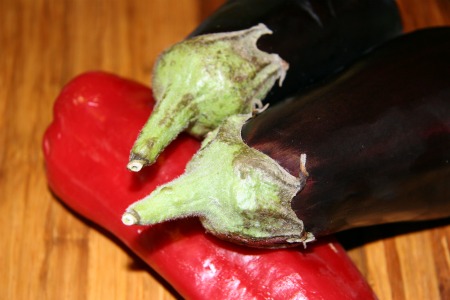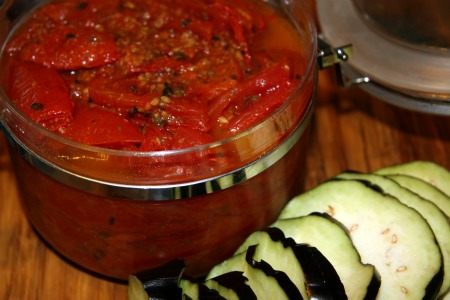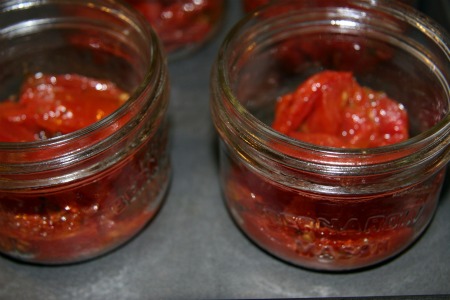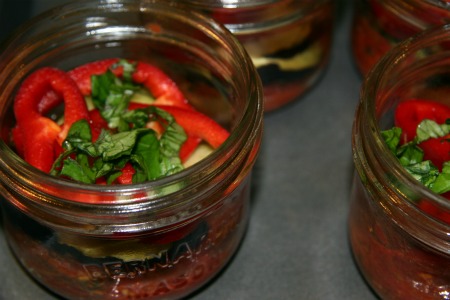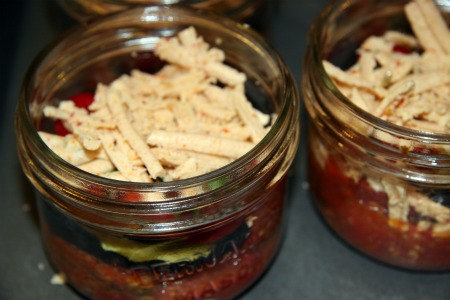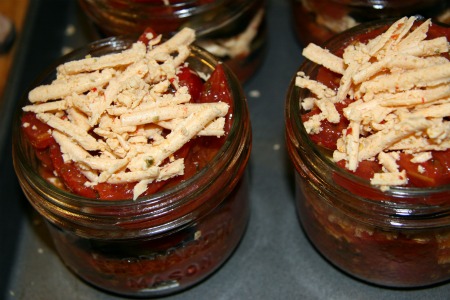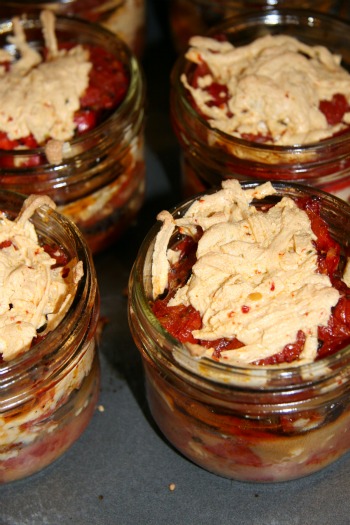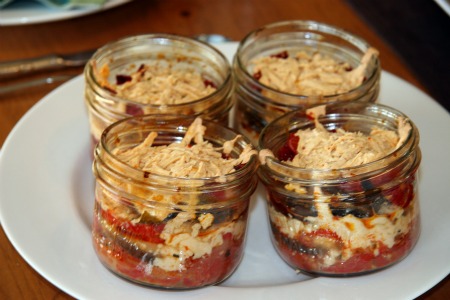 Vegan Eggplant Lasagna in a Jar
Ingredients
6

(250ml)

glass canning jars

2

cups

slow cooked roasted tomatoes

2

small eggplants, thinly sliced

1

pkg

Daiya dairy free pepper jack cheese

1

sweet red pepper, sliced

Fresh basil
Instructions
Preheat oven to 375 degrees.

Line bottom of jars with about 2 Tbsp roasted tomatoes.

Add 2 slices of eggplant, then a couple slices of red peppers to jars.

Add some chopped fresh basil and then top with 2 Tbsp of shredded vegan cheese.

Repeat whole process, packing down vegetables into jar.

Bake in a 375 degree oven for 30-40 minutes.