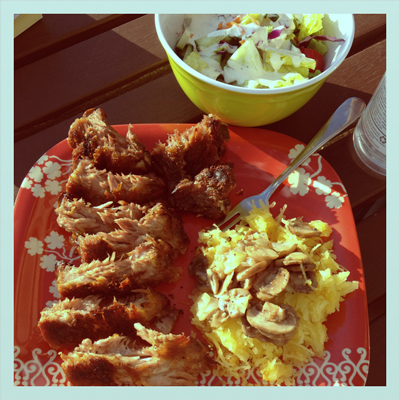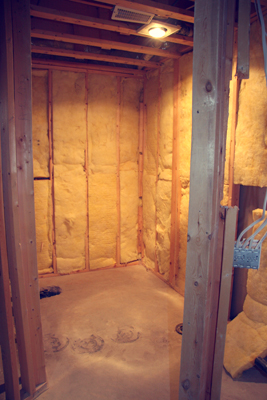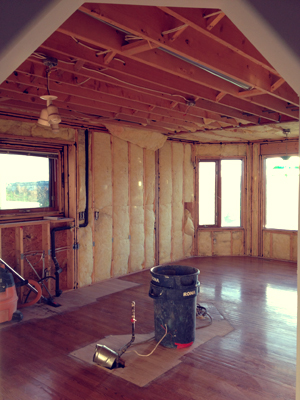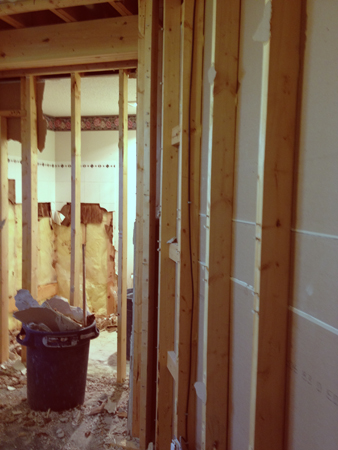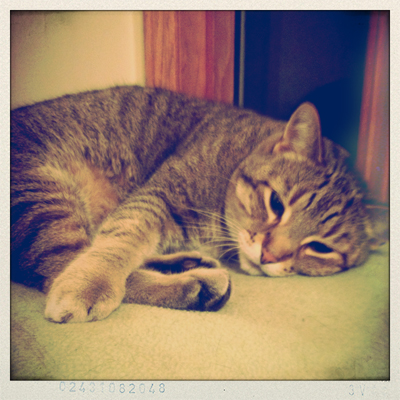 We are 12 days in to our house renovation. It's hard to believe it has only been 12 days, it has felt much longer. Probably because it has been months of planning and designing with additional work before the renovation of packing up all the rooms involved.
We are renovating the kitchen, front hall, powder room, basement bathroom and laundry room. This also involves a new furnace, plumbing and electrical. So, many walls in the house are down to the studs and the ceiling is completely opened up on the main floor. At times I wonder if I should have sold and just bought a new house, but I know all this construction will be worth it in the end.


This past week I had days without water which meant no working toilets, days of drywall dust covering the usable areas of the house, hours of jackhammering and of course…just plain noise. Our cat, Stewart is not a fan of the renovations and has to be locked up in the bedroom during the day.

We are all making sacrifices. The biggest sacrifice this past week was that our son David had to move out of his room (including all of his stuff). His ceiling needed to be opened and accessed. He's kinda camping out in the corner of the basement with a plastic tarp separating him and his stuff from the construction. Hopefully this is only a 2 week project and we can get him back into his room as soon as possible.
I'm learning to adapt to my make-shift kitchen and my minimal appliances.
I've finally got a system down for washing dishes in the bathroom sink, buying groceries daily in smaller amounts, and using the barbeque daily for supper. The biggest adjustment in terms of feeding my family is buying baked goods at the grocery store. It's something I never did and don't enjoy it even now. Neither Kevin or David are gluten free so I try to have muffins or cookies on hand for them. So far, I've heard no compliments on the bought baking. It'll be great when the kitchen is ready and I can bake for my family again.
Todays recipe is spaghetti squash grilled on my barbecue. I'm learning to use spaghetti squash more and more. It's not my hubbys favorite food, but with my low-carb lifestyle- it is something I'm enjoying. This recipe is quite simple but will give you a basic way of cooking spaghetti squash on the barbecue. I have a stuffed spaghetti squash recipe coming in my next blog. It is so good! I hope you check it out.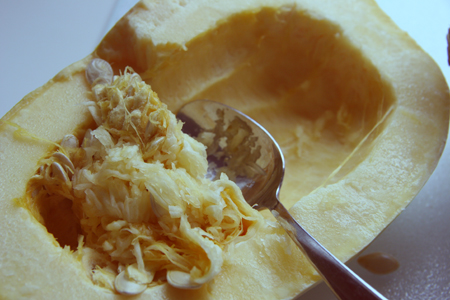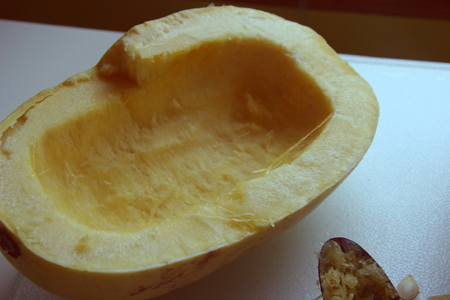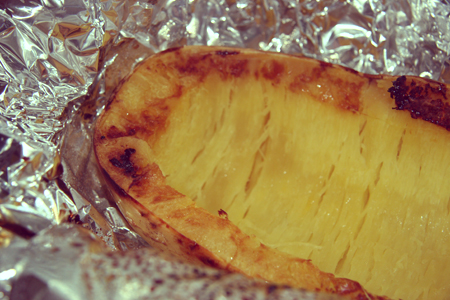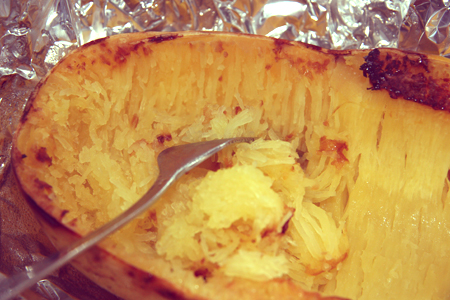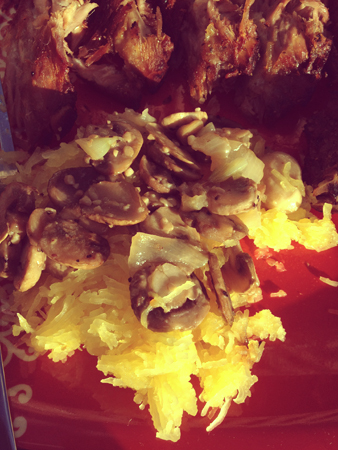 Barbequed Spaghetti Squash
Ingredients
1

spaghetti squash

1

tbsp

olive oil

aluminum foil
Instructions
Prepping a spaghetti squash is quite easy.

With a sharp knife cut the squash in half.

The flesh is quite tough so take your time slicing.

With a large spoon scoop out the "innards" of the squash-thus leaving a hulled squash.

Pour the olive oil into the hollow of the squash and wrap squash with aluminum foil.

Place squash on barbeque and over medium heat grill for 30-40 minutes.

Turn heat down to low and continue cooking 30-45 minutes.

I like my squash to have a bit of caramel color to it so I flip squash over and grill hollow side down on grill(still covered with aluminum foil).

I'll grill it for another 15-20 minutes.

Remove aluminum foil from squash and with a fork, shred the flesh while scooping out flesh.

Your squash is now ready to be served!

The other night I sautéed sliced mushrooms, sliced onions, and garlic in olive oil.

I served the sautéed mushrooms on top of the squash. Mmmm!