I love soup! I love to simmer a soup all day long, especially when it is cold and snowy here. I also love to make soup as a last minute meal, throwing together ingredients I have leftover in the fridge. Soup is also a great gluten free meal.
However, you need to make your soup with either homemade stock or purchase a gluten free stock.
Aren't all stocks gluten free? Well, you would assume so thinking about that clear liquid. But it is not. Pretty much all the companies out there add some sort of wheat or modified starch.
My favorite purchased stock is the brand Kitchen Basics. You can find it in most grocery stores, and it is certified gluten free. I always keep 3 to 4 containers on hand.
So back to the soup. My girlfriend and I went out for a drive to Pasu Farms. It is only a 45 minute drive north of Calgary and with the great fall weather we are having it seemed like a great day for a drive.
Pasu Farms is a sheep farm that sells its woollen products as well as handcrafted products from around the world. We had also made luncheon reservations.
I am sorry to say I cannot brag about my entree, however we did have a great corn chowder to start, and that inspired me to make a big pot at home.
With Thanksgiving here this weekend, this soup would be great to serve for lunch or supper if you have a house full of company. I would also serve this soup in small glass jars as a starter to the turkey dinner.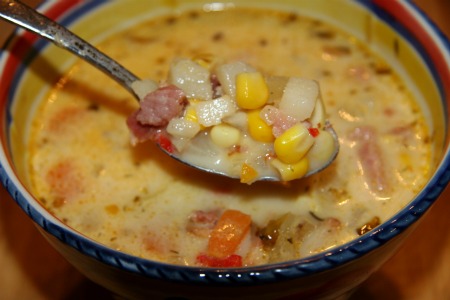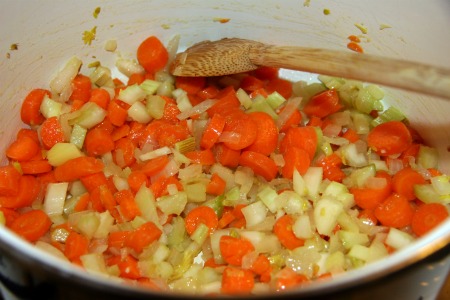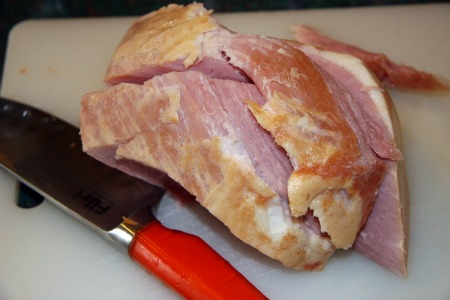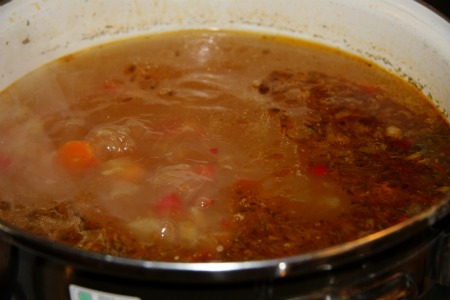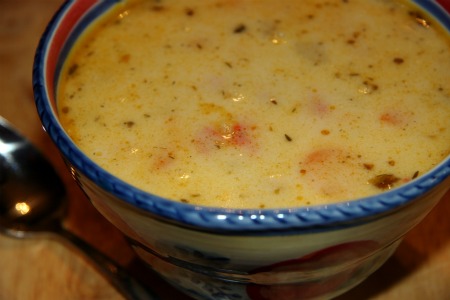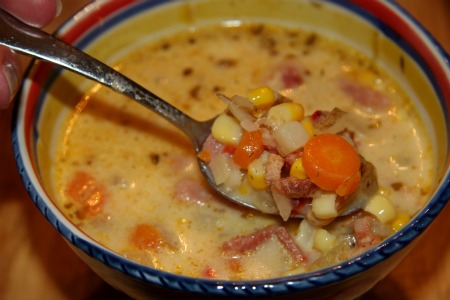 Gluten-Free Corn Chowder
Ingredients
1

tbsp

olive oil

1

onion, chopped

4

stalks celery, chopped

1

heaping tsp

garlic, minced

1

cup

chopped garden carrots

2

cups

chopped smoked ham (leftover ham roast is the best)

1

sweet red pepper, chopped

2-3

potatoes, diced

1

(946ml)

Kitchen Basics no-salt chicken broth

1/2

tsp

dried thyme, oregano and dill

6

cups

water

6

slices bacon, finely chopped and fried

2 1/2

cups

corn

1/2

whipping cream
Instructions
Saute onion and celery with olive oil in your large stock pot.

On low, add carrots, garlic and herbs and cook for 3-5 minutes.

Add ham, sweet pepper, and potatoes and cook for another 5 minutes.

Stirring mixture to ensure nothing burns.

Add chicken broth and water to pot and turn heat to high.

When soup is almost boiling, turn soup down to low, cover with lid, and simmer for 30 minutes.

Add corn and bacon and continue to simmer 30 minutes more.

Just before serving, add whipping cream.