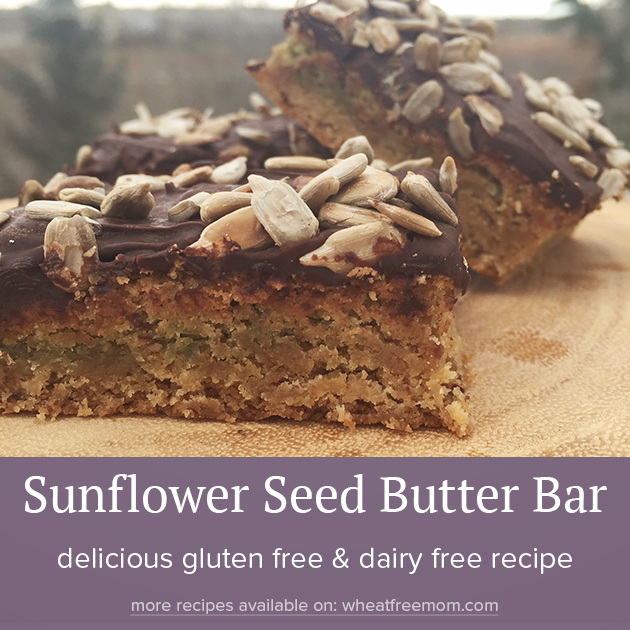 This gluten free dairy free sunflower seed butter bar recipe is a change up from using peanut butter. (See also: Vegan Sunflower Seed Butter Recipe.)
Making your own seed or nut butters is actually very easy and when you make it yourself you have control over how much sugar and oil is in your butter.
All you need to make your own butters is raw unsalted nuts and seeds and a food processor. If you lightly toast the nuts/seeds before hand you add another depth of flavour to the butter.
I especially like to make sunflower seed butter for it has a milder taste and does not over power the flavour of the baked goods.
Sunflower seed butter is also a great alternative if you have someone with a peanut allergy-however with any allergy, check to make sure the nuts or seeds have not been cross contaminated with peanuts.
This bar recipe is made in a 13×9 pan which would be great for a pot luck, school party or family gathering.

Gluten-Free Sunflower Seed Butter Bars
Ingredients
Earth Balance vegan "butter", softened (or use regular butter if you do not need dairy-free)

1/2

cup

sunflower seed butter

1

cup

white sugar

1

large egg

1

tsp

gluten free vanilla

2-3

tbsp

goat milk (you could use cow milk or coconut milk)

1 1/2

cup

gluten free flour blend (I like to use Compliments gluten free flour blend which is available at Sobeys or Safeway)

1/4

tsp

salt

1/2

tsp

baking soda

1/2

bag

of Enjoy Life mini chocolate chips

1/2

cup

lightly toasted raw sunflower seeds
Instructions
Preheat oven to 350 degrees.

Line a 13 x 9 pan with parchment paper.

In a stand mixer beat the sunflower seed butter, sugar and the softened vegan "butter".

In a small bowl whisk the gluten free flour, salt and baking soda.

Add the goat milk, vanilla and egg to the sunflower seed mixture and mix again until smooth.

Add the dry ingredients to the wet and beat on medium speed until batter is smooth.

Spread the batter into the lined pan.

Bake in oven for 22-25 minutes.

Remove and let sit for a couple of minutes.

Sprinkle the chocolate chips all over the cooked bar and then spread the frosting evenly over the bar.

Sprinkle the sunflower seeds over the chocolate frosting.

Let bars cool completely before slicing.