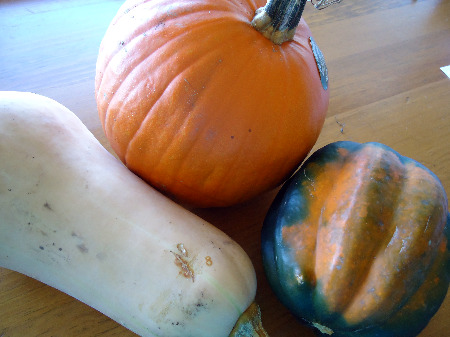 Well it is hard to believe that it is thanksgiving this weekend. It really did creep up on me this year and in not being organized I did not post any thanksgiving recipes… until now! Today you will receive two recipes (Butternut Squash Soup and Squash Toss) and also a technique on how to roast squash and pumpkin. Tomorrow I will be posting a dessert recipe on how to make Pumpkin Cake with Cheesecake Frosting!
I love thanksgiving! What could be better than the smell of pumpkin pie and roasted turkey in the house? Nothing!
Converting the meal to be gluten free is fairly easy. However I have compromised and the stuffing for the turkey is how I have always made it. The kids love it and I am content leaving it full of gluten. Do I still have turkey? Yes. How? I ask my husband before he takes out the stuffing and carves the bird to give me a few top slices. No, I do not eat the gravy either, but again, I am fine with that.
Although gluten-free stuffing and gluten-free gravy are very easy and delicious!
Butternut Squash Soup
Ingredients
1

butternut squash, seeded, peeled, and diced

4

large carrots or 6-8 smaller ones

1

can

chicken or vegetable stock

2-3

cups

water

1

small can

coconut milk

1/8

cup

maple syrup

1/4

tsp each

Nutmeg and cardamom
Instructions
In stockpot, add all ingredients except maple syrup.

Cover, and simmer for 1 hour or until carrots and squash are soft.

Remove from heat, and with inverted blender puree until smooth.

Add maple syrup and stir.

**I have for family gatherings made the soup the day before, and in the morning put the soup in a large crock-pot to heat up (this way you can save precious stovetop space)
Squash Toss
Ingredients
2

tsp

minced garlic

1/4

cup

olive oil

2

T

brown sugar

2

tsp

cumin

2

tsp

red chili flakes

2

tsp

cinnamon

1

butternut squash, seeded, peeled and cut into cubes

1

acorn squash, seeded, peeled and cut into cubes

Salt and pepper to taste
Instructions
Preheat oven to 425 degrees.

In large bowl, mix together the garlic, olive oil, brown sugar, cumin, chili flakes, and cinn.

Add squashes and stir to coat.

On parchment paper lined cookie sheet, add squash cubes.

Spread out cubes on sheet.

Bake for 20 minutes and stir.

Bake for another 5-10 minutes until squash is caramelized.

This dish is oh, so tasty.

The caramelization on the squash, combined with the heat of the chili flakes is wonderful.

Definitely a dish to serve if you are entertaining any vegetarians.

I served my squash toss on basmati rice-but you could double this recipe for a stand alone dish.

Technique: How to Roast Squash/Pumpkin

Roasting a squash/pumpkin is quite simple.

Line a cookie sheet with parchment paper.

I also spray the paper with Pam so that the squash/pumpkin does not stick.

Using a sharp knife, cut top and bottom off of pumpkin, this way it will not roll around when you are slicing it.

Cut the pumpkin then up into chunks.

Remove the seeds and the peel.

Once this is done, place slices/cubes on cookie sheet and place in 350 degree oven for 1-1 ½ hours.

Check on the squash after 30 minutes and flip pieces over.

Once soft, remove from oven.

For the sugar pumpkin, I put the cooked pieces into my food processor and processed until smooth.