I love Fall! Not so much that it is the gateway to winter, but in the abundance of fresh produce available here in Calgary.
I am in my glory when I step into the Farmers Market and see pyramids of vegetables everywhere. I know I have been talking a lot about farmers markets lately, but seriously, it makes me smile.
Smiling aside, farmers markets are a great way of meal planning and healthy eating. If I have a big basket of produce in my kitchen I know I need to use it up in a week so our meals are decided by the butternut squash, the dozen Hungarian peppers, the case of roma tomatoes and the 3 large bags of organic baby cucumbers.
That is what happened this past weekend, I was out shopping for Thanksgiving and my local cucumber stand had big bags of pickling cucumbers. What is a girl to do, but take 2 large bags home, pick up some fresh dill and know that one of the afternoons I would make refrigerator pickles.
What are refrigerator pickles? They are pickles that you make, that you do not process. Processing allows canned goods to keep on the shelf without refrigeration and involves cooking your filled jars in boiling water for a time. It is a great way to preserve fresh produce, but also involves more time and I wanted a quick method. I did do some traditional canning this fall, but knew these bags would be perfect for 4-5 jars of refrigerator pickles.
Don't be afraid to pickle some extra vegetables you have on hand. You can quickly pickle carrots, beans, asparagus and cauliflower. The list is endless, but back to dill pickles.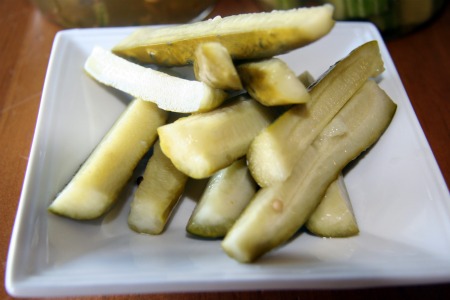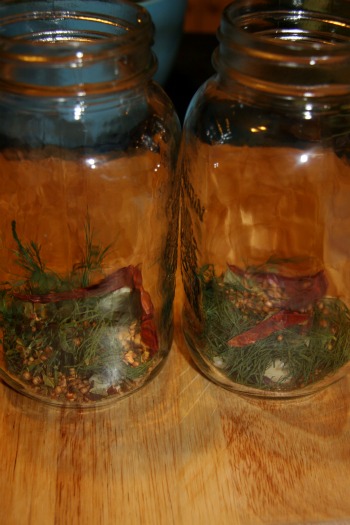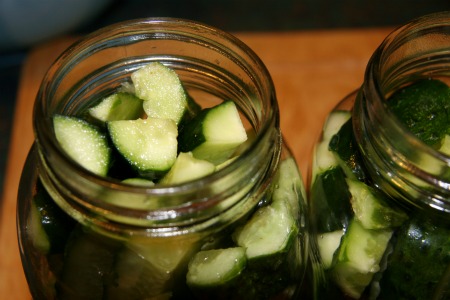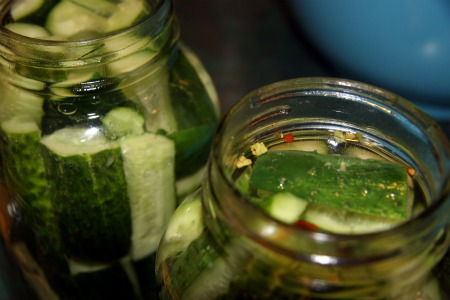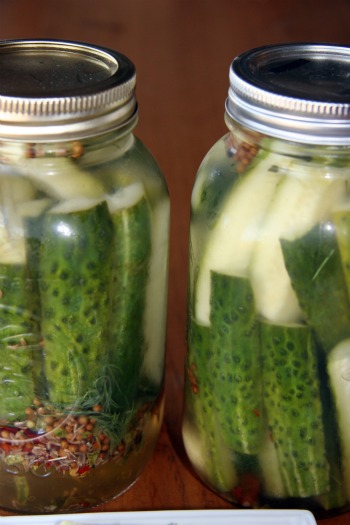 Refrigerator Dill Pickles
Ingredients
1 1/2`

lbs

pickling cucumbers, cut in 1/4's lengthwise

2

cups

white vinegar

2

cups

cold water

3

tbsp

kosher salt (do not use table salt)

3-4

cloves

garlic per 1 litre jar

A good handful of fresh dill per jar

1

tbsp

pickling spice per jar

2

dried chili's or

1

tsp

red pepper flakes per jar

1/2

tsp

dill seed
Instructions
Place garlic, dill, pickling spice, chilis and dill seed into bottom of each jar.

Add vinegar, water and salt to a saucepan and heat on stove.

Allow to heat until mixture is just hot and turn to simmer.

You do not want to boil the mixture.

Fill jars to the top with sliced cucumbers, allowing ½ inch space from top for liquid.

Fill jars with vinegar mixture to almost the brim, making sure that the cucumbers are covered with liquid.

Seal the jars tightly with lids, give a little shake and place jars in refrigerator.

Be patient, but waiting 6-7 days is the best.

Once opened, pickles will last a week so eat up!