If you're looking for the Gluten-Free Chocolate Swirl Cake recipe, click here.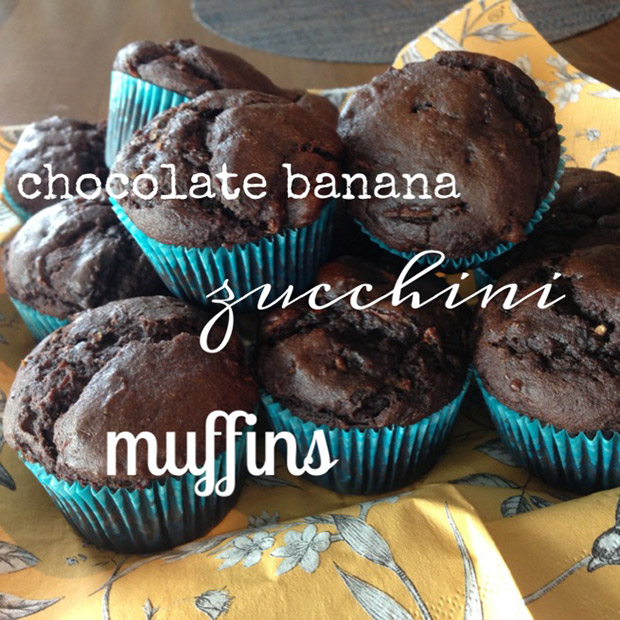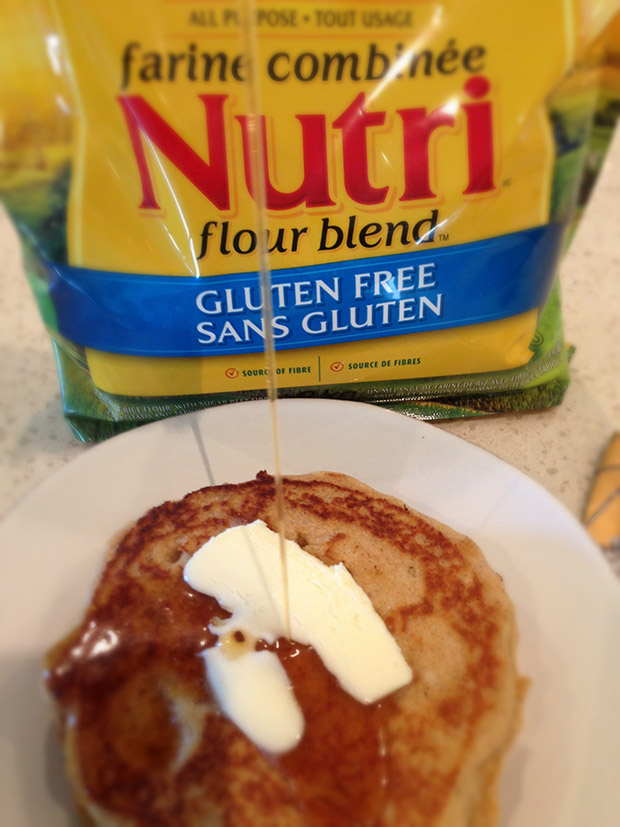 Do you like muffins?
I do!
Recently, I found Robin Hood gluten free flour blend at London Drugs and was excited to give it a try.

The price of the bag was quite good ($6.99) and I was hoping it would be a flour blend that I could add to my cupboard.
Right away I whisked up a pancake batter and though the pancakes were not the best ever, I knew I could play with this gluten free flour and come up with good recipes.
In gluten free baking I find you have to be creative with the moisture added to recipes because sometimes gluten free baking can be dry. What could be better than bananas, buttermilk and zucchini added to the dry ingredients?
Oh, ya chocolate.
Now chocolate will not add a lot of moisture but it sure tastes great, right?
You will notice on the recipe that I used a frozen banana. Frozen bananas whip up great and add a creaminess to batters. I freeze the whole bananas as soon as I purchase them. To use, remove from freezer and let unthaw for 5 minutes.
These muffins rose wonderfully and were light and fluffy in texture.
I hope you give this recipe a try! (If you do, make sure you post in the comments below or on our community Facebook page!)
Gluten-Free Chocolate Banana Zucchini Muffins
Ingredients
1

frozen banana

1 1/4

cup

grated zucchini

1/2

cup

brown sugar

1/4

cup

white sugar

1

tsp

baking soda

1

tsp

baking powder

1/4

tsp

xanthan gum

1

large egg

1/4

cup

canola oil

pinch of salt

1

cup

Robin Hood gluten free flour blend

1/2

cup

cocoa powder

1/2

cup

buttermilk

1/2

cup

optional Enjoy Life mini chocolate chips
Instructions
Preheat oven to 375 degrees.

Line 12 muffin cups with paper muffin liners.

In a medium bowl, beat egg and slightly unthawed banana with a hand mixer until smooth.

Add sugars and oil and beat again.

In a small bowl whisk the gluten free flour, salt, cocoa, baking soda, baking powder and xanthan gum.

Add dry ingredients to wet and mix on low speed. You will find batter to be quite thick.

Add the buttermilk and beat on low speed until smooth.

Scoop muffin batter equally amongst the 12 muffin cups.