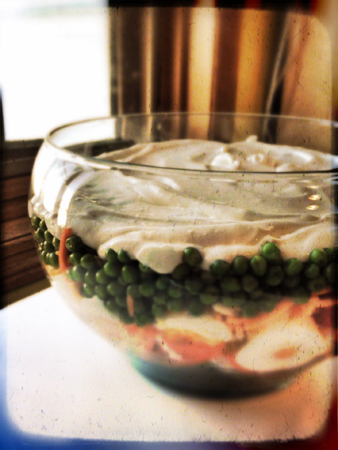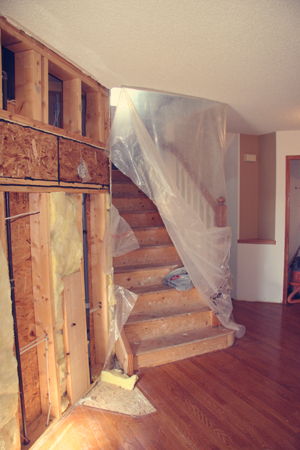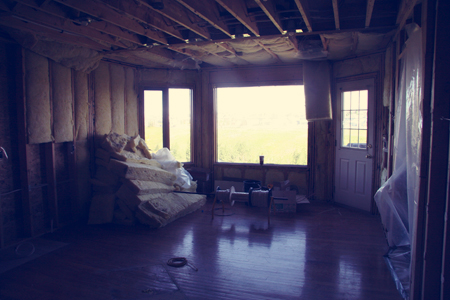 Day 21 of our big summer house renovation. New plumbing throughout, new furnace, which meant ceilings torn down to accommodate larger heating pipes and we just finished the electrical systems.
I have had a lot of early mornings with various trades coming in and out of house. It has involved water being shut off, power off and on, plastic sheets hung to separate areas of our home and having to wear shoes all the time.


On the weekend, my husband and I were watching a TV news show that was encouraging people to go camping this summer. I looked at Kevin and said "There will be NO camping this summer for me. We are already camping in our house right now."
It was a funny moment.
Jacquie, our designer, encouraged me to write in a journal (daily) in regards to the renovation. So as of late I have been doing that, I'm sure I will look back and laugh at some of our reno frustrations once the project is finished.
Last summer I did a new burger recipe every Friday. I've decided to continue that but also expand on it. Going forward after todays post we will be having SALAD Mondays and BURGER Fridays!
I encourage you to visit my blog to see what new salads and burgers I've come up with, that are of course Gluten Free!
Please keep in mind I only have a mini kitchen so my tools are limited.
I'm starting SALAD Mondays with a layered salad. I grew up with this salad and when I made it the other day I was feeling rather nostalgic. I recalled the numerous potlucks we used to go to, and also the large family gatherings every Sunday. Quite a few layered salads were enjoyed through out the years.
This is a great salad for BBQ season. It can feed a large group or family quite easily. I only warn, that this salad has mayonnaise in it and should be kept cold. Please do not leave this salad out on a warm day. Mayo and the sun/heat do not mix!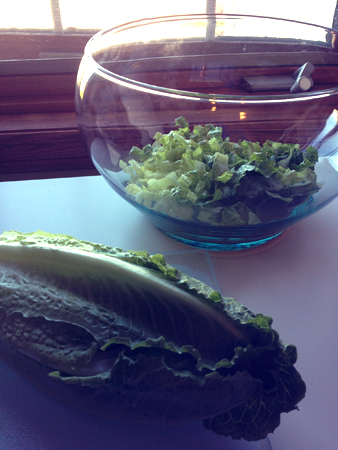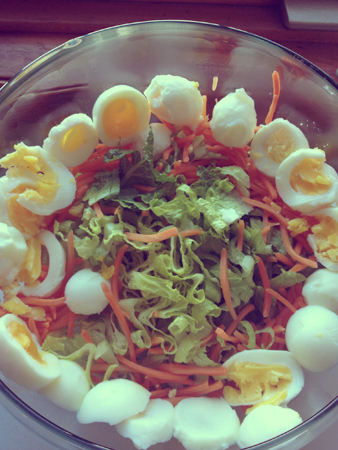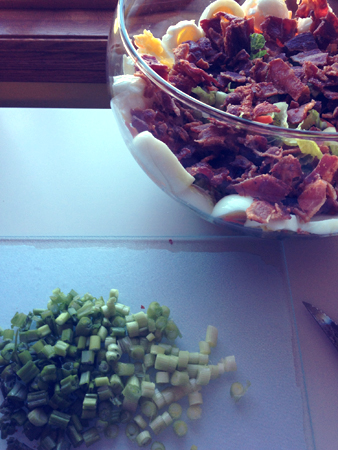 Layered Salad
Ingredients
2-3

heads of romaine lettuce, chopped

5-6

hard boiled eggs (peeled and sliced)

1

pkg

bacon, fried and chopped up

500

g

frozen peas (unthawed and slightly cooked)

4

green onions, chopped

1

pkg (380g)

shredded old cheese

1

cup

grated carrots

1

pkg

San Marzano baby tomatoes ( sliced in half)

1

cup

mayonnaise

1

cup

sour cream

1

tbsp

sugar
Instructions
In a large glass bowl add chopped romaine lettuce to start off the layers.

Add the grated carrots, spreading an even layer.

Add the sliced hard-boiled eggs.

I like to place the slices facing the outside of the glass bowl.

Spread the chopped fried bacon on the carrots.

Next add the chopped green onions and then the baby tomatoes.

You only have 3 more steps left!

Add the shredded cheddar cheese and then the green peas.

In a small bowl mix well the mayonnaise, sour cream and the sugar.

Spread this dressing on the top of the salad and cover the bowl with saran wrap and place salad in the refrigerator.