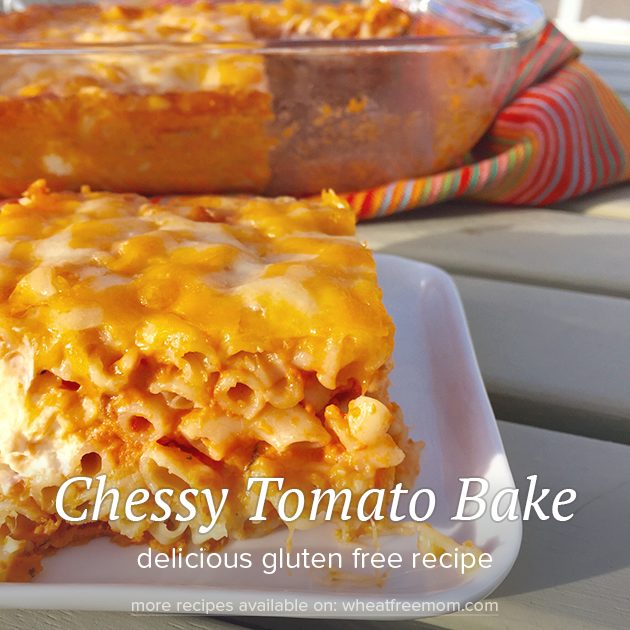 In my last post I shared a sweet and creamy baked dessert using leftover gluten free pasta.
While I was in the kitchen working on a new pasta recipe for the Catelli Gluten Free Pastabilities Challenge I also came up with a savory baked pasta dish.
Even though I was allowed only one recipe for the contest there was no reason I couldn't share the other new recipe I came up with you all.
This recipe is almost too simple. Think of grilled cheese sandwiches and tomato soup.
What if you could have that in one dish? That is what I tried to do in this baked pasta.
Feel free to add to this dish too.
How about chopped spinach or chopped up peppers? What about adding in a layer of pepperoni or ham slices?
The add-ins are only limited to what you want to do with this dish.
I hope you give this Gluten Free Cheesy Tomato Soup Bake a try and let me know what you think.
Should I do more pasta recipes?
Gluten-Free Cheesy Tomato Soup Bake
Ingredients
Campbells Tomato Basil Bisque Gluten Free Soup

2

large eggs

5

cups

cooked and cooled Catelli gluten free macaroni

1/2

cup

cream cheese, softened

1/2 – 3/4

cup

shredded mozzarella cheese

3/4 – 1

cup

shredded cheddar cheese
Instructions
Preheat oven to 375 degrees.

Spread 2 1/2 cups cooled pasta on bottom of a 8×8 square baking dish.

Drop small pieces of the cream cheese over the pasta.

Sprinkle the mozzarella cheese over top.

Top with the rest of the cooled pasta and spread it out evenly.

In a food processor blend the 2 eggs with the gluten free tomato soup.

Pour mixture over the pasta.

Top this with the shredded cheddar cheese and bake in oven for 30 minutes.