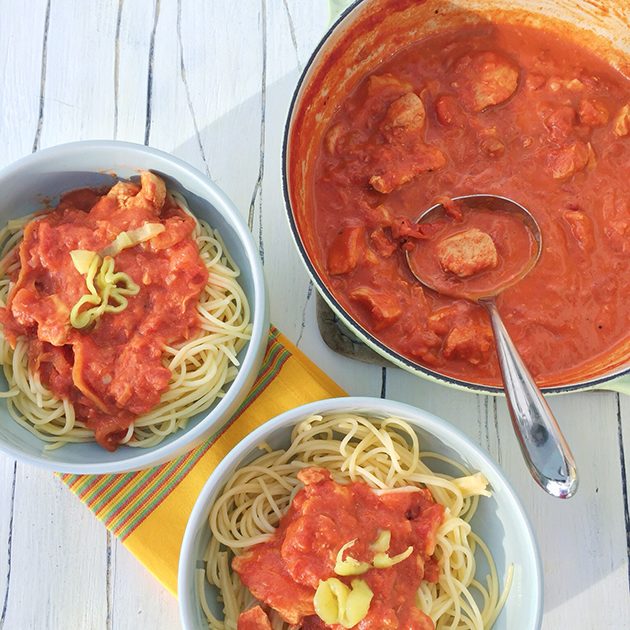 Chicken Paprikash Pasta
Ingredients
1 1/2

tbsp

olive oil

2

boneless chicken breasts, cut into 1 inch pieces

1 shallot or 1 small onion, finely chopped

398

ml can

diced tomatoes

1

tbsp

dried paprika and 1 tsp dried paprika

1

tsp

dried oregano

1

tsp

minced garlic

1/4

cup

deli-sliced jarred banana peppers

OR

1/2

cup

thinly sliced yellow pepper

1

cup

gluten free vegetable or chicken broth

1

tbsp

whipping cream

1

pkg

Barilla gluten free spaghetti, cooked according to instructions on box
Instructions
In a medium skillet heat olive oil over medium heat.

Add the cubed chicken and cook for about 5 minutes.

Add the chopped shallot or onion and stir.

Continue cooking for another 5-6 minutes until chicken is lightly brown.

Add the paprika, oregano and garlic and cook and stir for a couple more minutes.

Add the diced tomatoes, chicken broth and banana peppers and cook on medium heat for another 15 minutes stirring occasionally.

Turn heat to low and add in the whipping cream and stir.

Serve chicken mixture over the cooked pasta.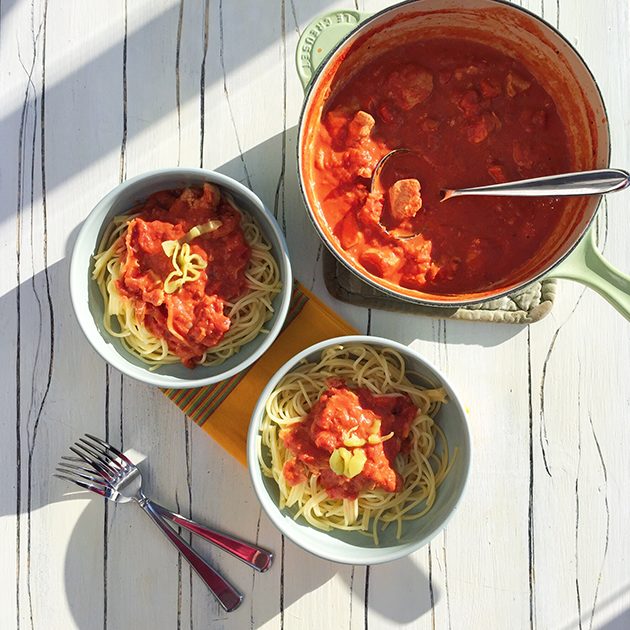 Recently I was sent a few boxes of Barilla gluten free pastas to try and I knew I would then come up with new recipes to share.
Here is one of them- Chicken Paprikash Pasta
What is Paprikash?
Chicken Paprikash or Paprika Chicken is a Hungarian dish using paprika. Paprika is a commonly used spice in Hungarian cuisine and after visiting Budapest last year I knew I would eventually come up with a gluten free version.
I decided to use the Barilla gluten free spaghetti in my dish rather then the sometimes typical egg noodles.
In my recipe I used banana peppers but if you are not a fan of heat feel free to substitute with a mild yellow pepper. This recipe takes really no time to make and would make for a nice weekday supper for your family.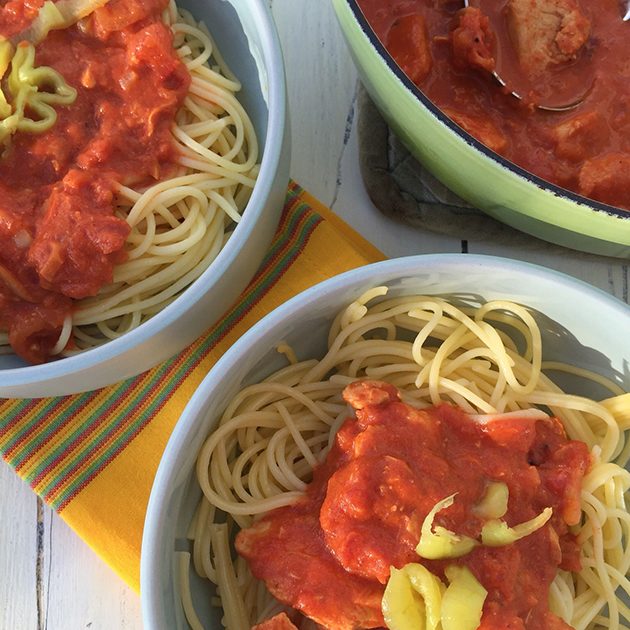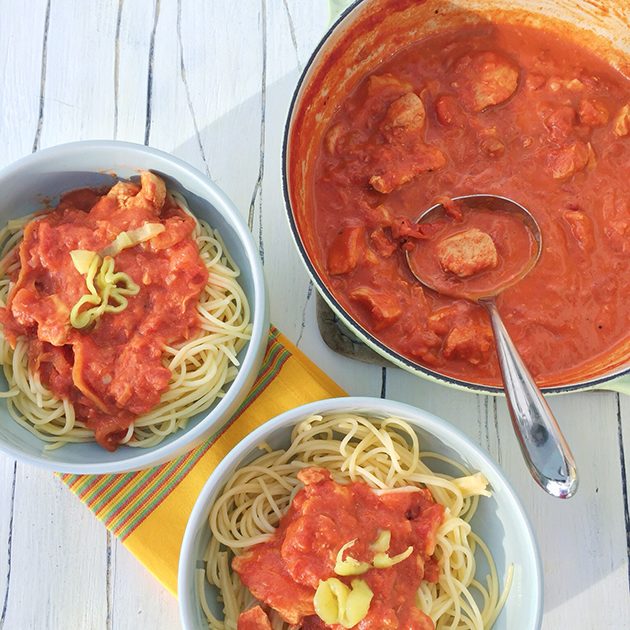 Enjoy!
Looking for Delicious Salad Recipes?
In my Gluten Free Salads Cookbook you can find 27 other delicious recipes your friends and family will love, including: Cucumber Herb Salad, Roasted Strawberry Goat Cheese Salad, Sesame Noodle Salad and many more. Purchase yours today.