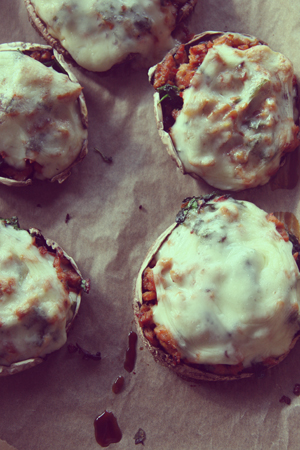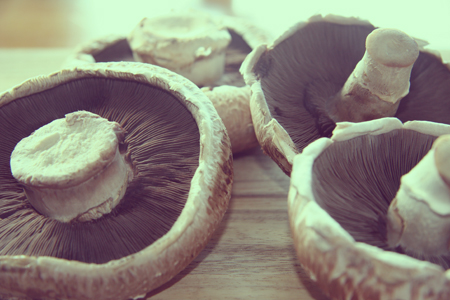 Have you tried portobello mushrooms? They are those really large mushrooms you see in the grocery store and wonder, "What can I make with these?"
Well, I discovered a fantastic use for those large hearty mushrooms. Hollow them out and you can basically stuff them with anything you want. As for me, I want to make pizza!
I'm still living a low carb gluten free lifestyle and was craving pizza the other day. I've seen recipes on the web for cauliflower crust pizzas but I didn't have any cauliflower in the house but I did have portobello mushrooms and thought I'd play with them. I am so happy I did1
Portobello mushrooms are very low in calories (18 calories), low in carbs (3 g.), and have a small amount of protein (1.8 g.). They also provide niacin(vitamin B), folate and selenium (an antioxidant). What do those numbers mean? For me, it means I can still follow my low carb plan, but also enjoy pizza again.
They are also naturally gluten free, just fill them with gluten free pizza ingredients. To tell you the truth, these mushroom pizzas are so delicious you won't miss the flour pizza crusts. Really!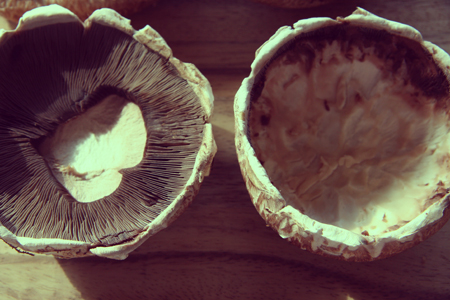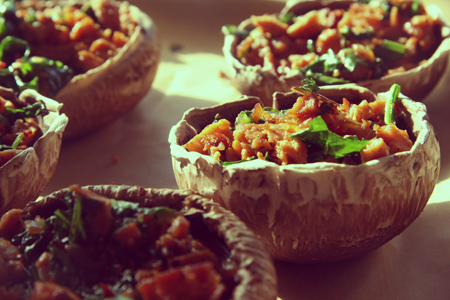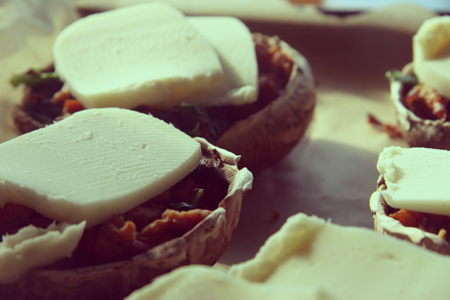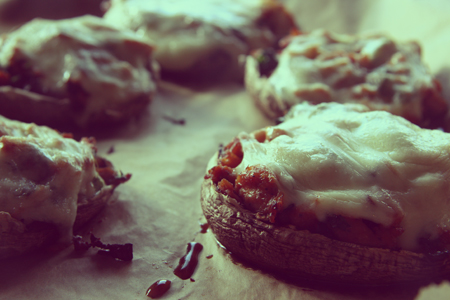 Portobello Mushroom Pizzas
Ingredients
5

large portobello mushrooms

2

Spolumbo spicy chicken gluten free sausages (casing removed)

1

shallot, finely chopped

1

tsp

minced garlic

1

tbsp

olive oil

1

cup

chopped fresh spinach

Gluten free pizza sauce (approx 1 Tbsp per mushroom)

Fresh mozzerella cheese
Instructions
Preheat oven to 375 degrees.

In a frying pan, saute Spolumbo sausages, shallot, garlic in the olive oil.

Remove sausages once lightly cooked and chop up small.

Add back to frying pan and continue to fry until sausages are browned.

Add chopped spinach and saute for 5 more minutes.

Stirring to combine mixture.

Shut off heat until mushrooms are ready to be stuffed.

Using a small spoon, clean out mushroom "guts".

Not only the stem of the mushroom but also the black cap, removing enough to resemble a bowl.

Add 1-2 Tbsp pizza sauce to bottom of portobello mushroom.

Fill each hollowed mushroom with the spinach sausage mixture.

Top each mushroom with fresh mozzarella cheese.

Line cookie sheet with parchment paper and place mushrooms on parchment.

Bake in oven for 20 minutes.