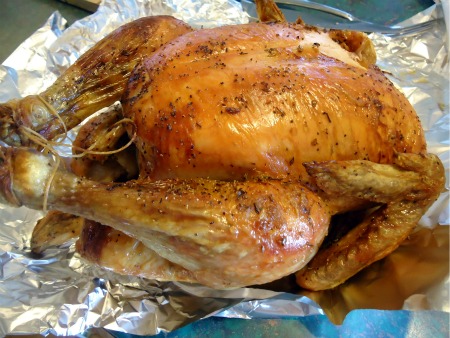 Roast Chicken. How many of us grew up with roasted chicken as a Sunday dinner? How did your Mom cook it? Was it done in a larger black covered roaster? If I remember right, pretty much all meats were cooked that way.
Now it seems, all meats are to be roasted uncovered. Try to find a covered roaster in any higher end kitchen stores and you will find that all roaster pans come without lids. How to do this was a question I had, so again I researched through many cookbooks at Chapters and found some consistent good ideas.
This spring I was not able to do as much baking and roasting as I like due to a dying wall oven. It would take forever to heat up and the temperature was never really right. Quite difficult to write recipes for others to follow when the temperature and times are really wonky. Well, my strife is over and I have a new LG wall oven and I could not be happier.
Now, I will warn you though, that the trouble with roasting uncovered is a MESSY oven. That was hard for me, for within a week of getting a new oven it had to be cleaned.
But was the chicken worth it? Oh ya, it was melt in the mouth good. Crispy on the outside and very juicy on the inside.
Lemon Roasted Chicken
Ingredients
Large roasting chicken (mine was 3 kg)

2

lemons

4-6

heads of garlic

3-4

slices of bacon

1

onion

2

tbsp

softened butter

Purest Gravy Mix (gluten free gravy mix that I bought in Whole Foods)

Dried thyme and oregano

Salt and pepper
Instructions
Preheat oven to 425 degrees.

Rinse the chicken inside and out and make sure there are no extra parts inside the bird.

Place chicken in a large roasting pan.

Stuff the chicken with the onion, 1 lemon, 3 heads of garlic.

Tie the legs together with kitchen twine and tuck wings under bird.

Rub the butter over the chicken.

Sprinkle salt, pepper, dried thyme and oregano over the chicken.

Cut the lemon in half and place in roaster, as well as the rest of the garlic.

Cover the breast of the chicken with the bacon.

(I have been baking a lot of chicken breasts this winter and have found if I wrap the chicken breast in bacon the breasts remain moist and do not dry out)

Roast the chicken for 1 hour.

At this point you can remove the bacon and continue roasting for 30-40 minutes or until the juices of the chicken run clear.

Remove from oven , place on a large plate or platter and cover with aluminum foil while you make the gravy.

To make the gravy, remove drippings from the roaster into a saucepan and follow instructions on packet.
Doesn't this chicken look amazing?
Again, I apologize but you will have to clean your oven after making this recipe. But your family will be happy with the roasted chicken.