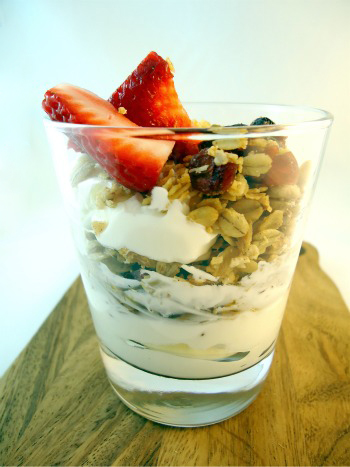 I love granola and yogurt. I love homemade granola and a great thick greek yogurt! Here is a recipe for a great tasting granola, and one that you could take in Ziploc bags with you, so that you always have a great tasting snack.
I promised you the recipe from Erin McKenna's latest cookbook "Babycakes, Covers the Classics" (a gluten free vegan cookbook) after posting her recipe for easy Oatmeal Cookies last week.
I hope that some of you picked up her latest cookbook for all the recipes look easy to make and I think would be a great cookbook to have on your shelves.
I've tried my share of cookbooks, in fact whenever I am in Chapters I look to see if any new gluten free cookbooks have come out. When I do see one that I do not have, I take it home, and I am sorry to say some gluten free cookbooks don't pass the mustard.
This one does, and I am happy to endorse it!
As per usual I added my own bit of flair to the recipe. I have stated in many blogs that I collect spices. Whenever I travel or visit new places I am always on the lookout for new flavors and combinations to add to my collection.
Today was no different. I added vanilla powder, meyer lemon peel, nutmeg, and Saigon cinnamon. I made 2 batches of this granola and following Erin's recipe, the granola still turns out great. I like to play with flavors so these were my additions, feel free to play with your own combinations. Orange peel? Banana chips?
Have some fun!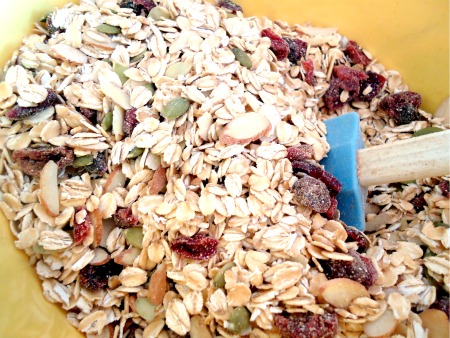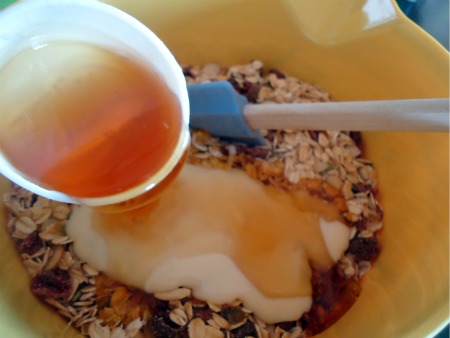 Gluten Free Vegan Granola
Ingredients
4

cups

gluten free oats (I use Only Oats)

1

tsp

salt

1

tbsp

cinnamon

1

tsp

ground ginger

1 1/2

cups

unsweetened coconut

1

cup

pecans(optional, or use almonds, pumpkin seeds, walnuts)

1

cup

dried berries(cranberries, blueberries, cherries, raisins)

1/3

cup

MELTED coconut oil

1/3

cup

agave nectar
Instructions
Preheat oven to 350 degrees. Line a baking sheet with parchment paper.

In a medium bowl, combine oats, salt, cinnamon, ginger, coconut, pecans and berries and mix together.

Add the coconut oil and agave nectar and toss until the oats are covered.

Pour the mixture onto the baking sheet, spread out and bake for 15 minutes.

Give the mixture a stir and continue baking for 10-15 minutes more.

Remove from the oven and allow to cool.Store granola in a covered container. (I use a Tupperware container).