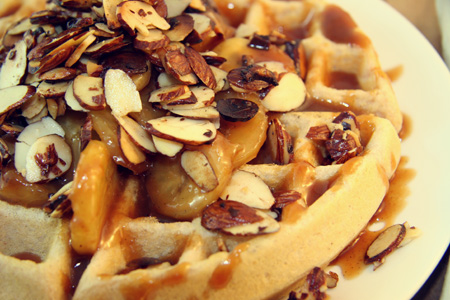 With the holidays over, you probably have family and friends still popping by and the kids are still off of school. So you may be looking for a great brunch recipe!
This is a delicious gluten free breakfast that will surely be your new family favorite. Gluten Free Waffles topped with warm salted caramel sauce, bananas and toasted almonds.
Oh ya!
The key to these waffles is using buttermilk. I find the buttermilk gives pancakes and waffles the "lift/air" that gluten free goods tend to not have.

Gluten Free Waffles
Ingredients
3/4

cup

potato starch

1/2

cup

brown rice flour

1/4

cup

tapioca starch

1 1/2

tsp

baking powder

3/4

tsp

baking soda

3/4

tsp

salt

1/3

tsp

xanthan gum

3

xanthan gum

2

tbsp

vegetable oil

1

cup

buttermilk
Instructions
Heat up your waffle maker.

In a medium bowl add dry ingredients (potato starch, brown rice flour, tapioca starch, baking powder, baking soda, salt and xanthan gum) and combine well.

Add wet ingredients to dry and stir well to make a smooth batter.

If too thick add a little more buttermilk.

Pour small amount of waffle batter to hot waffle maker.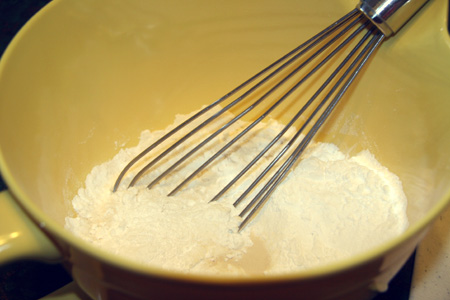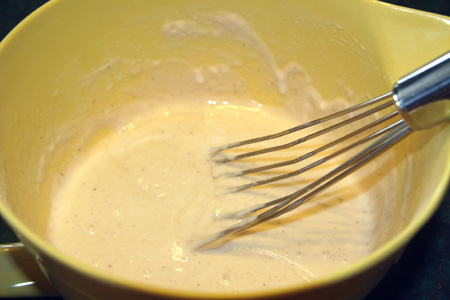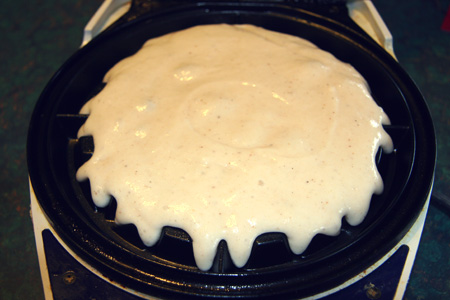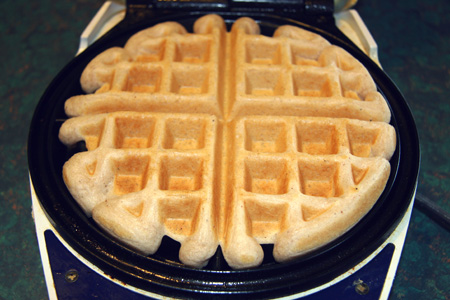 Salted Caramel, Banana and toasted almond topping
Ingredients
Salted Caramel Sauce (see www.lickmyspoon.com) for a great recipe

2

bananas

1

cup

sliced almonds

1/2

cup

butter

2-3

tbsp

heavy cream
Instructions
Add 1/4 cup butter and 1 cup almonds to a pan and heat until lightly toasted.

Put toasted almonds into a bowl.

With same pan,  add 1/4 cup butter and 2 bananas sliced and heat on low for a couple of minutes.

Add 1/2 cup of the salted caramel sauce and whipping cream to bananas and simmer until caramel sauce is warm.

Top waffle with salted caramel banana sauce, and then top with toasted almonds.