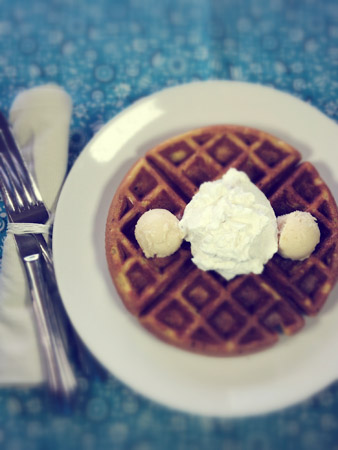 I've been on a waffle kick lately.
Recently I posted the PB & J waffles, also have buttermilk waffles, Double chocolate chip waffles, and salted caramel waffles.
Waffles allows one to get creative. Why do the basic butter and maple syrup when you can expand the layers of flavors and combos?
I've also decided to do more recipes using Bob Mill's All Purpose GF Flour and Thomas Keller's Cup4Cup GF Flour. Not everyone has jars of all the different gluten free flours available. (Teff flour, Potato Starch, Cornstarch, Potato Flour, Amaranth Flour, Millet Flour, Sorghum Flour, White Rice Flour, Brown Rice Flour, Quinoa Flour, Bean Flour.)
That can be a lot of jars of flours to store, also some of these flours are hard for people to get a hold of. So, I'm going to do some playing around with recipes and post recipes over the next month using Bob Mill's and Cup4Cup.
I'm also going to be doing a major kitchen renovation this summer. This means I will be without a kitchen for at least 6 weeks. Not looking forward to not having a kitchen but I am really excited for the end result. I figure I'll do a lot of baking until then, so you'll be getting cookies, cakes and brownie recipes.
Any requests?
I really enjoyed these pumpkin waffles, the additions of cinnamon, nutmeg and cardamon reminded me of fall and pumpkin pies.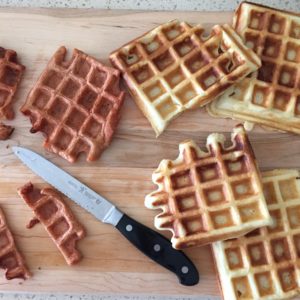 Gluten Free Pumpkin Waffles
Ingredients
1 1/2

cup

buttermilk

1

cup

pumpkin puree

3

eggs separated (yolks/whites)

2

tbsp

canola oil

1

tsp

vanilla

2

cups

Bob Mills GF Flour

4

tbsp

brown sugar

1/4

tsp

xanthan gum

1/2

tsp

each cinnamon, nutmeg and cardamon

1

tsp

baking soda

2

tsp

baking powder

pinch of salt
Instructions
In a small bowl, whip egg whites with a hand mixer until soft peaks are formed.

In a larger bowl, combine buttermilk, pumpkin, egg yolks, oil and vanilla.

Combine flour, brown sugar, baking powder, baking soda, spices and salt in a small bowl and whisk until combined.

Add dry ingredients to buttermilk mixture and whisk until combined and smooth.

Spoon batter onto hot waffle pan.

* This made 6 round waffles.
I served the pumpkin waffles with maple butter and nutmeg whipping cream, here are those instructions.
Maple Butter
Ingredients
1/2

cup

softened butter

3

tbsp

maple syrup
Instructions
 In a small bowl, whip both ingredients together with a handheld mixer.

Once smooth: place butter in a bowl and either freeze or refrigerator until ready to use.

Use a small ice cream scoop to place on cooked waffles.
Nutmeg Whipping Cream
Ingredients
1

cup

whipping cream

1

tsp

freshly ground nutmeg

2

tsp

sugar
Instructions
In a small bowl, whip up whipping cream until soft peaks are formed.

Slowly add sugar and nutmeg.

Store in refrigerator until ready to use.