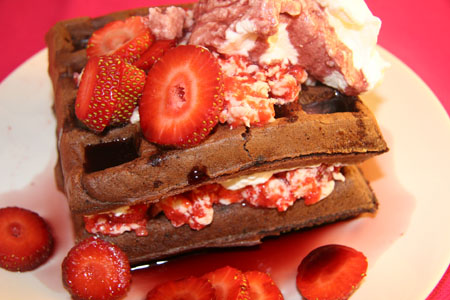 Looking for something special to make on Valentine's Day? Mother's Day? Father's Day? Or really anytime you want to share a warm, chocolate, sweet berry treat with a loved one?
I'm a big breakfast fan. I love Pancakes, Waffles, Omelette's, Granola, etc. Not just for breakfast! When my kids were younger we used to have "breakfast suppers." French toast and pancakes were eaten at least once a week after an evening of swimming or hockey. When I was working retail and hadn't had a chance to prepare supper earlier, I would whip up a cheesey omelette and toast for everyone. In fact, it was a preferred supper than picking up a fast food meal.
Valentine's Day is fast approaching and I thought a twist on a breakfast supper would be a nice treat. Why not make waffles a bit fancier? Why not include dark chocolate and strawberries: 2 faves for Valentines Day.
I've made these gluten free waffles before in the recipe GF Salted Caramel Banana toasted Almond Waffles. However, this time I added 2 more ingredients to the mix, good dark cocoa and gluten free dark chocolate chips.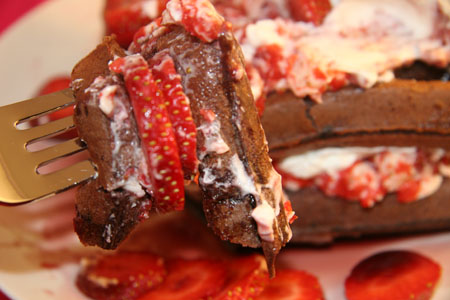 Heres the recipe again, but with added ingredients.
Check out prior post for detailed photo instructions.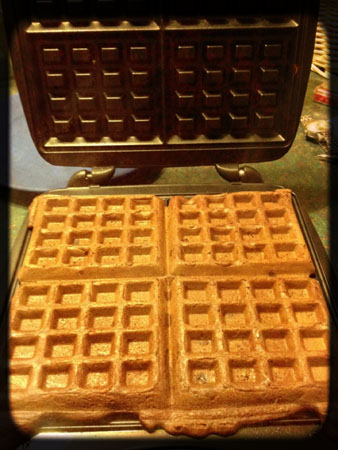 GF Double Chocolate Chip Waffles
Ingredients
1/2

cup

brown rice flour

3/4

cup

potato starch

1/4

cup

tapioca starch

1/4

cup

good dark cocoa

1 1/2

tsp

good dark cocoa

3/4

tsp

baking soda

3/4

tsp

salt

1/3

tsp

xanthan gum

3

eggs

1

cup

buttermilk

2

tbsp

canola oil

1/2

cup

dark chocolate chips (try Enjoy Life brand)
Instructions
In large bowl combine brown rice flour, potato starch, tapioca starch,cocoa, baking powder, baking soda, salt and xanthan gum. Whisk well.

Add eggs, buttermilk and oil to dry ingredients and stir well with a spatula. Beat for a few minutes to make batter smooth.

Add chocolate chips to batter.

Make waffles according to your waffle maker.

This batch of batter made 7 large waffles for me.

Strawberry Butter –Puree 1 cup of organic strawberries and add a 1/2 cup of softened butter. Mix together.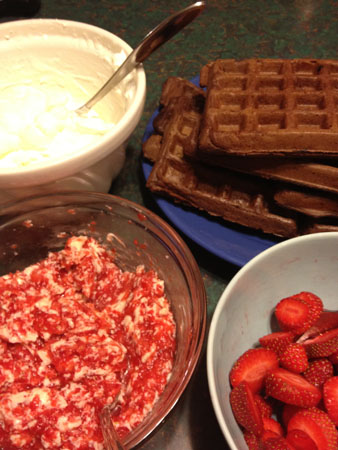 Whipped Cream
Ingredients
1

cup

whipped cream, with 2 tbsp of sugar.

1-2

cup

sliced strawberries (+) Gluten Free Saskatoon Syrup
Instructions
To assemble breakfast: add strawberry butter, sliced strawberries and whipped cream on top of Gluten Free Double Chocolate Chip Waffle. Then pour GF Saskatoon Syrup on top.
To assemble breakfast: add strawberry butter, sliced strawberries and whipped cream on top of Gluten-Free Double Chocolate Chip Waffle. Then pour GF Saskatoon Syrup on top. Happy Valentines Day! ♥