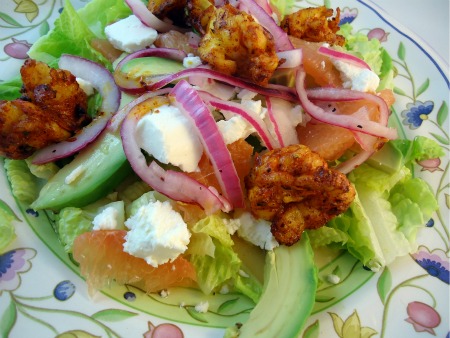 Summer is here. Well summer is definitely in Sante Fe, New Mexico where my husband and I spent a week in July. We had never been to Sante Fe, and we were both pleasantly surprised with the food, the history and the art culture.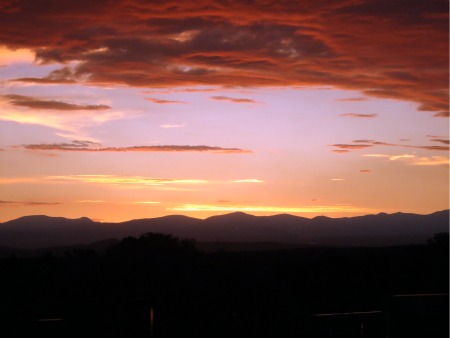 I thank our hosts for inviting us to Sante Fe and also want to thank the Sante Fe Cooking School for showing me some New Mexican flavors. One afternoon class, the chef shared a recipe for Spinach Salad with Shrimp, Avocado and Grapefruit.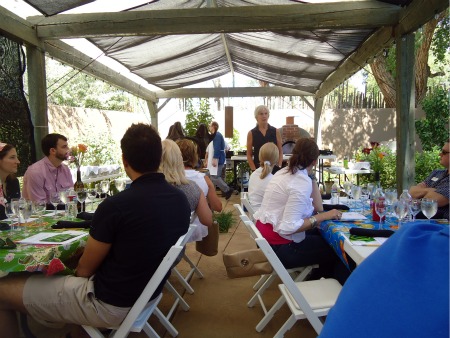 I really enjoyed these flavors and decided to make a version of this salad once home to Calgary.
This is a great one dish salad to make on a hot sunny day, no oven required.
Grapefruit Vinaigrette
Ingredients
1

grapefruit

Olive oil

Rice vinegar

½-1

Tbsp

white Sugar

Dash of cumin
Instructions
Over a bowl, cut out grapefruit segments. Place segments in a separate bowl.

Once segments removed squeeze all the juice out of the grapefruit and add ½ Tbsp of sugar, and 1 Tbsp rice vinegar.

In blender add zest, juice, sugar, vinegar and a dash of cumin.

Blend ingredients and then slowly drizzle olive oil in. Start with ½ cup of olive oil, but adjust for taste.
Salad
Ingredients
1

Avocado

1

bag

16/20 shrimp (5 shrimp per person)

PaprikaSalad Greens (spinach, arugula, romaine, bibb lettuce)

Pickled Onions*

Red pepper flakes

Goat cheese
Instructions
Make the pickled onions ahead of time for they need time to marinate. I made mine a couple of hours before, but with any pickling longer is better.
Pickled Onions
Instructions
Peel a red onion, and slice the onion thinly. Place in a bowl, cover halfway with rice vinegar. Add salt, pepper, 1 Tbsp sugar, and red pepper flakes. It should be sweet, salty and a bit spicy.

Let the onions marinate in this mixture as long as you like. The onions will wilt, become bright pink, and their flavors will mellow. I put the mixture into a large Ziploc bag and keep mine in the fridge.

For the shrimp, I thawed and cleaned the shrimp and then marinated them in a mixture of paprika, olive oil, salt and pepper. The amounts vary depending on the number of servings. (I only made 2 servings so I used 1 Tbsp of paprika.)

Marinate the shrimp for at least an hour.You can either grill the shrimp or heat them up in a frying pan, either way, remember that shrimp need only a couple of minutes to cook.

To assemble the salad, plate each plate with greens. Pour a little of the dressing over and give a quick toss. Then add grapefruit segments, grilled shrimp, sliced avocado, pickled onions and goat cheese.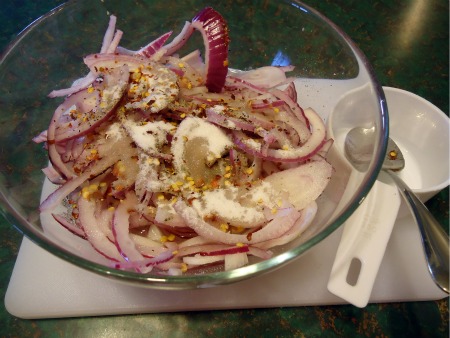 I enjoyed this salad for it has the right mixture of sweet, tang, smoothness, heat and crunch. It was especially good on a hot sunny day.