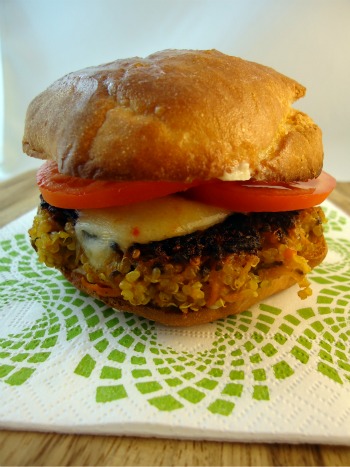 Since I started gluten free burger Fridays I have made burgers using sirloin beef. Well today and next week I thought I would devote my blog to a vegetarian option. This week my burger is made using the great superfood QUINOA. Yes, you can make other things with quinoa beside cookies and cakes. Quinoa is a wonderful choice for a vegetarian burger for it, as I said is a superfood-full of protein and nutrients. I have also packed this burger with an abundance of vegetables, chopped in a food processor and then sautéed to bring out their full flavors.
I hope you give this burger a try and let me know what you think. This burger is not vegan though, for I used an egg to bind the ingredients. I will play with more recipes in the future and work on a vegan burger also. Any ideas?
Gluten Free Vegetarian Quinoa Burger
Ingredients
2

cups

cooked quinoa

Avocado oil for sautéing the veggies

1/2

cup

finely chopped onions

1

cup

carrots, finely shredded

2

stalks celery, finely chopped or shredded

1

cup

white mushrooms, shredded

1

jalapeno, finely chopped

1

egg

3

tbsp

cornstarch

1/4

cup

sweet potato puree (I use canned sweet potato puree or you can make your own)

1

tsp

red pepper flakes

1/2

tsp

cumin

1/2

tsp

dried oregano

1/2

tsp

sweet paprika

1/2

tsp

garlic powder

1/2

tsp

new Mexican chili powder

1/2

tsp

maldon sea salt
Instructions
In a food processor, finely shred the onions, carrots, celery and mushrooms.

Chop the jalapeno by hand.

Remove any larger pieces from the food processor.

Heat a large saute pan on low-medium with 1 Tbsp of avocado oil.

Add all the veggies and cook until they are softened.

Once softened add the spices and on low heat cook for 2 more minutes to let the spices heat up and flavors absorb.

In a large bowl add quinoa and sautéed vegetables.

Once combined add egg, cornstarch, and sweet potato.

Heat a non stick frying pan on low-medium heat with 1 tsp avocado oil.

Fill a ½ cup measuring cup firmly, with quinoa mixture.

Turn measuring cup over onto frying pan.

Then with your hands pat the patty down to the size that you would like.

I like mine to be the same size of a beef patty.

Fry patty for 3-5 minutes, on each side, making sure not to burn the quinoa.

Assembling the burger, I toasted my gluten free bun and put regular mayonnaise on the bottom.

I also topped my burger with jalapeno Monterey jack cheese for a bit of added flavor.

Top with a couple slices of tomato and then top with bun.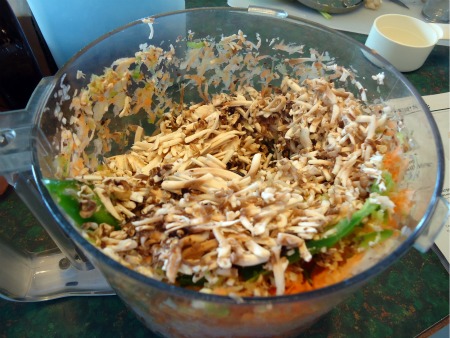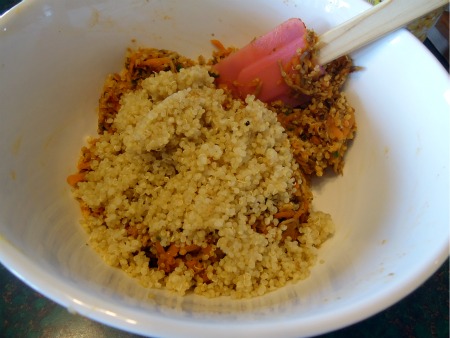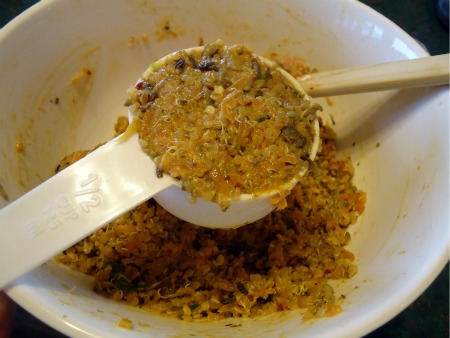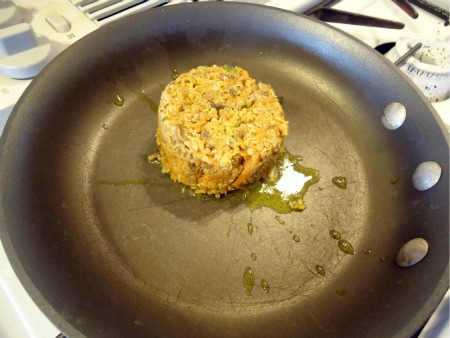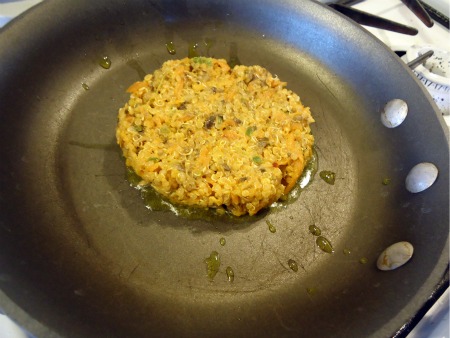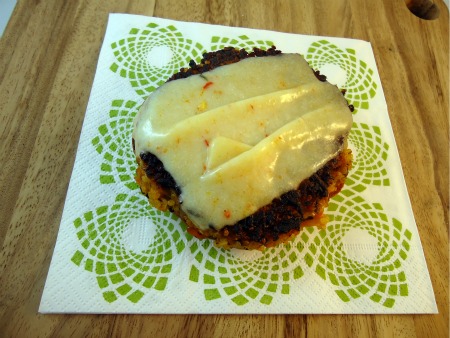 I really enjoyed the flavor and texture of this burger and will play with my toppings more next time.
I hope you give this a try!