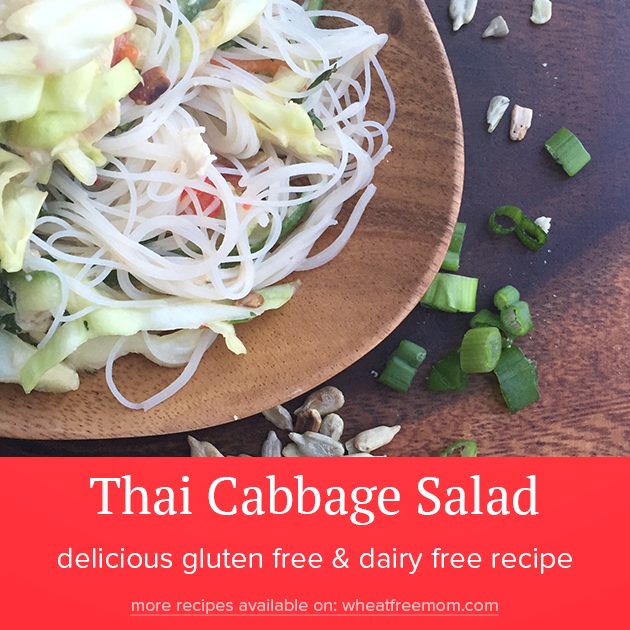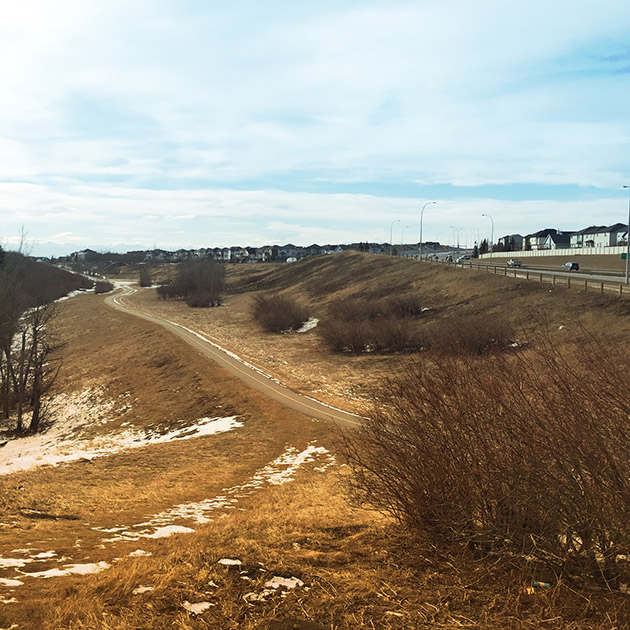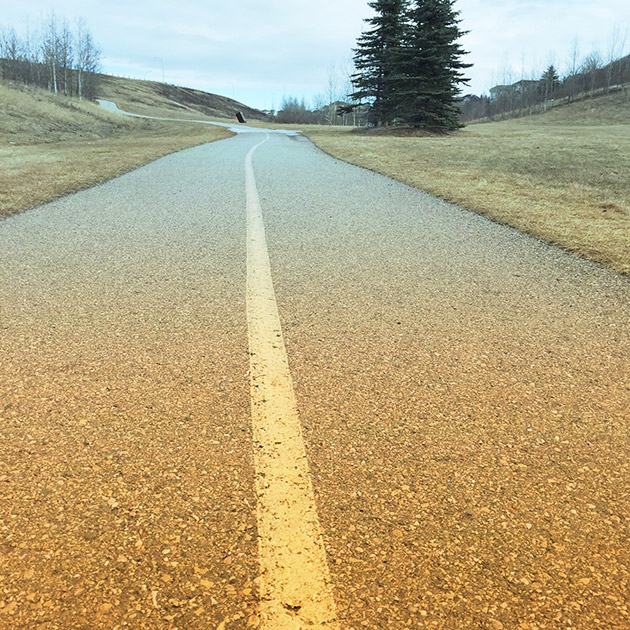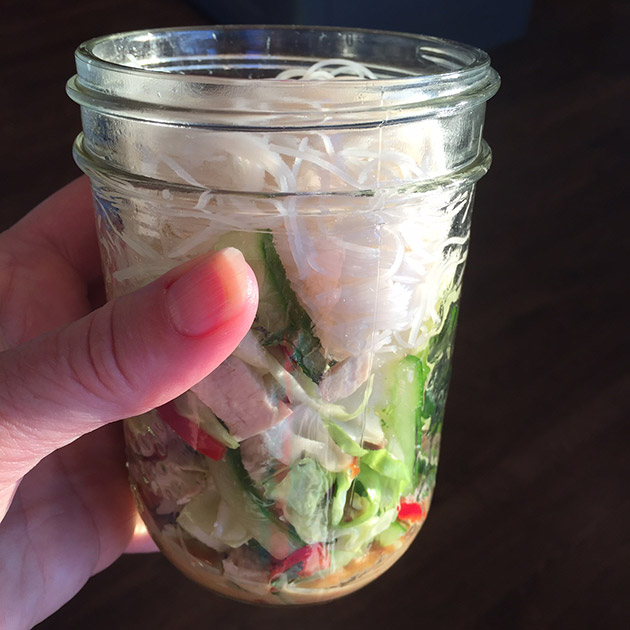 Snow. Cold. Winter.
Those are normally words said about the weather here in Calgary in February and March, but not this year.
We have had a very mild winter and I am very grateful for that.

It has allowed me to get outside and walk a lot. In fact I have gotten out for a run a few times too.

Nothing makes me feel better than to feel the sun on my face, it actually energizes my soul.
With the feeling of spring comes the need to get away from warm comfort foods and eat a bit healthier and that is where this salad comes into play.
It has the crunch, warmth and freshness of a good winter salad but would also work for a picnic or barbecue outside.
In this salad I used my homemade sunflower seed butter as part of the dressing. I find that peanut butter can overwhelm dressings sometimes and I just wanted the a hint instead.
This salad remains crunchy in the fridge for 3-4 days too and would be great as a jar salad. Instead of mixing the dressing with the other ingredients just put a Tbsp on the bottom of a canning jar, then the veggies and on top a bit of cooked and cooled rice noodles.


Gluten-Free Thai Cabbage Salad
Ingredients
1/2

package

rice vermicelli noodles, cooked and cooled

2

chicken breasts, cooked, shredded and cooled (leftover chicken works great too)

1/2

small green cabbage, sliced thinly

1

red pepper, chopped

3-4

green onions, chopped

1

english cucumber, cut into thin matchstick pieces

1/4

cup

fresh cilantro, chopped

1/4

cup

fresh mint, chopped

1/2

cup

lightly toasted sunflower seeds

Dressing:

2

tbsp

sunflower seed butter

juice of 1 lime

1

tbsp

fish sauce

1

tbsp

honey

1

garlic clove, minced

1/2

red chile pepper, chopped

3

tbsp

olive or avocado oil
Instructions
In a mini food processor add all the dressing ingredients and pulse until smooth.

Pour dressing into a small jar until ready to use.

In a large bowl add the shredded chicken, cabbage, cucumber, red pepper and green onion and toss.

Pour dressing over the mixture and toss again.

Add the cooled rice noodles and toss to combine.

Sprinkle on the sunflower seeds.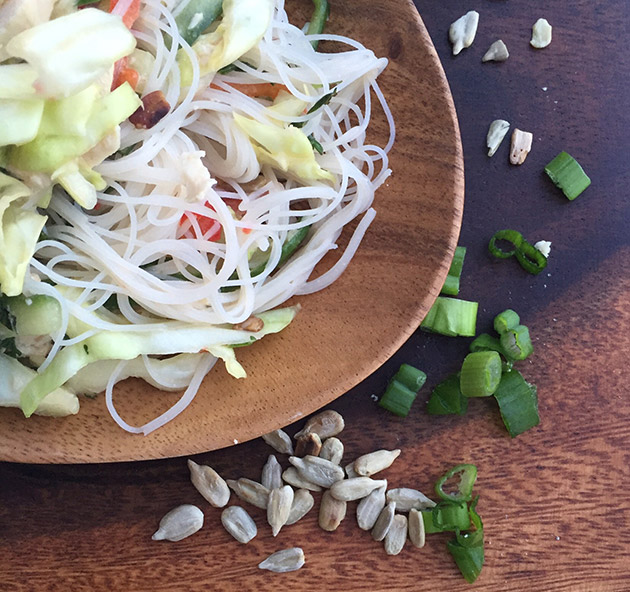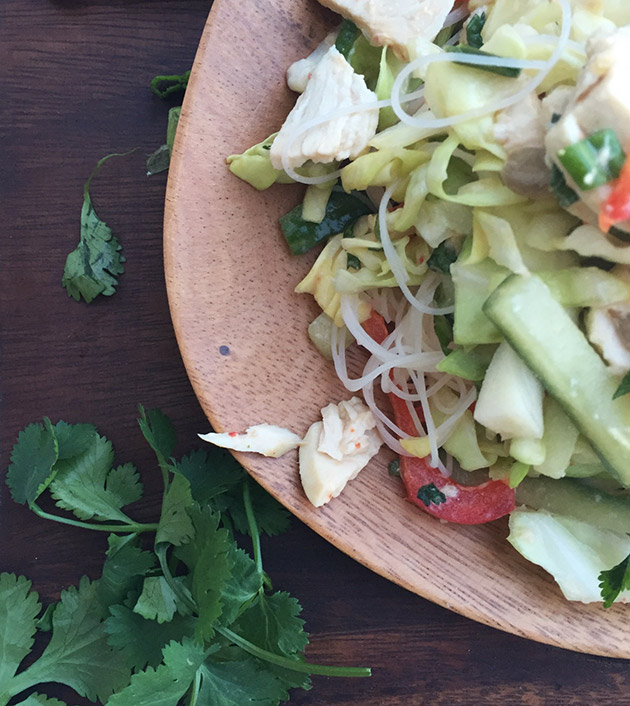 If you are wanting to serve this on individual plates this is how I would do it:
Place a small mound of rice noodles on each plate.
Top noodles with the chicken and veggies.
Sprinkle sunflower seeds on each plate.
Note: If you are wanting to make this salad and have it last for a few days in the fridge I kept all the components separate. I had the dressing in a jar, the cabbage/chicken mixture in a bowl and the rice noodles in another bowl. This way when I wanted the thai cabbage salad I could take out the amount I wanted and toss then.