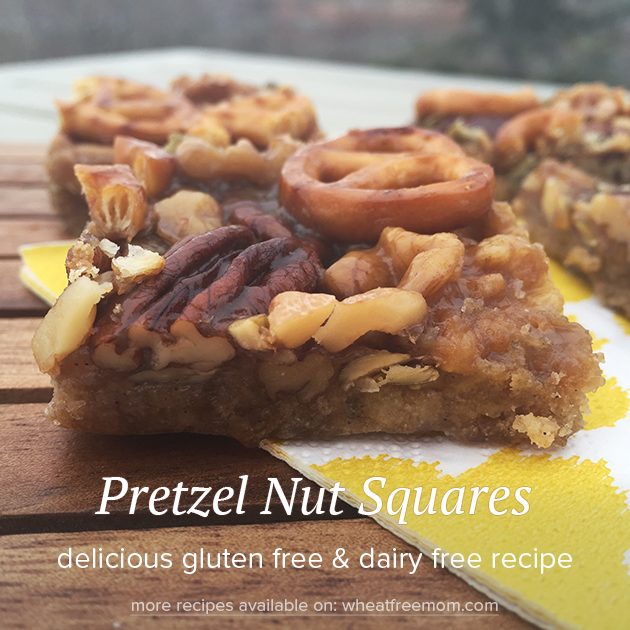 Baking is really my true love in the kitchen and even though I probably have more than enough baked sweets on my blog I had to share another recipe with you.
Gluten Free Pretzel Nut Squares.
Why I especially like this recipe is that it bakes in a 9 X 13 pan. Why would that matter? I remember the days when my kids were younger and I needed squares for a kids party, a hockey wind-up, a family bbq or just another large party.
Having a square in a 9 x 13 pan means you have enough squares to feed a gang of people. I like that.
This square recipe is a perfect combo of sweet and salty. The bottom layer is sweet and caramel-like and the top is salty pretzels.
I warn you NOT to make these squares if you are not able to share them with a group. You will be tempted to eat them all and as someone who is working out at the gym a lot it takes a heck of a ton of pushups and sit-ups to burn the calories off.
Gluten-Free Pretzel Nut Squares
Ingredients
1/2

cup

brown sugar

3/4

cup

Earth Balance vegan "butter", softened

1 1/2

cups

GF flour blend (I like to use Compliments gluten free flour blend that is available at Safeway and Sobeys)

1

cup

Earth Balance vegan "butter"

1/4

cup

maple syrup

1/4

cup

corn syrup

1 1/2

cups

brown sugar

1/4

tsp

gluten free vanilla

1

cup

GF Glutino pretzels

1

cup

nut mixture (I used pumpkin seeds, walnuts and pecans)
Instructions
Preheat oven to 350 degrees.

Line a 9 x 13 baking pan with parchment paper.

In a stand mixer mix the softened vegan "butter" and brown sugar.

Add the gluten free flour and mix.

Pat crust mixture onto the bottom of the baking pan.

In a small saucepan add the vegan "butter, maple syrup, corn syrup, brown sugar and vanilla and heat on medium-high heat.

Stir and let mixture heat to boiling.

Once boiling let cook for 2 minutes, stirring frequently.

Sprinkle the nuts and the pretzels over the crust.

Pour the hot liquid over the top of the bars.

Place baking pan back in the oven and bake for another 15 minutes.

Remove and let cool completely before cutting.

Pour hot mixture over crust.