This is day 19 of my #20daysofcookies campaign to post a new gluten free dairy free recipe each day. Enjoy the other recipes here.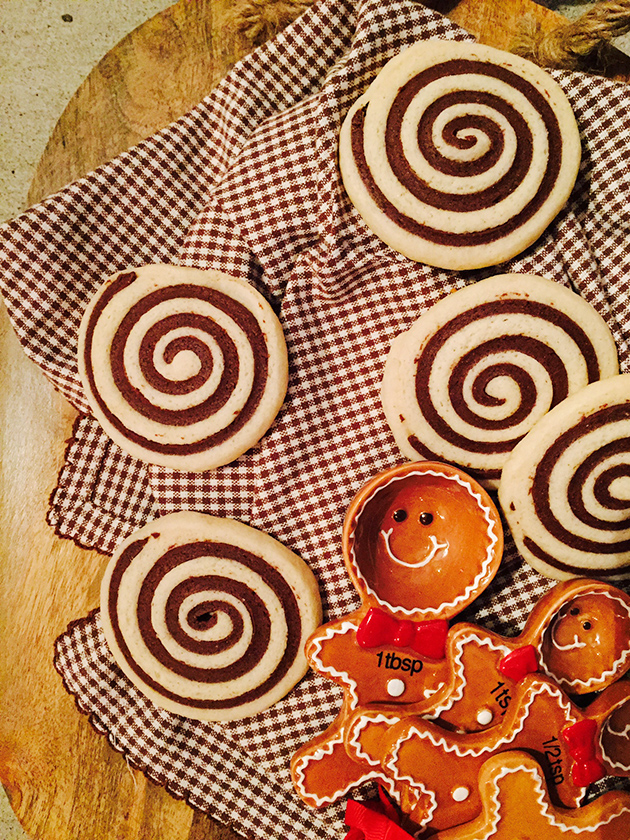 Here is the 19th new cookie recipe for the month of December, #20daysofcookies, where I will share 20 new gluten free cookie recipes from December 1-20. Make sure you subscribe to receive each one!
Gluten Free Dairy Free Pinwheel Cookies!
Not only are these cookies gluten free they are also dairy free.
If you have been following me this month you will notice I have tried to make all the recipes dairy free. I have been using Earth Balance vegan "butter" sticks in most of my recipes. I find these vegan "butter" sticks work really well in cookie recipes.
Pinwheel cookies may look complicated but they are really not that hard to do.
Just follow a few simple steps:
Make the dough.
Chill in refrigerator over night.
Roll vanilla and chocolate dough onto 2 pieces of parchment paper.
Invert the rolled chocolate dough and place on the vanilla dough.
Use the parchment to roll up the 2 doughs together.
Place rolled dough into refrigerator and chill for at least an hour.
Slice up dough and bake in oven.
See! Not hard.

This recipe made about 22 cookies.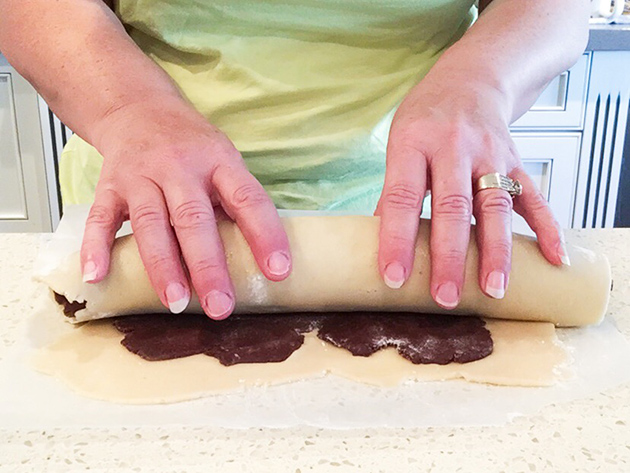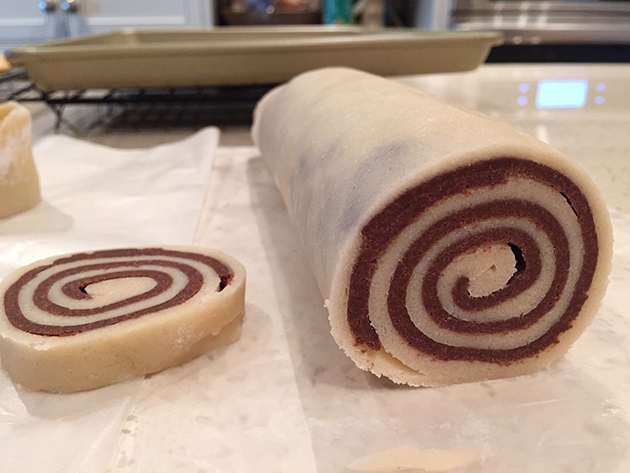 Gluten Free Dairy Free Pinwheel Cookies
Ingredients
3/4

cup

Earth Balance vegan "butter", softened

3/4

cup

white sugar

2

cups

gluten free flour blend (I like to use Compliments gluten free flour blend)

1

tsp

gluten free baking powder

1/4

tsp

salt

2

tsp

pure vanilla

1

large egg

1/4

cup

cocoa powder
Instructions
In a stand mixer beat the vegan "butter with the sugar until creamy.

Add the vanilla and egg and beat again.

Scrape sides of bowl to incorporate all.

Add in the gluten free flour, salt and baking powder and mix on low speed.

Increase speed to medium/high and mix well.

Divide dough into 2 parts.

Add cocoa powder to one of the parts and mix in well.

Place each dough into a bowl and chill in refrigerator over night.

Roll each dough on a sheet of parchment paper. 

Use a bit of gluten free flour to prevent dough sticking to rolling pin.

Invert rolled chocolate dough onto the rolled vanilla dough.

Roll up the cookie dough like a jelly roll.

Wrap up with saran wrap and place roll in refrigerator.

Chill for at least an hour.

Preheat oven to 350 degrees.

Line 2 cookie sheets with parchment paper.

Remove dough from refrigerator and slice the dough into disks.

Place disk onto cookie sheets and bake for 12 minutes.

Remove from oven and cool.