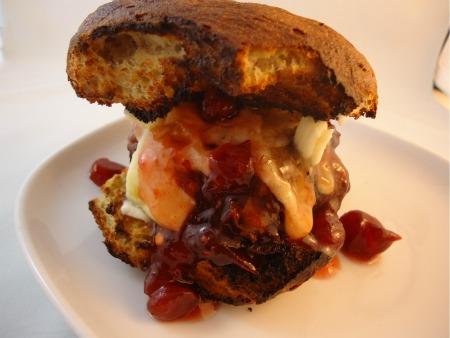 This weeks burger is a twist on holiday flavors. Does cranberry sauce only go with thanksgiving? Does it only go with turkey? Why not on a burger I thought.
Well, as usual I was very pleased with my experimentation and in fact think this is one of my top picks for burgers so far.
Peppy Cranberry Sauce
Ingredients
1

can

ocean spray whole cranberry sauce

1/2

tbsp

red pepper flakes

1/8

tsp

cumin

3-4

drops

Tabasco sauce (Optional)
Instructions
Heat all ingredients in a saucepan on low heat.

Stir and cook for 5-10 minutes.
Peppy Cranberry Burger
Ingredients
Peppy Cranberry sauce

Dried cranberries

Cumin

Cinnamon

Chopped onions

Gluten free hamburger buns

5 yr aged cheddar cheese (I get mine from Sobeys)
Instructions
For the burger patties this time, I added dried cranberries, cumin, cinnamon and chopped onions.

Once grilled, these burgers had a caramelized texture.

Top grilled patties with aged cheddar cheese, let melt.

Top toasted bun with grilled patty.

Top burger with cranberry sauce.

Place top of bun on and enjoy!