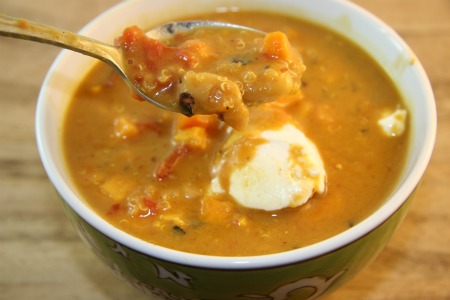 It's a dark and cloudy day today in Calgary. It's looking like we are about to get a bit of snow and temperatures will soon drop.
"What to do?"
Well for me, that means making a pot of something warm for the tummy. I don't know what it is about having a big pot of soup simmering on the stove… Soup tends to heat up the entire house in a mysterious way. The smell of warm, toasty spices entices the senses and fills every crevice of your home inviting you to snuggle up with a good book or sit by the fire.
Before my diagnosis of Celiac's disease, I never thought of vegetarian or vegan cooking. I grew up on a farm in rural Alberta-that meant chicken, beef and pork as the main component of each meal. We had huge glorious gardens when I was a kid, but the vegetable portion was always a side dish-never the main.
We eat more vegetables now than ever before and I follow quite a few vegan blogs to check out new recipes.
Today, I found a delicious looking stew that's vegan AND gluten-free called Spicy African Peanut Stew, from the blog Peas and Thank you. I just had to try it!
My advice is: DEFINITELY MAKE IT! It was so easy to throw together and I loved the combination of flavors. The peanut butter, coconut and curry tickles the taste buds in the most satisfying way.
Typically when I find new recipes, I like to change a few things. They're not major changes, but rather than running to the grocery store to pick up things, I use what I have on hand. It allows me to be a little creative, and its fun!
Gluten-Free African Peanut Soup
Ingredients
1

can

chickpeas (I used white kidney beans)

1

sweet potato, cubed (I used 2)

1 1/2

tsp

curry powder

1/2 – 3/4

tsp

garam masala

1

tsp

cumin

1

tbsp

minced fresh ginger

2

tsp

minced garlic

Stevia to taste(I did not use any)

Dash of cinnamon

1

14oz

can fire roasted tomatoes

1

can

coconut milk

2

cup

gluten free vegetable broth (I use Kitchen Basics)

2

tbsp

natural peanut butter (cashew, almond or sunflower seed butter would work as well)

1/2

cup

red lentils (I substituted quinoa)
Instructions
The recipe calls for combining all ingredients into a slow cooker on high for an hour, then turning the temperature to low for a couple of hours.

I wanted to eat quicker so I made the soup in my La Crueset pot, and simmered it for 1 ½ hours.

To make the soup on the stove, you can still add all of the ingredients to the pot.

Simmer for 1 ½ hours, stirring frequently and then serve.

I topped the soup with a dollop of sour cream.

But you could also use chopped cilantro, chopped peanuts, or a vegan cream instead.

*Adapted from the Recipe: Spicy African Peanut Stew from Peas and Thankyou