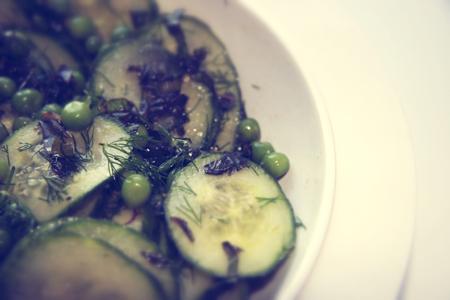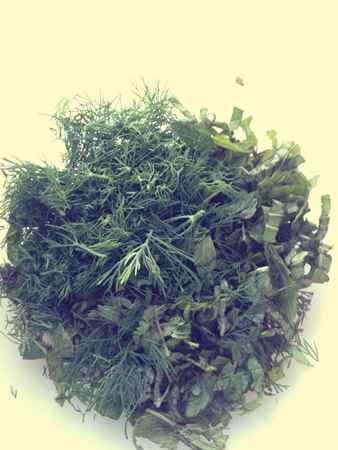 Today I'm sharing a very healthy salad with you. Truthfully, salads in general are very healthy but the add salad dressings can cause excess calories and fat.
Todays salad is full of vitamins and minerals but is also low in calories and carbs AND you won't miss out on flavor.
I love cucumbers, especially in the summer when I can get the cucumbers from my local farmers market. There is NO comparison between a cucumber from Safeway and a locally grown farmer's cucumber- none. Cucumbers have a purifying effect on the digestive system because of there high water content which keeps the body hydrated and thus helps regulate body temperature. Cucumbers also help flush out toxins out of the body. Cucumbers contain vitamins A, B and C plus minerals like magnesium, potassium and silica thus making cucumbers great for the skin.
They are also helpful in fighting cancer, controlling blood pressure, promoting joint health as well as reducing cholesterol levels. Basically cucumbers are really good for you!
I'm also a super fan of fresh herbs and this salad has 3 of my favorites- basil, mint and dill.


Basil is one of the oldest herbs and is also called the holy herb for all its healing qualities. It is rich in phyto-nutrients, has essential oils that aid in anti-inflammatory and anti-bacterial needs. It also contains a good amount of minerals like potassium, magnesium and copper. Potassium aids in heart health and blood pressure. Basil leaves, surprisingly, are also an excellent source of iron.
Mint originated from Asia and the Mediterranean. It is rich in Vitamin A and C and a small amount of vitamin B2. Vitamin C is an important antioxidant and aids in the decrease risk of some cancers. It is also known for its benefits in digestion health, respiratory issues, congestion and head colds, anti-bacterial, blood cleanser and also helps fight bad breath (win!)
Dill, last but not least, is known for its healing qualities, being rich in monoterpenes and flavonoids. It protects us from free radicals and carcinogens like cigarette and charcoal grill smoke (Just two examples.) Dill aids in preventing bacterial growth and is a good source of calcium. It was traditionally used as a stomach soother and insomnia reliever.

So with that said, this salad is HEALTHY and great for the digestive system. It would be great as a side salad with grilled pork chops, burgers or steak.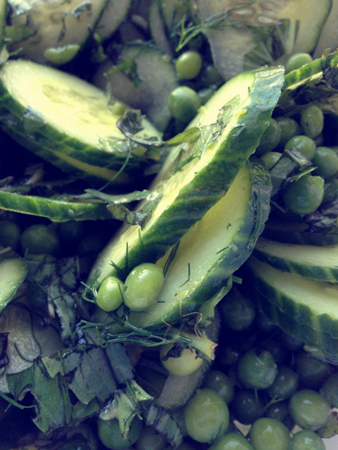 Cucumber Herb Salad
Ingredients
1/3

cup

finely chopped fresh mint

1/3

cup

finely chopped fresh basil

1/4

cup

chopped fresh dill

1

large english cucumber or 6 mini cucumbers, thinly sliced

1/2

tbsp

Hot Mama's Lime Splash

1

pkg

Swerve sweetener

1

tbsp

xtra virgin olive oil

1 1/2 – 2

cups

fresh garden peas
Instructions
In a large bowl add chopped herbs, cucumbers, hot sauce, swerve and olive oil.

Toss to combine all ingredients.

In a small bowl microwave peas for 30-40 seconds.

Add peas to cucumber salad and refrigerate for a minimum of an hour-couple hours is better.

Toss again before serving.