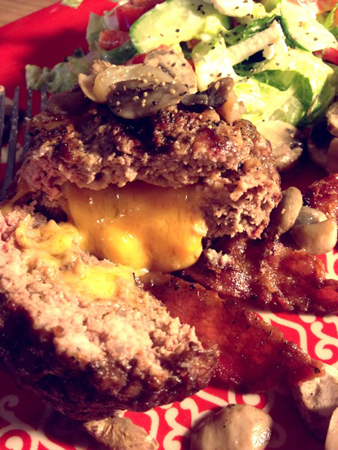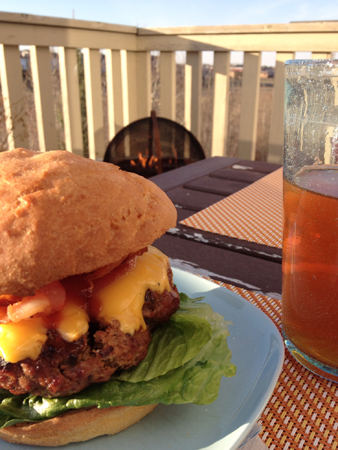 So here it is folks, the first of the Burger Friday recipes I've been promising. Now that I'm living low carb, I really find the need to infuse as much flavor and variety into the burgers I BBQ this summer. I want the patty to stand on its own. I don't want to feel like the bun is missing or that I am depriving myself.
You're going to see a lot of stuffed burgers, burger sauces, as well as multi layered toppings. Offering sweet and salty, and crunchy.
I'm going to travel the globe in spices, and mostly use ingredients that you should already have in the kitchen.


Speaking of Kitchen- I'm still without. Truthfully, we've ate out only a couple of times. I'd rather stop at the grocery store, fire up the BBQ and whip up a healthy salad and burger for us. I'm sure my attitude will change the longer the reno goes on, but for right now-I'm handling it.
What have you been barbecuing lately? Have you've been getting more adventurous in your cooking? The first burger recipe is for a cheddar cheese stuffed burger that is also topped with an easy one-bowl red sauce.

Cheddar Cheese Stuffed Burgers
Ingredients
1

pkg

lean ground beef

1/4

cup

chopped onions

1/2

tsp

cumin

1

tsp

paprika, oregano and chili pepper

1

tbsp

hot sauce

1

tbsp

gf ketchup

1

tbsp

grapeseed oil

sharp cheddar cheese
Instructions
In a medium bowl, combine the ground beef with the onions, spices,  hot sauce and ketchup.

Cut up cheddar cheese into 1 inch squares. (I made 4 Xlarge patties with this recipe, so that would mean 4 squares of cheese.)

Divide your ground meat mixture into even portions. 

Form a flat patty of beef in the palm of your hand. 

Place the square of cheese in the middle of the patty and then bring beef over sides and top of cheese making sure it is sealed in.

Place patties on a plate while you are preparing the grill and making the quick red sauce for the burgers.

Just before I grill my burgers I like to pour a little grapeseed on the patties, this keeps the burger from sticking to your bbq.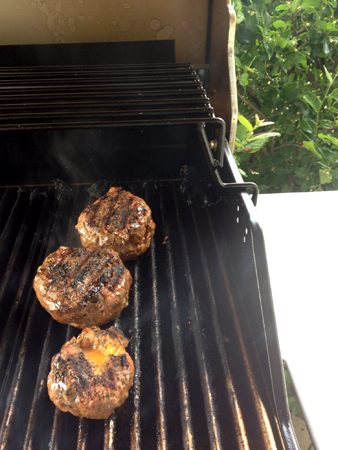 Easy One-Bowl Red Sauce
Ingredients
1/2

cup

buttermilk

1/2

cup

sour cream

1/4

cup

gf ketchup

1

tsp

minced garlic

1-2

green onions, finely chopped

1

tsp

dried parsley and dill (or use 1 Tbsp fresh)

1

tbsp

freshly squeezed lemon juice

2

tbsp

hot sauce
Instructions
Combine all ingredients in a small bowl and whisk until smooth.

Keep in refrigerator until ready to use.

Heat up BBQ to medium heat.

 Place patties on barbeque and cook for 8-10 minutes per side.

Top the burgers with the red sauce, adding whatever other toppings you would like.

These burgers would be great in a gluten free hamburger bun,or if your doing low-carb can be easily wrapped in lettuce.